Movies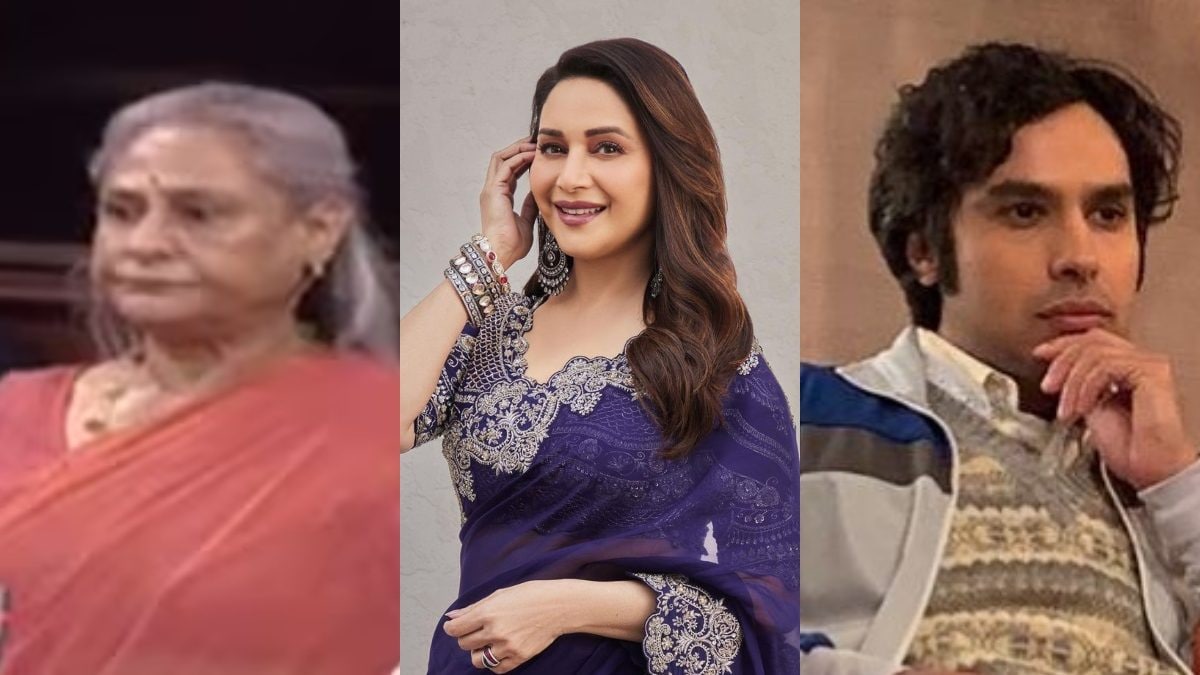 Mar 28, 2023
Jaya Bachchan 'Angrily' Reacts to Kunal Nayyar's 'Madhuri Dixit…Prostitute' Line, Says 'His Family…'
Last Updated: March 29, 2023, 13:13 IST
Jaya Bachchan reacts to Kunal Nayyar's line in The Big Bang Theory
Actress-politician Jaya Bachchan reacted to Kunal Nayyar's dialogue about Madhuri Dixit and Aishwarya Rai Bachchan in the show The Big Bang Theory.
Netflix is under fire for its popular show The Big Bang Theory. Political analyst Mithun Vijay Kumar sent a legal notice to the OTT giant over one of the dialogues in the show concerning Madhuri Dixit and Aishwarya Rai Bachchan. Originally premiered on CBS, the show has been streaming on several OTT platforms now. In one of the scenes, the character of Sheldon Cooper, played by Jim Parsons calls Aishwarya 'a poor man's Madhuri Dixit', to which Rajesh Koothrapalli, played by Kunal Nayyar says, "Aishwarya Rai is a goddess, by comparison, Madhuri Dixit is a leprous prostitute."
Also Read: The Big Bang Theory's 'Deeply Hurtful' Line on Madhuri Dixit Lands Netflix Into Legal Trouble
Now, actress-politician Jaya Bachchan has reacted to this statement. When ETimes reached out to the veteran actress, she said angrily, "Is this man (Kunal Nayyar) insane? Badi gandi zubaan hai. He needs to be sent to mental asylum. His family should be asked what they think of his comment." Not just Jaya Bachchan but Urmila Matondkar and Dia Mirze created as well. The former said, "What?! I have no idea about the whole episode, so I shouldn't be commenting. But if it is true, it is beyond outrageous. It shows their extremely cheap mentality. Do they really think this is humorous?" while the latter added, "It is disrespectful and distasteful."
Meanwhile, Mithun Vijay Kumar said in his statement, "It is important to hold companies like Netflix accountable for their actions and to ensure that they are sensitive to the cultural values and sentiments of the communities they serve. I strongly believe that streaming service providers have a responsibility to carefully curate the content that they offer on their platforms. It is their duty to ensure that the material they present does not include derogatory, offensive, or defamatory content. I was deeply troubled by the use of a derogatory term in one of the shows on Netflix – Big Bang Theory. This term was used in reference to the acclaimed actress Madhuri Dixit, and it was not only offensive and deeply hurtful but also showed a lack of regard for her dignity."
The Big Bang Theory had a successful run from September 24, 2007, to May 16, 2019. It originally premiered on CBS. It starred Johnny Galecki, Jim Parsons, Kaley Cuoco, Simon Helberg, Kunal Nayyar, Melissa Rauch and Mayim Bialik among others.
Read all the Latest Movies News here
Disclaimer: This story is auto-aggregated by a computer program and has not been created or edited by filmibee.
Publisher: Source link