Review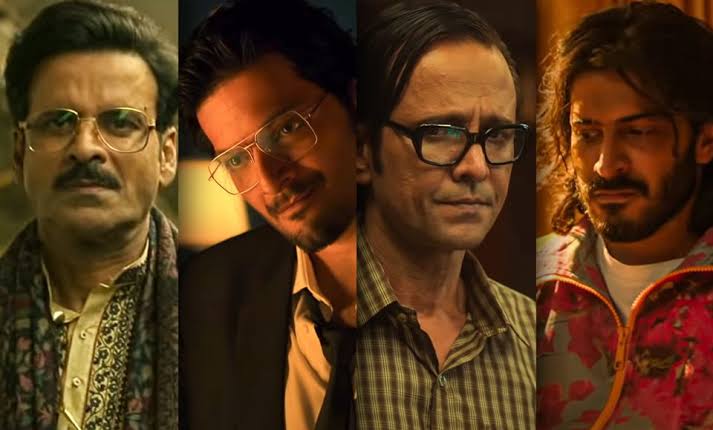 Jun 27, 2021
Review – Ray is a mixed bag where mind games form a common theme – Planet Bollywood
The coming together of real and surreal is what binds the four stories in the latest anthology on Netflix, Ray. Is everything that you see is truly real, or what you don't actually see has reality hidden somewhere? These are the kind of elements that you get to evidence in Ray which has four short stories written by Satyajit Ray that turn out to be a mixed bag.
One can clearly see that there is a lot of adaptation which has come into play for at least two of the stories, the one with Ali Fazal and another with Harshvardhan Kapoor. Reason being that they are both set in the current times with technology and superstardom respectively holding relevance for this generation audiences. Ironically, both the stories have been executed in an extreme fashion. While Forget Me Not by Srijit Mukherji is the best of the lot, Spotlight by Vasan Bala is the weakest.
There is a bit of Shutter Island in Forget Me Not, though one can't accuse the team of plagiarizing the Leonardo DiCaprio and Mark Ruffalo thriller since Satyajit Ray had written the story decades back. Being cautious of not revealing any spoiler, let me just say that Srijit Mukherji does well in keeping the suspense element intact for most part of the narrative. When a mystery woman Anindita Bose tries to remind Ali of their week long escapade away from the city, and bespectacled secretary Shweta Basu Prasad makes other revelations, you are hooked.
The man who never forgets seems to be forgetting some important chapters of his life involving his wife, business partner, friendly neighborhood guard, friend turned employee, and a lot more. Each one of them has something to offer in Ali's twisted life, and though you do start getting a hint of 'what is really happening', it's the 'why' part that impresses the most.
On the other hand Spotlight doesn't have either the 'what' or the 'why' part manage to hold your attention, and that's a pity since the team had an entire hour available for them to explain things. However, after starting off well where Harshvardhan Kapoor does well as a (slightly) spoilt superstar who is pretty much aware of his 'one expression star' status, it meanders, and how. The moment a Godwoman enters the scene, weird things start happening in the narrative, which only made me wonder how did Chandan Roy Sanyal manage it all with a straight face.
Things go totally haywire with the entry of Radhika Madan on the scene as she is just not able to keep a balance between 'being real' and 'acting real', something that was her issue in Mard Ko Dard Nahi Hota as well as Angrezi Medium. She veers more towards 'acting real' and this is where things begin to look a lot artificial. No wonder, the film loses it all in the pre-climax stage itself, leave aside the climax which is just all over the place.
The story that does work to an extent is Hungama Hai Kyon Barpa which has Manoj Bajpayee leading the show as a 'once struggler' who is now a famed ghazal singer. This one by Abhishek Choubey in fact has a fable like feel to it, which could be straight out of Chandamama or an Amar Chitra Katha edition. There are a series of coincidences that bring Manoj Bajpayee and Gajaraj Rao together, with former carrying good enough 'adab' and the latter still living in his past of being an ex-wrestler who was once beaten by Dara Singh.
Even as they keep bumping into each other, there are other common factors that tie them together, something that is explained by characters like Raghubir Yadav and Manoj Pahwa. Former is a riot in his solitary scene with Manoj Bajpayee, which is also the best in entire Ray. As for the man in great form, this is yet another instance of a good performance from Bajpayee. That said, one can't say the same about the hour long feature which fluctuates so much between being real and surreal that it leaves you with mixed feelings.
As for Bahrupiya, it could well compete with Spotlight when it comes to a bizarre third act ruining the proceedings. To see Kay Kay Menon being asked to overact is really painful and even though this is an author backed role (unlike the weird cameo that he did in Shaadisthan just a few days back), he doesn't really make the most of it. Srijit Mukherji, who was quite good in Forget Me Not, loses it in the last 20 minutes of Bahrupiya, which is about a prosthetics artist bringing on many faces to hit back on those who wronged him in life.
So far so okay as there is a Shikari [Govinda] influence coming into play. However, the moment Dibyendu Bhattacharya comes to the scene as a Pir Baba, there is so much of weirdness that comes into play that you wonder if this hour long feature was set in a real or a surreal zone. The proceedings become way too dark and by the time the climax arrives, you just give up.
This is the reason why Ray turns out to be a mixed bag overall. Watch it for the stories featuring Ali Fazal and Manoj Bajpayee, and don't expect much from the remaining two.
Disclaimer: This story is auto-aggregated by a computer program and has not been created or edited by filmibee.
Publisher: Source link