Movies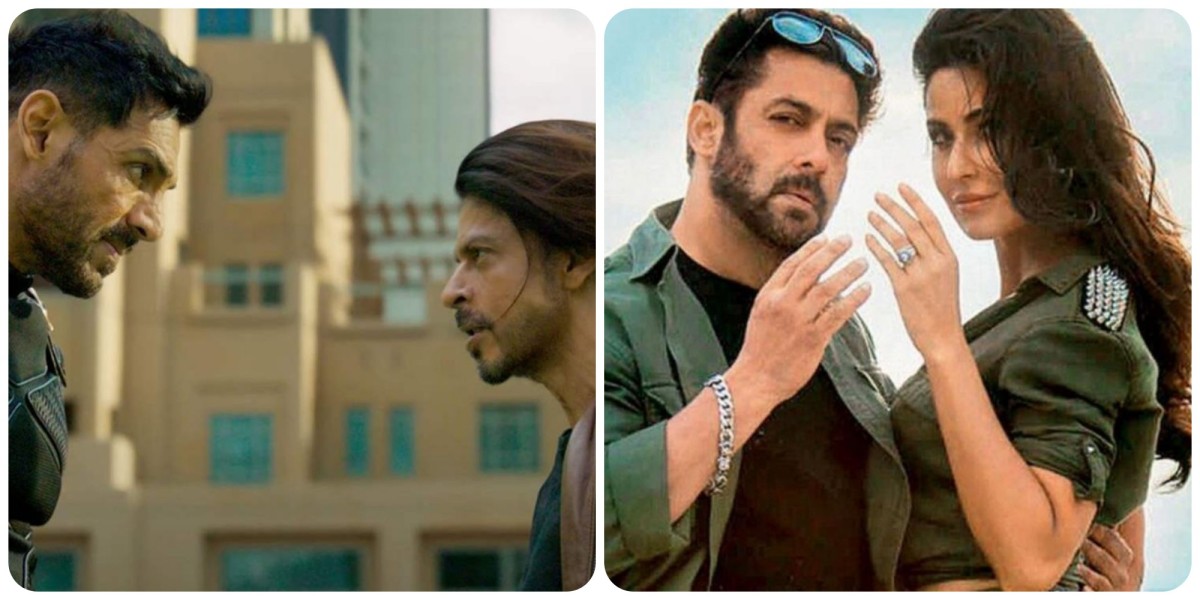 Feb 9, 2023
RAW agent vs fellow rogue. Bonding with ISI girl! Are films like Pathaan offensive to our Armed Forces, Intelligence Agencies? – Beyond Bollywood
Military veteran Lt Col. (Retd) Sundeep Sen, former army man Probal Dasgupta, and a former respected Brigadier share their perspective. An acclaimed author-writer gives the probable creative rationale behind such tropes in Bollywood.
By Mayur Lookhar
Shah Rukh Khan's Pathaan [2023] has smashed Bollywood box office records, garnering over Rs425 crore nett in its domestic business so far. The Yash Raj Films backed action thriller has also triggered some conversation in social, media circles. No, it's not the commercial returns, but few dicey tropes that has aroused our curiosity.
There is some similarity between Pathaan and War [2019]. Both films are directed by Siddharth Anand, and produced by YRF. War's lead character is Kabir Anand [Hrithik Roshan]. Pathaan has Shah Rukh Khan. Pakistan army, its powerful intelligence agency ISI [Inter-Services Intelligence] is the biggest evil in most Indian war, spy/spy-action thrillers. The Pakistani, though, isn't the chief antagonist in these films.
War [2019] had Khaled [Tiger Shroff], an Indian soldier whose father was a traitor, with the son now wanting to redeem the family image.  Unfortunately, Khaled was killed earlier. The traitor in this story is a fellow agent Captain Saurabh Patil [Yash Raaj Singh] who killed Khaled, and then slipped into his skin, and acquired his tone – a cosmetic surgery exclusive to Bollywood. Nevertheless, it ensured Tiger Shroff's unending presence in War.
Pathaan has no such miracle. Its villain isn't afraid to show his face, six pack abs, and roams freely in exotic lands. Jim [John Abraham] was once an Indian agent. Saurabh Patil sold his soul. Jim turned rogue because the Indian government disowned him, and didn't come to his wife and the unborn-child's rescue. Jim has now turned into this uber cool, sexy contract killer, head of a private terror group called Outfit X. He is hired by a Pakistani General to launch vicious attacks in India. 
An Indian rogue agent/soldier is not new to Bollywood. Suniel Shetty played a similar character in Main Hoon Na [2004]. Major Raghava Datta [Shetty] held the Indian army, rival Pakistanis responsible for his little son's death. He formed his own militant group with an aim to disrupt the India-Pakistan peace process in the Farah Khan-directorial.
The rogue Indian agent aside, we've also seen a peculiar ISI-R&AW [also spelt RAW] affair in Pathaan, Ek Tha Tiger [2012], The baffling thing here is how the RAW agent is crossed by the ISI girl, yet he saves her later, eventually forming the basis for an Indian guy-Pakistani girl joint operation.
It was perhaps convenient to slip such bizarre tales in the earlier socio-political environment. Today, we have a Hindu nationalist government at the center that prides in national security.  The polity, public will have their say, but it's vital to get a perspective on these tropes by the people who matter i.e. Armed Forces, Intelligence officers, and cinema creatives.
Former Indian Army officer and author Probal Dasgupta, who also shares a keen interest in cinema, shared his pearls of wisdom.
"A story is a creative expression of the writer, director. The expression, heroism will often be subjective. What I have issues is with the technical aspects. That is where they [film industry] must evolve," said Dasgupta.
The former army man, author of Watershed 1967: India's Forgotten Victory over China [2020], emphasized on aspects such as uniform, badges, medals. He had voiced his humble opinion on the poster of Meghna Gulzar's Sam Bahadur [2023], biopic on the late Chief of Army Staff Sam Manekshaw. 
"I also represented the Gorkha rifles. I saw the poster, and felt that the badge was different from the one worn by the Gorkha rifles."
Dasgupta heaped praise on past films like Haqeeqat [1964], Vijeta [1982] for their sensitive portrayal of Indian Armed Forces.  In the millennium, he waxed praise on films like State of Siege: Temple Attack [2021], Uri: The Surgical Strike [2019]. He, however, made an important observation pertaining to the latter.
"Uri was well made in terms of picturization, flawless in technical ability, but the involvement of the defense minister, National Security Advisor partly felt like a political message," quipped Dasgupta.
He also cited the example of Samar Khan's Shaurya [2008] that was a fictional tale of an Indian Army Officer facing court martial for killing his superior. He felt that the odd such incident has occurred in the Armed Forces but largely out of stress.  So, why is the RAW agent going rogue in Bollywood?
"That again is a creative expression. I think we've had the odd cases where people have defected to the other side but not to Pakistan," claimed Dasgupta.
Lt Col Sundeep Sen (Retd) is a military war veteran who has experience in counter insurgency operations in J & K, North East, and also led the operation at the Chabad House in Mumbai during the deadly 26/11 terror attacks.
"Maybe he [Shah Rukh Khan] is slightly afraid of showing the Muslim jihadi as villain every time. If you veer towards the Muslim villain, then majority of the Muslim population in India will not like it. Not that they are sympathetic to the cause of Pakistan, but they will not like a guy who is chanting Allahu Akbar, and then fighting your hero. A lot of money is at stake on these films. They [filmmakers] want to avoid needless controversies like pro Muslim, pro Hindu," said Col. Sen.
The ISI-RAW affair was downplayed by both Dasgupta and Col. Sen.
"That's a sort of fantasy. Maybe, it is the desire of a filmmaker to see a good ISI agent. ISI, however, is not known for its slice of humanity," chucked Dasgupta.
Col. Sen says amusingly, "In truth, if Deepika's character was to do this, she will be wiped off by the Pakistanis first." He continues, "ISI does this across the world. They even silence journalists whose bodies end up in some drain in Pakistan."
Requesting anonymity, a senior 1971 war veteran dismissed the populist tropes used by Bollywood filmmakers.
"I would only say that it is too farfetched. However, my humble opinion is that films, unless they are based on true stories or biopics, are meant for public entertainment and should not be taken seriously."
Like Probal Dasgupta and Lt Col. Sen, this gentleman, too, hasn't seen Pathaan or War. He heaped praise on Farhan Akhtar's Lakshya [2004] for being the closest realistic Army movie. Interestingly, this respected veteran left his mark in JP. Dutta's popular war drama Border [1997]. 
"Border was made when I was commanding an Armoured Brigade in Bikaner and they used my Brigade tanks in the movie. It was not only hyped but too filmi," the Brigadier lamented.
Do Armed Forces, Intelligence Agencies get offended by Bollywood tropes?
Prabal Dasgupta states, "I think it [Pathaan] is a movie that is big on optics. We don't lose sleep over it. Many a times, it is far too fictitious to even merit any consideration. I'm all for creativity in a fictional tale, but when it comes to a real episode, historical authenticity, technical aspects, and national sensibilities must be respected."
Recent history suggests that Bollywood has copped criticism from the Armed Forces. Karan Johar produced Gunjan Saxena: The Kargil Girl [2020] was condemned by the Indian Air Force for the alleged negative sexist portrayal. Producer Ekta Kapoor, who is known to push the envelope on OTT spaces, was slammed by the Supreme Court of India for polluting the minds of the young generation of this country. This after an FIR was filed against Kapoor for disrespecting Indian soldiers and their personal space.
Col. Sen, too, wasn't amused by Ekta Kapoor. "That Jeetendra's daughter, she can do anything. She will kill any character, bring back to life another, get people pregnant anytime. She only wants to sensationalise. Negativity draws attention. She knows it better," said the military veteran.
The Armed Forces can express their discontent, but very little is heard from present and past intelligence officers on their depiction in films. Kangana Ranaut, went over the hill in selling her action thriller Dhaakad [2022]. However, it just turned out to be another Bollywood film that aped the West.  In the end, the bad guy is the one who hired the secret agent [Ranaut] on the deadly mission. Haven't we seen such tropes in Jason Bourne, James Bond and other such Western films?
Honestly, there is a sense of dejavu creeping into this genre in the West too. Bollywood blindly taking inspirations to tell familiar stories is unlikely to appease the purists.
Pathaan is penned by Siddharth Anand, with Sridhar Raghavan [screenplay], Abbas Tyrewala [dialogue] assisting him.  We couldn't connect to them, but we spoke to a respected author-writer who is no stranger to this genre.
This person shed light on the possible creative rationale behind the populist tropes in films like Pathaan, War.
"Firstly, there is no white washing of Pakistanis. If you always have the Pakistani as your principal antagonist, then that would get boring. You do voice out the sinister plan hatched by the Pakistani, but the rogue is your internal guy. Western films have such potboilers. They have mastered it. The moment your film involves a rogue element, your chief enemy has to be internal" affirmed the author-writer.
Commenting on John Abraham's character Jim, the writer says, "You are going backwards if your chief antagonist is purely Pakistani. That is why you need a John to play Jim. Then there is ample scope for the character to entertain. You will smile, laugh with him. You need to humanise such character. With a Pakistani villain, you will always despise the character."
As for the ISI-RAW affair, the screenwriter had this to say, "You have to consider your overseas audience too. 30-40 % of your overseas audience comprises of Pakistanis. With so much money at stake, it makes financial sense to reach out to that audience. So, these tropes help. If you look from an Indian perspective, it is desirable to see an Indian hero romancing a Pakistani girl. No way does it make your film anti-India."
(Not just overseas, but there are reports on illegal screening of Pathaan in Karachi)
This gentlelady/gentleman opined that Pathaan needs to be lauded in the way it has been made in the commercial set-up.
War, Pathaan, earlier Main Hoon Na, isn't there a fear that such tropes could become a template? The industry insider disagrees.
 S/he replies, "Having a Pakistani villain in every second movie, wouldn't that become boring? What new will you show? What will be the language, the flavour? The other enemy around India [China], no one relates to them. The only option left is to have the enemy within."
In addition to being a revered military veteran, LT Col. Sen has also served as a consultant on titles like State of Siege: Temple Attack. He, too, concurred that filmmakers have limited choice.
"There has to be a villain. Now who will be that villain? You can't show American or British. It will have to be a villain from Pakistan, China or internal – like Naxals or insurgents in North East. But the situation has improved in the North East. Showing a Chinese villain is beyond the capability of Bollywood. They don't have any knowledge about their function. The only option left is Pakistan, but with Pakistan the problem is that we have the same population on both sides," explained Col. Sen.
Sen, Dasgupta are fine with creative liberties, but stressed that filmmakers need to get technical aspects right. It is here that a consultant can help. Or is it?
"Today, most filmmakers want to finish films in no time. Producers don't have time to invest 2-3 years into a project. Such pace doesn't gel with government agencies. They will ask for your script, then appoint someone to read it, who will pass it to his boss for approval. His boss will ask his boss, it will require clearance from more people in the hierarchy. So, that's why filmmakers will not take such risks. They are okay if any problem arises in the future and will accordingly consult the experts then," quipped the Chabad House hero.
The military veteran still urged the film industry to consult defense experts who will guide them at every stage. Though time is a constraint, Sen opined that there are certain things which require patience.
He sighs, "if you want a medium machine gun, where will you get it from? You are unlikely to get a toy gun of such size. You can get your smaller, hand-held weapons, but you can't get rocket launcher. There are so many things where Army can help. This will show Army in a positive manner. Army will spend money on PR, it will be good for them too."
Our screenwriter though underlined the difficulty in consulting Armed forces.
"When you are dealing with an organization that is held in such high reverence, one will not have the guts to question their sanctity.  The Armed Forces will never let anything come out that is arguable. If you go consulting, it takes you nowhere," said the screenwriter before cautioning filmmakers to respect the sanctity of our Armed Forces. S/he also rubbished any claims that Ekta Kapoor doesn't respect the army.
Lt Col. Sen didn't mince words in condemning the shoddy, crappy representations of Armed Forces.
He declares, "I will withdraw my name as a consultant if a film showcases the Armed Forces in a shabby manner. Recently, we were sharing a clip from a Mithun Chakraborty film, where he is holding a small gun and taking cover behind a bicycle. Look, we're also consumers. Such tropes are fine with your Friday, first show ticket guy, but it puts us off instantly. Then it is not a serious film."
Looks like we're still far away from a perfect Indian spy, action thriller that is universally acceptable, but we hope this article will trigger the right conversation between our Armed Forces, Intelligence agencies and the film industry.
Disclaimer: This story is auto-aggregated by a computer program and has not been created or edited by filmibee.
Publisher: Source link