Review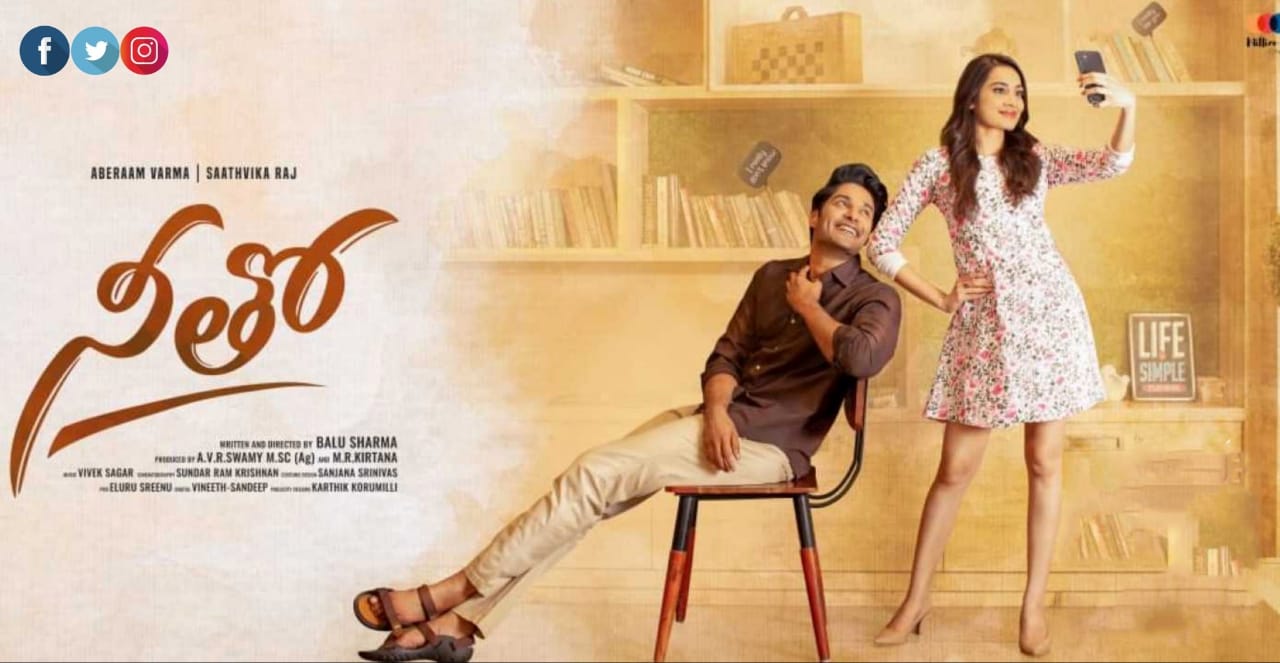 Oct 16, 2022
Neetho telugu movie review and rating
Cast: Aberaam Varma, Saathvika Raj and others
Music Director: Vivek Sagar
Cinematographer: Sundar Ram Krishnan
Editor: Marthand K Venkatesh
Producers: AVR Swamy, M R Kirtana & Snehal Jangala
Director: Balu Sharma
*Heading: A soothing romantic drama*
Varun (Aberaam Varma) is an insurance agent and Meghana (Saathivika Raj) is Satya's bride-to-be and a budding architect. Meghana and Satya opt for wedding insurance. Varun's future in the near term completely depends on the success of this insurance policy. That is, if the wedding gets shelved, the policy will fall apart and he is going to lose his job. It's only going to make his wobbly financial position weaker. This is also when Anusha, his long-time girlfriend, calls it quits in search of greener pastures.
In parallel, Satya decides to shelve his wedding with Meghana for some reason. Varun is in a bind but Meghana turns out to be a friend in need. They both get to bond and many conversations later, they wonder if they are in love. Are they really in love with each other?
Performances:
– Advertisement –
'Neetho' is not a typical commercial romantic-comedy and Aberaam Varma doesn't approach his character conventionally. He delivers a no-frills performance, completely understanding the nuances of his character. Seen prominently in the experimental film 'Manu', Aberaam never emotes beyond what is needed.
Debutante Saathvika Raj complements her male lead, portraying the semi-confused, occasionally playful Meghana with confidence. As a daughter whose parents (her father is played by Gururaj Manepalli) are bothered about their social image after the wedding gets cancelled rather than her hurt feelings, she is very watchable.
Technical Departments:
Vivek Sagar's background music is too muted at times, but one doesn't want to complain, for 'Neetho' is not a musical romance. The songs 'Lalana' and 'Madhuramey' are nicely done. Sundar Ram Krishnan's cinematography is effective, especially the climax scene between the lead pair. Marthand K Venkatesh's editing is sharp in the first hour.
Plus Points:
The film is content with being a romantic drama that doesn't deviate a bit from its core. It gives enough scope for both Varun and Meghana to reveal themselves for what they are. When Varun says that they shouldn't bring up a particular topic until they are sure, the viewer sees it as coming from a place of clarity. When the same Varun behaves in an impulsive manner (the scene where he spills the beans about Satya to Meghana stands out), we know that he is flawed.
The love story is built gently, amped up by neat lines. The equations between Varun and Meghana don't take off in a flamboyant or dreamy manner. There are no routine 'love at first sight' or dream songs rituals either.
Director Balu Sharma doesn't resort to lazy ideas like introducing a groom whose mean-mindedness puts off Meghana and her parents. Most writers would have been tempted to do something of that in the second half so that the male lead comes off as a gem of a person.
The characters are self-aware. The social dynamics between Varun and Meghana, who clearly belong to two different economic backgrounds, have been depicted with maturity. The detailing is noteworthy: We are told Meghana's family started out as a working class one before climbing up the social ladder.
Pavithra Lokesh is not a typical mother to the male lead; she doesn't intrude into her son's life, reflecting the modern setting of the film as much as Meghana's father. Rajeev Kanakala as Varun's uncle should have gotten more space, though.
For a change, here is a film where the workplace is not a playground where offensive jokes are cracked. Ravi Varma, Sunjiit Akkinepally and Late TNR are good.
Minus Points:
Films of this sort can look inadequate to those who look for plot turns and events. This is no 'Shatamanam Bhavati' but a 'Seethamma Vakitlo Sirimalle Chettu'. Both were family films, but the former had a clear-cut plot, while the latter was more about things left unsaid.
The pace slackens after the first hour. The film takes its sweet time to once again start acquiring heft. This is the case with a lot of conversational romantic dramas; even Gautam Menon's films are not innocent of the bug.
Bottomline:
'Neetho' is a romantic drama where a couple explores their relationship, often wondering if they really want each other. Watch it if you like love stories set in a non-commercial format.
Rating: 3/5
Disclaimer: This story is auto-aggregated by a computer program and has not been created or edited by filmibee.
Publisher: Source link