Ileana D'cruz who was last seen in The Big Bull has been hospitalized.
The Barfi actress took to Instagram to share the news of her health.
In the picture shared by the actress herself, you can see her lying in a hospital bed with IV fluids injected into her vein. She captioned the picture, "What a difference a day makes." She followed it up with, " Also some lovely doctors and 3 bags of IV fluids".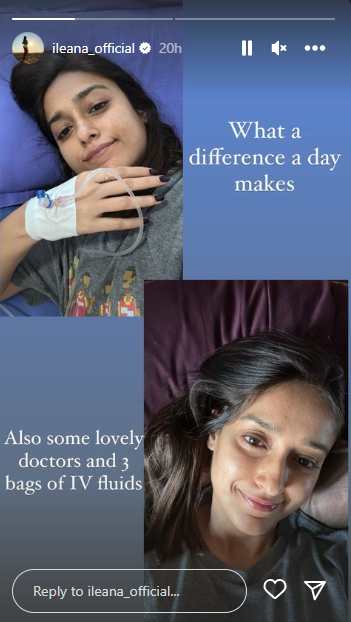 Ileana also shared another post to share her health updates. She wrote – "To everyone messaging me about my health, thank you so much for your concern for me. I really truly appreciate the love and I can assure you that I'm absolutely fine now. Get some good medical care at the right time."
She also informed the fans that she had to take three bags of IV fluids, which are specially formulated liquids that are injected into a vein to prevent or treat dehydration.
Also read: "I Had Suicidal Thoughts…"; When Ileana D'Cruz Revealed She Had THIS Body Disorder!