Movies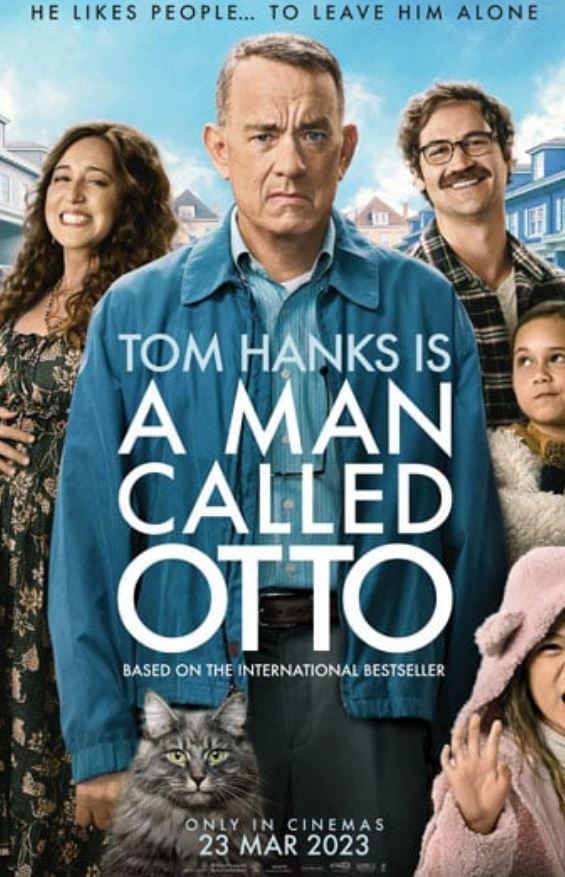 Feb 7, 2023
Grumpy but large hearted – Beyond Bollywood
Tom Hanks, Mariana Trevino's stellar acts drive this very moving slice of life drama.
Rating: 4 / 5
By Mayur Lookhar
You have given up on life. What's the point in living when no one will mourn you? Otto Anderson [Tom Hanks] has drilled a hole in his ceiling, attached the noose to a hook, he's all about to pass out when a spiritual voice beats into his ear, "You're taking it too far". At that very moment, someone has pressed the doorbell. It's Marisol [Mariana Trevino], his new neighbor who is here to pass on some tasty Mexican food. She had no inkling what the man was up to earlier. Otto has a spiritual angel, but Marisol is unaware that her timely knock on the door averted a tragedy, and inadvertently turned her into a living guardian angel.
Meet Otto Anderson, a worn-out engineer from Pittsburgh, Pennsylvania who has lost the zest for life.  He had a sour ending at his workplace. The bitter memories, both professional and personal, have wiped off the smile from his face leaving him lonely and grumpy for the rest of his life. He is extremely rude to all the people around him. He doesn't even spare a stray cat and a neighbor's pooch. His rigid thoughts, one dimensional perspective of life, humans, animals has turned him into a khusat budda [grumpy old man]. Damn he is so rude that for a guy name Otto, he even despires auto gear vehicles. Unfortunately, the man-ual driving is leading him nowhere in life either.
Otto must thank his stars that he is living in America, and in a neighborhood where there are still some kind people around him. There's a reason behind Otto's 24×7 grumpiness. Marisol's arrival helps to usher in some positive changes in the old man's life, who gradually starts respecting the humble people around him.
Director Marc Forster's A Man Called Otto is the second film adaptation of Swedish author Fredrik Backman's novel A Man Called Ove [2012]. We haven't read the novel or seen the first [Swedish] film. Backman has a fine human-interest tale, urging one to never give up on life even when life has dealt you heavy blows. There's a lesson for many grumpy old single men/women to not be afraid to reach out to the few good Samaritans around them. There's also a message for the people to not abandon a lonely senior citizen despite his/her grumpy attitude. In a nutshell, this story stresses on the need for more humane communication.
Hanks is no stranger to playing complex roles, but it is hard to recollect him in such a grumpy avatar before. Jeez, though harsh, but there is humour even in his angry rants. To him, the word is full of idiots. He initially finds Marisol nosy, her husband a total idiot. He had a fall out with his best friend and neighbor Ruben [Peter Lawson Jones], who is now confined to wheelchair and down with severe Parkinson's disease. It wouldn't be wrong to label Otto as soulless. Hanks is brilliantly despicable in this act. The grumpiness is evident even he reluctantly accedes to his neighbor's call for a ladder, later taking the pregnant Marisol to the hospital after her husband fell off the latter. He's aggressive whilst trying to teach Marisol manual driving. He's even initially rude to Marisol's cute little girls. Otto even ridicules a Social Media Journalist.
In a later scene, he reluctantly lets in Malcolm [Mack Bayda] to his house after the trans was kicked out of his own house. For a man with rigid views, in particularly having a disdain for all that is new, it is a tad surprising to see how Otto has liberal views on LGBTQ community.
Though he sports a long face most of the time, Otto's timely actions inevitably reflect his large heartedness. And he is diagnosed with one too.  This is another virtuoso performance by the acclaimed veteran actor.
It is our introduction to MarianaTrevino. The Mexican actor mightily impresses in bringing out the loving nature of Marisol.  The successful Mexican-American marriage and the warmth extended by Marisol is reflective of her humble nature. The bonhomie between Marisol and her American neighbors is also a subtle dig against the inhuman confinement of illegal Mexican migrants, especially children as seen during Donald Trump's reign as US president.
Hanks and Trevino are pillars of this film, but Hanks' son Truman also shines as the young Otto Anderson. Truman's chemistry with Rachel Keller, who plays Otto's girlfriend and future wife Sonya is adorable too. The first meeting in a train, then followed by a first date has humility, class written all over it.  Here's a humble guy who has had his food at home. He has limited money and so lets his date enjoy the desired delicacies in the plush restaurant. The lady quizzes him and he reveals more than one truth. He feels embarrassed and requests to be excused. The girl grabs his hand and then kisses him, resulting in an applause from fellow diners and also the theatrical audience.
The fine simple human-interest story is backed by a taut screenplay [David Magee]. Hanks, Mariana, Truman, Rachel Keller combine to give a stellar performance. Veteran Thomas Newman's background score is equally gripping. The heart-warming climax leaves you teary eyed.  A Man Called Otto has all the ingredients to move a desi audience.  More than money, large heartedness is defined by compassion, caring. Otto Anderson leaves a lasting impression on us. If we tried, it would be difficult to erase him from our memory. Ask why, and we have a desi explanation.  From hereon, each time we [Indians] take an AUTO rickshaw, it will be Otto driving into our conscience all over again.
A Man Called Otto [2022] will be releasing in India on 3 February, 2023.
Disclaimer: This story is auto-aggregated by a computer program and has not been created or edited by filmibee.
Publisher: Source link