Movies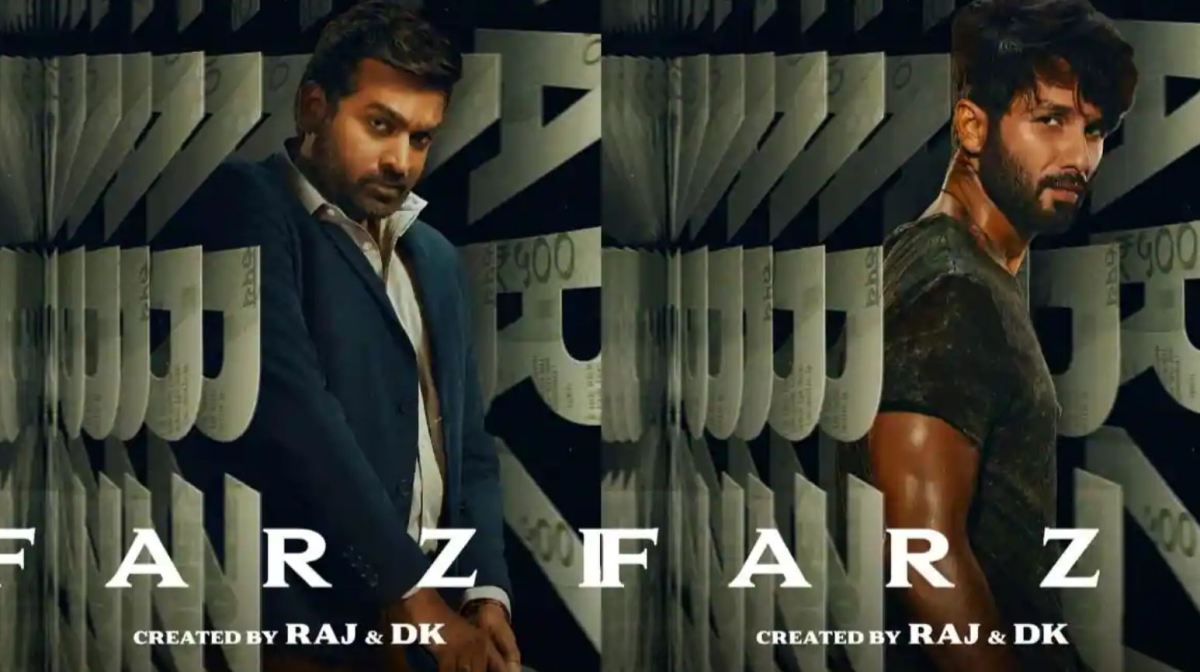 Feb 12, 2023
Farzi is to Shahid Kapoor what Breaking Bad was to Bryan Cranston – Beyond Bollywood
The Indian web series stuns you like the American crime thriller. Shahid Kapoor undoubtedly delivers his finest performance. Vijay Sethupathi regales in his maiden Hindi creative. Raashii Khanna, Bhuvan Arora, Kay Kay Menon, Amol Palekar, Regina Cassandra, and Zakir Hussain. Phew, individual brilliance galore in this engaging Raj & DK black comedy crime thriller.
Rating: 4 / 5
By Mayur Lookhar
A successful movement is remembered as kranti (revolution). The ones that fail go down in history as rebellion. Sunny listens to Nana ji's (grandfather) words carefully. He cares two hoots for his grandfather's kranti, ideals which have brought the family publishing house on the verge of shutdown. Sunny [Shahid Kapoor] feels that the society, system only exploits the 'middle finger class' like him.  He isn't here to rebel against the society or system. He simply doesn't want to be left behind in this rat race. It would break him to see his beloved grandfather and his Kranti daily shut down.
Desperate times call for desperate measures. The 'artist' that he is, Sunny simply chides to his best friend and soon to be partner-in-crime, "Chal na Firoz, seedha paisa banate hai." (Firoz, let's simply publish fake bills). Though reluctant, and scared as shit, Firoz [Bhuvan Arora] gives in to his brother-like best friend, only family's call.
A month later, their lives change forever. Kranti has cleared its debts, and is soon selling like hot cakes. All this while, Nanaji [Amol Palekar], suffering from amnesia, asks Sunny, "Son, hope you are not doing any illegal work?". There is simply a shake of head. The poker face Sunny can't hide the tension within. He has come too far in the dirty street that there is no coming back.
Necessity was the need, but Sunny also beats the following social rants to justify his actions.
"Money can't buy happiness. This dialogue is said by those who don't have money "
"I want to earn so much, that I don't have to value money ever "
"The poor spends life repaying loans, while the rich feasts on the interest"
"We're not middle class. We're the middle finger class"
It's these words, philosophy that builds an instant connect with the poor, middle, low-income groups and also subtly condemning crony capitalism. Sunny, though is no socialist. He was simply desperate to become rich.
This helluva ride is reminiscent of Walter White's [Bryan Cranston] journey in Breaking Bad. There the dying man wanted to secure the future of his wife and special child. So, the chemistry professor started producing meth. Here Sunny wants to save Kranti and later Nanaji's.  White had discovered a partner-in-crime in Jesse Pinkman [Aaron Paul]. Sunny has Firoz since they met each other as 8-year-old street dwellers on a railway platform. 
A certain sense of déjà vu does creep in, but it would be unfair to label Raj & DK's Farzi as any desi Breaking Bad.  The Indian web series has its own journey, tone, humour and flavour. Initially conceived as a film, show creators Raj Nidimoru & Krishna DK [fondly known as Raj & DK) must have realized that they have a potential gold mine so why not dig to the hilt.  Together with Suman Kumar and Sita Menon, co-writers Raj and DK have created eight gripping episodes that are anything but farzi (fake). No, we are not faking this. The only thing fake in the series are the near perfectly sketched fake notes aka Supernote by the man [Sunny] who calls himself the Artist.
From start to finish, Shahid Kapoor imprints his class in a non-classy character. The big bucks, fancy clothes still can't mask his Middle Finger Class roots. Kapoor has the smoky look mirroring the tension of a daily worker at a construction site. Going forward he does make quite an impression on the hawkeye RBI [Reserve Bank of India] officer Megha Vyas [Raashii Khanna], However, even during those conversations, you can sense that Mumbai gully boy lingo.  Sunny emotes so much with his body language; the words are just a byproduct of what is going inside his head.
Kapoor's blown hot and cold in his career. This though is a flawless, a breakout performance. As often with such characters, you hope audiences, in particularly the youth, doesn't see him as an idol. Damn, Sunny's never idolized one, so why should you idolize him! He is simply here to entertain you.  Kapoor brings out the true artist/artiste in him.
Bhuvan Arora is a relatively unknown name. It takes a Farzi to make him famous. Arora is adorable as Firoz, acing the Mumbaiya accent, charming with his wit, impulsiveness, and the fattu (fear) factor. Working in tandem is what helps the chaddi buddies (desi slang for close friends) thrive and survive in the counterfeit currency business.  Sunny and Firoz are simply inseparable. The Kapoor and Arora comic timing is impeccable. There are so many moments, but the one that had us ROFL [Rolling on the floor loudly] is when Firoz freaks out at the thought of sailing in a junk vessel. "Sunny, till date, I haven't told anyone but water freaks me out. I'm so scared that I've never even taken the Versova jetty, and here you are asking to me sail on a junk ship. I'm shit scared." For those uninitiated, Mumbai's Versova jetty is barely a minute ride. Arora matches Kapoor for intensity and also the sense of humour.
Vijay Sethupathi makes his debut in the Hindi entertainment space. Of all the southern stars who have experimented with Hindi cinema, Vijay Sethupathi now stands head and shoulders above the rest. He shreds all language, physical barriers to prove why he is counted among the best actors in the country. Michael Vedanayagam [Sethupathi] is not your uber cool, sexy Special Task Force officer. He is a true sport who even sees the lighter side of his colleagues body shaming him.  Sethupathi looks at ease with the Hindi language, but he doesn't alienate the Tamil audience. It's here that Regina Cassandra brings value added tension to Michael's life.  
The star South actress, who made her Hindi debut in the forgettable Ek Ladki Ko Dekha Toh Aisa Laga [2019], plays Rekha, Michael's sparring wife. Rekha wants an end to this marriage and fights for the custody of their little son Vyom. Michael's alcoholism, failed marriage is the perk of his righteous, workaholic attitude. Work or personal life, there is vulnerability about Michael that makes him relatable, likable.
Well, it is not just Sunny-Firoz, but Michael and his boss Pawan Gehlot [Zakir Hussain] also work brilliantly as a pair. There is one difference though, the latter share a quid pro quo relationship. Imagine here is a Special Task Force officer who is literally blackmailing the Finance Minister, not for any personal gains, but to simply arm him with the tools needed to fight the raging counterfeit menace. There are veiled threats from Michael, while open ones from Gehlot. It is hilarious how Michael tells Pawan that he is looking cute in a compromising position photo. Gehlot threatens to reopen Michael's past blunder. The duo is not afraid to use cuss words in their conversation. Despite all the swearing, intimidation, they share a common national interest. Hussain has long been an unheralded gem of Hindi cinema, television.  Farzi is just another feather in the cap for the seasoned artiste. As for Sethupathi, the message is clear – he belongs to any cinema.
Raashii Khanna is another Punjabi girl who switched to the South Indian film industry. Her journey began playing the murdered wife of Vikram [John Abraham] in Madras Café [2013]. Having spent the next many years down South, Khanna makes a timely return to Hindi entertainment space. Though not a field officer, Megha literally forces her way into the Special Task Force.  She was at the forefront of developing a counterfeit Bill machine.
The Delhi accent is natural to Khanna, who strikes you as a breath of fresh air. Like Michael, she, too isn't afraid to cross the line to save the nation. Accused of forgery, she sportingly accepts any fate that comes her way. Though peeved, Megha's go-getter spirit impresses Michael. The Megha and Sunny friendship blossoms gradually with the Delhi girl being protective about her boyfriend. She, however, is totally unaware that Sunny is that very nameless, faceless 'artist' who the government agencies are trying to track down.
In a classy scene, a former girl friend spots Sunny with this beauty [Megha]. The envious Ananya [Kayva Thapar] tries to create a feud, but the maturity, humour shown by both Megha and Sunny in foiling the ex's plan is a sight to behold.  Feminists though might lament how it is a woman who invertedly ends up as the weakest link for Sunny to exploit in the Special Task Force. Hey, but if it wasn't for Megha, Michael and his team wouldn't even have reached the tip of the iceberg.
Kay Kay Menon's Mansoor is the flashy, cocky, and the dangerous kingpin of this counterfeit currency mafia. The head of the snake, though, is naturally our noisy neighbour. Not just politics, but it is amazing how even Indian popular culture deliberately chooses to ignore Pakistan these days. Farzi exposes Pakistan's economic terrorism against India, which continues ever after the stunning demonetization move of 2016.  Hopefully, technology and better vigilance has helped to curb the menace. Besides, hope the forgery in Farzi gives no evil ideas to the viewer.
Kay Kay Menon's stellar show is among the many on display here. Veteran actor Amol Palekar brings the vital morality aspect to the crime thriller. Hope you are not doing anything illegal? That one question is enough to bust Sunny's many social rants.
Raj and DK set the tone with the opening episode. The following episode though doesn't have the same impact, triggering fears that Farzi could fizzle out soon. However, the series come back on track immediately and you are hooked onto to it from the fourth episode onwards. Though the plot lines aren't quite fresh, but it is the quality of the writing, screenplay, dialogues, astute direction and the stellar acts that brings genuine respect for Farzi. The background score and the music, too, is very thematic and highly enjoyable. Sachin-Jigar and even Tanishk Bagchi leaves behind his original touch. All said and done, this Farzi is simply great value for your content currency.
Disclaimer: This story is auto-aggregated by a computer program and has not been created or edited by filmibee.
Publisher: Source link