Review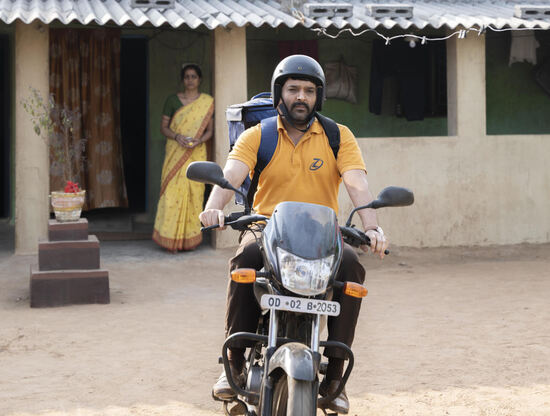 Mar 17, 2023
Zwigato Movie Review – Bollymoviereviewz
Average Ratings: 3.66/5
Score:100% Positive
Reviews Counted:4
Positive: 3
Neutral:1
Negative:0
Ratings: 3.5/5 Review By: Saibal Site: NDTV
What Zwigato does very well is present a story of strife and struggle in a nation and a society that thinks nothing of heaping indignities upon those that have been pushed to the margins. The pace and rhythm of Zwigato hinges on the flow of the life that it portrays. But unlike a food delivery boy whose future in this line of work relies heavily on pleasing customers and receiving five-star ratings, Nandita Das does not overly sugar-coat the film's central message. Zwigato hits home with equal measures of power and pathos.
Visit Site For More
Ratings: 4/5 Review By: Anna Site:Firstpost
Zwigato is a reminder that the more things change, the more they remain the same, or even regress. Nandita Das' storytelling style is so unpretentious and subtle, that she could easily be underrated. Watch carefully though, and through her cinema you will see a director with a profound interest in the human condition, an acute understanding of socio-political dynamics in India, and a firm handle on her craft.Zwigato is gentle, thoughtful entertainment.
Visit Site For More
Ratings: 3.5/5 Review By: Toshiro Site:Mirchi
Up until now, Kapil Sharma was only known for the comedy he did in "The Kapil Sharma Show". But this time, Kapil Sharma has won hearts with his extremely realistic acting in Zwigato, a new movie that portrays the real-life struggles of delivery people working in the online food delivery sector. Kapil Sharma plays the part of a person named 'Manas" and has really portrayed the role of a delivery person so well. From his body language to the way he spoke, everything reminded the audience of their own experiences while ordering food online.
Visit Site For More
Ratings: — Review By: Praveen Site:Hindu
Zwigato also points at the troubling unemployment situation in the country, which is used as an excuse by employers to further squeeze their workers.Quite a few films which have attempted to take on all these issues have ended up being weighed down by it all. But, in Zwigato, all of this is so deftly weaved in that the script proceeds organically without ever making us feel that someone is talking about an issue. Rather, all of these appear as real, human stories. It is the strength that comes naturally to a film that is firmly placed in the streets, unapologetically on the side of the workers, as a true working class cinema.
Visit Site For More
Also Try:
Ranbir Kapoor Box Office Collection
Top 10 Most Watched Web Series in india
Top 10 Best Hindi Web Series of 2022 in India
Zwigato Story:
The film, set in current times in Bhubaneswar, Odisha, explores the life of Manas an ex-factory floor manager. After losing his job, he is forced to work as a food delivery rider, grappling with the app on his phone and the world of ratings and incentives. He struggles to make ends meet for his wife, Pratima, his two children, and an ailing mother. Simultaneously, Pratima a homemaker, begins to explore different work opportunities to support his income. From being a masseuse for rich women to a cleaner at a mall. The fears of these new experiences are coupled with the joys of a newfound independence.
Zwigato Release Date:
17 March 2023 straight to Theaters
Zwigato Cast:
Kapil Sharma as Manas
Shahana Goswami as Pratima
Gul Panag
Sayani Gupta
Swanand Kirkire
Shah Rukh Khan in Cameo
Zwigato Director: 
Nandita Das
Zwigato Producer: 
Sameer Nair
Deepak Segal
Nandita Das
Zwigato Production Companies:
Applause Entertainment
Nandita Das Initiatives
Zwigato Distribution Companies:
Viacom18 Studios
Zwigato Run Time: 
1 Hour 44 Minutes (104 minutes)
Read More About Celebs:
Salman Khan | Shahrukh Khan |Aamir Khan | Ranbir Kapoor 
 Hrithik Roshan | Akshay Kumar
Rajeev Masand , Taran Adarsh, Komal Nahta , Anupama Chopra Reviews are awaited for this movie
Disclaimer: This story is auto-aggregated by a computer program and has not been created or edited by filmibee.
Publisher: Source link