Interviews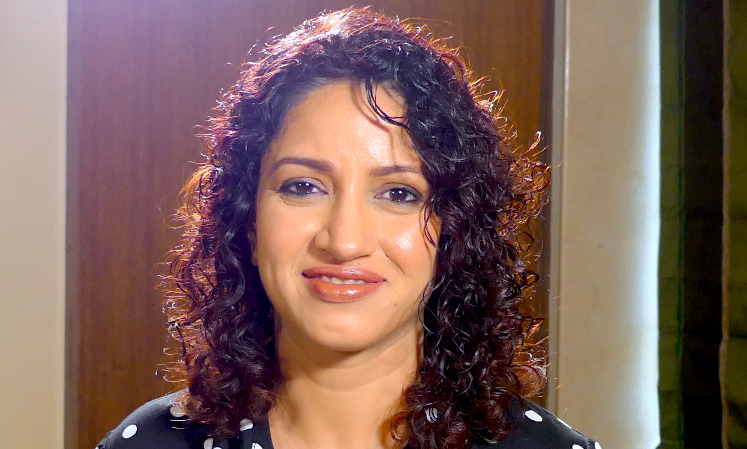 Apr 30, 2023
"Writing fiction was a very liberating experience for me" – Priyanka Sinha Jha – Planet Bollywood
Priyanka Sinha Jha has spent more than two decades working as a film journalist. The time she spent in and around the Hindi film industry and the countless interactions she had with people who are an intrinsic part of this industry proved to be major assets while writing her book 'Folk Tales From Bollywood: Adventures in Tinseltown'. While Priyanka had earlier written and released a book titled 'Supertraits of Superstars' in the year 2014, 'Folk Tales From Bollywood: Adventures in Tinseltown' marks her debut as a fiction writer.
In this interview, Priyanka talks about the process of writing the book, her long and eventful journey as a journalist, getting inputs from husband and filmmaker Piyush Jha, the evolution of journalism over the years, future plans and more.
'Folk Tales From Bollywood: Adventures in Tinseltown' is your first work of fiction. As a journalist, you deal with factual information. How was the experience of trying your hand at fiction for the first time?
After many years of being a journalist and subsequently creating factual entertainment content, writing fiction was a very liberating experience for me. Especially, because you can take a particular story in any direction as per one's flights of fancy. Fiction does not have a pre-decided trajectory based on the exact facts of a particular situation. You can take many creative liberties to explore the multiple possibilities in your story. For instance, a factual article about a celebrity is restricted to what has actually happened, but if it is a fictional story about a fictitious celebrity, one can go anywhere with it. You can create characters, plots and situations that have never actually happened. The trick though is to make it seem as if things and people in my stories are real. For me, that was a new challenge and one that I thoroughly enjoyed taking up.
You started writing the book during the lockdown. The book caters to those who are always eager to know about the lives of the rich and famous in the Hindi film industry. What made you pick this particular theme for the book?
The theme almost picked itself out. As I have mentioned in my dedication note in my book 'Folk Tales From Bollywood', even during the pandemic, it was people's never-ending curiosity about the lives of Bollywood folks that spurred me on this journey. During the tough days of the lockdown, for me, the idea was to not take things too seriously and provide comic relief for my friends through these fictional stories at a time when everyone was struggling to keep their heads above water. And I guess it worked out, as this collection of stories which took root during that period have been described as 'darkly humorous' and tongue-in-cheek.
Your husband Piyush Jha is a writer and filmmaker. Do you give each other feedback on your work?
Yes, both Piyush and I, always give each other feedback on each other's work respectively. We never mince our words and deliver the bouquets and the brickbats to each other without hesitation. And given Piyush's deep experience and strong creative instinct, his inputs are very helpful even when they are not flattering.
You have spent more than two decades as a journalist. How do you look back at this journey?
My stint as a journalist – first as reporter/feature writer at Citadel Magazine, Asian Age and Outlook Money and then as Editor of Society Magazine, HT Café, Screen, and Group Editor (Entertainment) at Network18 has been nothing short of magical. I have gained a lot also, from my stint at Hotstar Content Head (Bollywood) and at Star TV as Curator for the Star Screen Awards. As a youngster from Patna, I had never imagined that after my graduation from Miranda House in Delhi, followed by Journalism Course in Symbiosis, I would have these wonderful opportunities to observe and chronicle so many different facets of life. From crime stories to exploring the world of art, business, celebrities and eventually the world of glamour, the journey has been pretty surreal. I am very grateful to all the wonderful mentors like Mr Nari Hira, Mr Shekhar Gupta, Mr Uday Shankar, Mr Sanjay Gupta, Mr Gaurav Banerjee, Mr Ajit Mohan and many supportive colleagues I have worked with.
A decade ago, there were a handful of publications and few who identified themselves as film journalists. Now, so many people call themselves a critic or a trade analyst based on the number of followers they have on social media. While social media has democratized things in a lot of ways, one also feels there is a dip in the quality of journalism. What are your thoughts on this?
Yes, with the Internet and social media, the number of film journalists and film critics has grown in a big way. And that's not necessarily a bad thing. However, unlike traditional media which used to have certain guidelines or Do's and Don'ts if you will, new media allows all kinds of content without any serious considerations to quality or factual accuracy to be published. And so this lack of checks on content has resulted in the dip in quality that you speak of. On the other hand, it has also allowed new voices to emerge without the traditional burden of format. So, I would say that it is a double-edged sword. Good journalism, however, shall always exist despite the odds; but it will come at a premium.
What is the next step for you as a journalist and a writer? Do you plan to write a script for a film or series in the future?
I have co-founded a content creation company called Talkietive Content Creators. We are working with other leading and emerging authors and new voices to get fresh concepts and stories to the screen by creating OTT series in collaboration with leading production houses and studios. Separately, for my next book, I am currently working on a fiction story which is based on deeply personal experiences. Hopefully, this new book shall be published next year. Besides all of the above, I continue my journalistic work by way of writing pertinent editorial and opinion pieces, besides conducting interviews with key celebrities for select publications. In addition to that, I also comment as an expert on Bollywood across multiple television news channels.
Disclaimer: This story is auto-aggregated by a computer program and has not been created or edited by filmibee.
Publisher: Source link