Interviews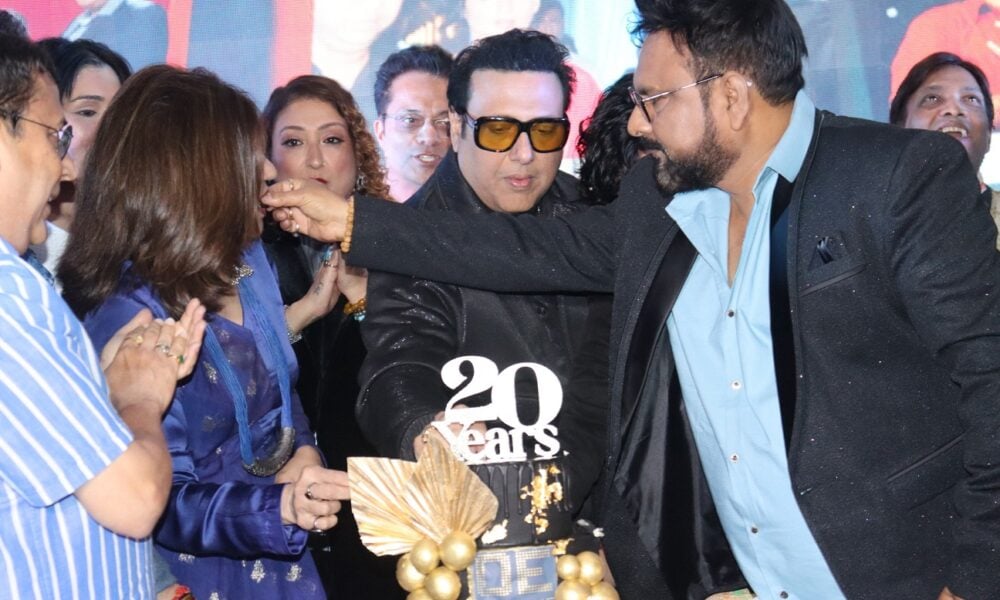 Jan 9, 2023
Will Govinda be part of the OTT web series backed by 'showman' Neeraj Mishra?
By Chaitanya Padukone
Wearing designer sunglasses and his mascot wrist bracelet, versatile star-actor and dancing-icon Govinda seemed to be in an upbeat mood as he mingled with the musical celeb guests. Accompanied by his wife Sunita and his charming daughter Tina Ahuja, the modest Govinda had an aura of gleeful pride when I reminded him that movie-mogul Karan Johar's recent OTT original movie was titled 'Govinda Naam Mera'. This was happening at the musical stars studded party hosted by 'super-showman' Neeraj Mishra.
Having organized over 500 live successful worldwide shows and concerts, impresario Neeraj Mishra had valid dual reasons to host a lavish party at Hotel Sea Princess, to celebrate 20 years of completion of his organization Octave Entertainment (Artiste & Talent Management Company). The dynamic Neeraj Mishra & enterprising (US-based) Anil Diwakar (DPA Events) also announced their 'new collab-venture' (including line-production, logistics, and wedding -planning), while they also celebrated their successful 20 years of Octave Entertainment at the event compered by the vivacious anchor-model Kavya Kulhari.
The musical celebs' guests included Anu Malik, Alka Yagnik, Sudesh Bhosle, Sapna Mukherjee (with her actress-model niece Sanjana), Anand-Milind, Bhoomi Trivedi, Sandesh Shandilya, Neeraj Shridhar, Shraddha Pandit, Chetan Rana, Shweta Sharma, stand-up comedian VIP, Ehsaan Qureshi, Sunil Pal, director Abhishek Dogra, and many others. Several celebs (like lyricist-writer Javed Akhtar, Shakti Kapoor, Sonu Nigam, Shaan, Kumar Sanu, Chunky Pandey, etc) who were unable to attend the celebration event, for genuine reasons, conveyed their sentiments thru recorded video messages. All the celebs complimented Octave Ent. founder-director Neeraj Mishra for his professionalism and his caring concern while they traveled with him and his team to various foreign destinations.
Host Neeraj Mishra revealed exclusively to me, that, "I am also collaborating with director Abhishek Dogra (of FryDay movie fame) and we are planning to make a web series involving Govinda, for a leading OTT platform".
Interesting to note, that Neeraj Mishra began his entertainment career as an assistant & production executive with the most renowned senior Bollywood choreographer 'Lollypop' (real name Sanjay Pradhan) as his 'mentor' in the year 1996.  In an exemplary gesture, Neeraj openly acknowledged on stage, "the crucial support and opportunities given to him during his initial struggling phase by Lollypop-Sir".
During the celebrations event, Octave Music (OM) also released its second single 'Rabba Rabba', which is produced by Neeraj Mishra & Shikha Mishra. Directed by Sushant R. Kaushik, Indian composer-lyricist-singer Vivian Richards (no connection with iconic West Indies cricketer with the same name) has given his soulful voice to the music. The music-video song features charming popular TV star Alma Hussein (of 2022 TV show 'Dhadkan Zindaggi Kii' fame) & model-TV star actor Sidhharrth Sipani.
Both brilliant actress Alma Hussein and producer Neeraj emphasized that their 'Rabba Rabba' melody video was "highly topical and realistic as the soulful song lyrics and endearing visuals conveyed the vital message. Suicide should never be the hasty solution when faced with an emotional or medical crisis.  Always there are alternate options and one should have strong willpower and optimistic patience and hope to overcome suicidal tendencies."
(The writer of this news-story Chaitanya Padukone is an eminent award-winning senior film-journalist-author)
Disclaimer: This story is auto-aggregated by a computer program and has not been created or edited by filmibee.
Publisher: Source link