Celebrity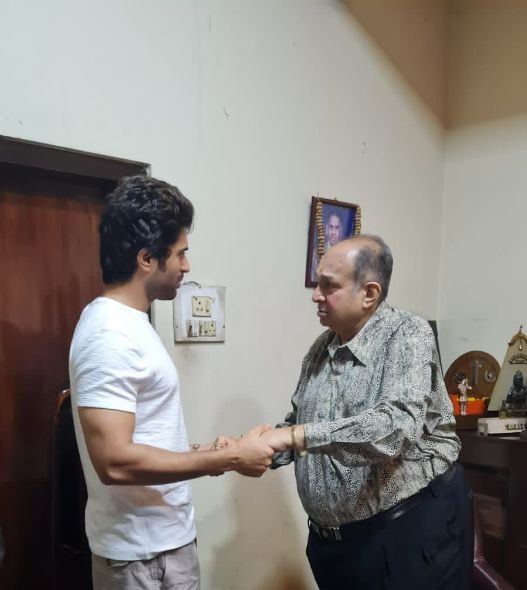 Aug 29, 2022
Vijay Deverakonda meets the Proprietor of Maratha Mandir, who called him Arrogant, Watch the video!
Vijay Deverakonda meets the Proprietor of Maratha Mandir, who called him Arrogant, Watch the video!
During the film's promotion, Vijay Deverakonda, who was most recently seen in Liger, discussed the "boycott trend." Manoj Desai, owner of the Maratha Mandir and Gaiety Galaxy theatres, criticized his remarks and referred to him as "arrogant." He then criticized the actor from Lige. Flying to Mumbai, Vijay Deverakonda visited Manoj Desai to clarify that his remarks had been misinterpreted.
The Arjun Reddy actor traveled all the way to Mumbai to visit Manoj Desai, the owner of the Gaiety Galaxy theatre and Maratha Mandir, in order to settle the matter. Vijay claimed that his remarks were misinterpreted and that he respects the audience. Manoj expressed his regret to Vijay after hearing him out.
Manoj Desai stated in a video, "He is a very good and down-to-earth man, and I will always love him. He has a promising future, and I hereby swear that I shall take all of his pictures. I send him my best wishes."
Executive Director of Maratha Mandir and Gaiety Galaxy In an interview with BollywoodLife, Manoj Desai criticized Vijay Deverakonda for his remarks. He stated: "Why do you think that stating "Boycott our movie" is clever? On OTT, no one will even watch. Your actions have caused us difficulties and have affected our reservations in advance. You are an anaconda, Mr. Vijay, not "Konda." You sound like an anaconda when you talk. "Vinaash kaale vipareet buddhi," which means that when the end draws near, the mind shuts down, is what you are doing. Anyway, do whatever you want."
Vijay ought to have learned his lesson from Aamir Khan, Akshay Kumar, and Taapsee Pannu, he continued. "Have you not noticed the impact of your statement, "Watch the movie or if you don't wish to, then don't watch," Mr. Vijay? It appears that you have grown arrogant. Watch Taapsee Pannu, Aamir Khan, and Akshay Kumar's struggles if the audience won't watch. I had high hopes for the movie, but the comments said during the interview left a negative impression. This should not be done, and hashtags should never be ignored "Manoj clarified.
I expect our #Bollywood stars should learn something from @TheDeverakonda

Humbleness is the key to success. Keep going Vijay! #VijayDevarakonda #ManojDesai pic.twitter.com/76xZnSyVIO

— Ravi Gupta (@FilmiHindustani) August 28, 2022
Manoj Desai, the proprietor of Maratha Mandir and the Gaiety Galaxy theatre, described Vijay Deverakonda as arrogant. Manoj Desai and Vijay Deverakonda met in Mumbai to resolve their issues. Manoj Desai expressed regret for his remarks regarding the Liger star.
Puri Jagannadh is the author and director of Liger. Vijay Deverakonda, Ananya Panday, and Ramya Krishnan play the three main characters in the movie.
Related
Disclaimer: This story is auto-aggregated by a computer program and has not been created or edited by filmibee.
Publisher: Source link