Interviews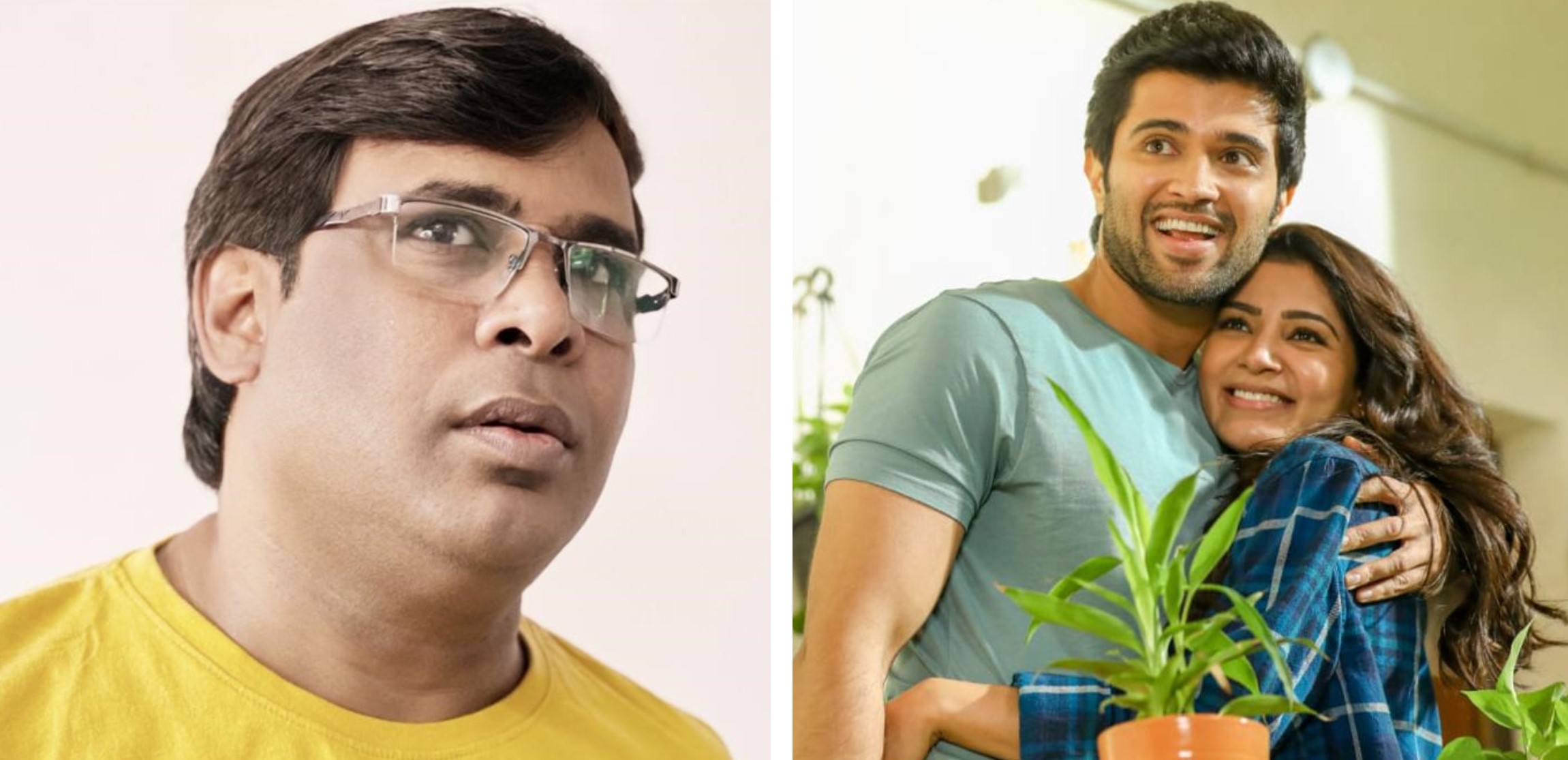 Sep 22, 2023
"Vijay Deverakonda and Samantha's presence have added a lot of value to the songs of Kushi" – Raqueeb Alam
When you see Raqueeb Alam being credited as a lyricist on a song, you expect rich poetry. The lyricist, who started his career as a wordsmith with Deepa Mehta's 'Water' (2005) which had music by A. R. Rahman, has written song for several notable films. The songs he had written for the Hindi version of 'Pushpa: The Rise', including chart-toppers like 'Srivalli', 'Saami Saami' and 'Oo Bolega' continue to attract listeners.
In this interview, Raqueeb talks about his songs in the Vijay Deverakonda – Samantha starrer 'Kushi', journey in the film industry, collaborating with Devi Sri Prasad, association with A. R. Rahman, the importance of poetry in film songs, 'Pushpa 2: The Rule' and more.
'Kushi' marks your first collaboration with composer Hesham Abdul Wahab. How was the experience of working with him on this film?
Hesham is a very simple and kind human being. He is a thorough gentleman. He is extremely humble and down-to-earth. These are the qualities that will take him far. Back in 1992, Rahman saab brought in a certain freshness with his music in 'Roja'. Hesham has also brought in fresh sounds and melodies. I had written the songs for 'Pushpa: The Rise'which was produced by Mythri Movies. 'Kushi' has been produced by the same production house. I had written two Hindi songs for the original Telugu version of 'Jersey'. Gowtam Tinnanuri, the director of the film, recommended my name to Shiva Nirvana, the director of 'Kushi'. I got a call from him and we started working on the film. 'Tu Meri Roja' was the first song I wrote for the film. Vijay (Deverakonda) and Samantha's presence have added a lot of value to the songs of 'Kushi'.
'Srivalli', one of your biggest hits thus far, was sung by Javed Ali. He has also sung 'Tu Meri Roja' for 'Kushi'.
Javed bhai and I have known each other since the time he sung for Rahman saab for the first time. Javed bhai and I mostly end up meeting in Chennai. I remember Rahman saab giving me two tunes to write the lyrics on. He wanted to test Javed's voice. The two tunes I wrote the lyrics on eventually went on to be used in Mani Ratnam's 'Raavan'. The two songs were 'Ranjha' and 'Behne De'. Mani Ratnam liked those tunes and got them re-written by Gulzar saab.
When it comes to Hindi film songs, one has witnessed a sharp decline in poetry in the last few years. While music directors, who do not have a basic sense of grammar, are writing songs themselves, most of the lyricists are not doing any impressive work either.
When Palak (Muchhal) was recording 'Aaradhya' ('Kushi'), she told me that she learnt two new words, 'jaamaadari' and tarare'. While 'jaamaadari' means the art of wearing clothes, 'tarare' means 'tappa' or bounce. I try to incorporate words that have not been used before or a fresh andaaz with every song I write. Film songs should carry the legacy of poetry forward. Naushad saab was a very good poet himself but he never wrote a song. Everybody has a right to write but while writing something, they must ensure that it is of a certain quality or standard.
'Aaradhya' also has a word called 'Iram' which means a garden in heaven or heavenly garden. 'Srivalli', too, had many words like 'asharfi', 'harfi' and 'poshida', which the listener might not understand initially but they lapped up these songs in a huge way.
After the release of 'Srivalli', the owner of a music company told me, "Raqueeb bhai, if you had written this song for me, I would have asked you to remove such heavy words." Even if somebody is not familiar with a word, they would relate to it if it has a good sound to it.
The first song you wrote was 'Shyam Rang Bhar Do' for Water. After the film, you collaborated with A. R. Rahman on many films like 'Slumdog Millionaire', 'Ada A Way of Life' and 'Blue'. How has been the experience of working with him?
Rahman saab treats me like his younger brother. Whenever I work with him, I don't get the feeling that I am working with a legend. That's because he is extremely simple and friendly. He has a very good sense of humour as well. We did a song called 'Ek Mohabbat' for the 'Vote for Taj' campaign. When I was writing the song, I realized that somebody from the production team was getting it written by another writer. I became very nervous and uncomfortable when I got to know of this. When I shared this with Rahman saab, he told me, "let them do what they want to do. I have asked you to write and your words will be used in the song". After the song was sent to the client, they really liked it. Rahman sir told me personally that they loved the line, "teri aur meri mohabbat ek hai".
You are from Giridih, a small town in Jharkhand. As a child, you were not interested in studies. Yet, your parents sent you to study engineering in Chennai. You wanted to become a playback singer.
I did come to Chennai to study engineering. My father was a teacher in a private school. There were financial difficulties at home, so I had to look for a part-time job to take care of my expenses while studying in Chennai. I started singing ghazals at five star hotels in Chennai. I had no formal training in singing but my voice and renditions received a lot of appreciation. I got the opportunity to meet lyricist P.K Mishra ji who had written the Hindi lyrics for many of Rahman saab's films made in the '90s including 'Roja' and 'Chor Chor'. I started assisting P.K Mishra and requested him to help me meet Rahman saab so that I could get an opportunity to sing for him. Soon, I met Rahman saab and he gave me the chance to sing for 'Mr. Romeo'. Prabhu Deva had a double role in the film. I sung a song along with Sonu Nigam. While he sang for one of the two characters played by Prabhu Deva, I sang for the other one.
How did you become a lyricist?
Sukhwinder Singh ji was writing the songs for Deepa Mehta's Water. Rahman saab was doing the music for the film. On one particular day, they were not able to get in touch with Sukhwinder ji. A song had to be written immediately. Rahman sir went through a directory which had my name along with my photograph. It had 'Raqueeb Alam – singer and lyricist' written on it. While Rahman saab knew me as a singer, he didn't know that I could write as well. Somebody from his team communicated with me through a pager and asked me to come to the studio as soon as possible.
When I reached the studio, Rahman saab asked me whether I write lyrics as well. I said a yes. He told me that a Holi song needs to be written for the film. He gave me the tune on a cassette. It was a 40-minute long tune. I wrote 4-5 mukhdas in the studio. When Deepa ji heard them, he really liked them. I was asked to go home, write whatever I could and come back the next day. I worked around the tune throughout the night and wrote 32 pages out of it. The next day, I sung the song in my voice while pitching it to Rahman saab and Deepa ji. Rahman sir decided to have me as one of the singers on the song. Unfortunately, the film got stuck in controversies and released three years after being completed. So, I had to wait for a couple of years for my first song as a lyricist to come out.
A.R. Rahman is not known to have a strong command over Hindi or Urdu. While working with him, do you have face any linguistic difficulties?
Rahman saab has been around for so long and has so much experience behind him. He understands lyrics very well. Apart from the meaning, he gives a lot of emphasis to the sound of the words being used.
You have worked extensively in the Tamil and Telugu film industries and have written Hindi lyrics for some of the biggest films made in these industries. Recently, you wrote the song for Rajinikanth's 'Jailer'. How has been your experience working down South?
The experience has been incredible! I have done eight films with Anirudh including Jailer and we have not even met each other till date. Sometimes, he would send me a tune in the night and I would write it by the morning. He calls me a high-tech writer (laughs). He says that Tamil lyricists sometimes take a week to finish a song but I write extremely fast. Devi (Sri Prasad) is younger to me but we call each other bhaiya. We are like family. After I worked with him on a film for the first time, there was a gap. However, once we collaborated again, we never stopped working with each other. Once he even made me sing a Telugu song. He always prefers me to write his Hindi songs.
The music of 'Pushpa: The Rise', for which Devi Sri Prasad recently won a National Award, was a massive hit. How did things change for you after that?
People get surprised when I say this but the truth is that I have not received a single offer from the Hindi film industry after the release of 'Pushpa'. I have been working constantly in South but no offer has come from Bollywood.
Who are the lyricists you admire?
I love Gulzar saab and Amitabh Bhattacharya's work. Whatever they write is very musical. When it comes to writing lyrics for films, they are the best.
How did you hone your skills as a poet or lyricist?
I was always very fond of music. After our exams would get over, we would have a musical function at school. I would always sing in those functions and my performances would be greatly appreciated. I had a friend in school called Arun. He had a keen interest in writing poetry. I used to help him write. While teaching him, I became a shaayar myself. I used to borrow books on poetry from the library in our school and read them. Ghalib, Shakeel Badayuni and Sahir Ludhianvi were some of my favourite poets as a child. 
What are you doing next?
'Pushpa 2' is the next big project. I am also foraying into script writing. I have co-written the script for a film with Arshad Khan. It will be a musical with a fresh story.
Disclaimer: This story is auto-aggregated by a computer program and has not been created or edited by filmibee.
Publisher: Source link