Movies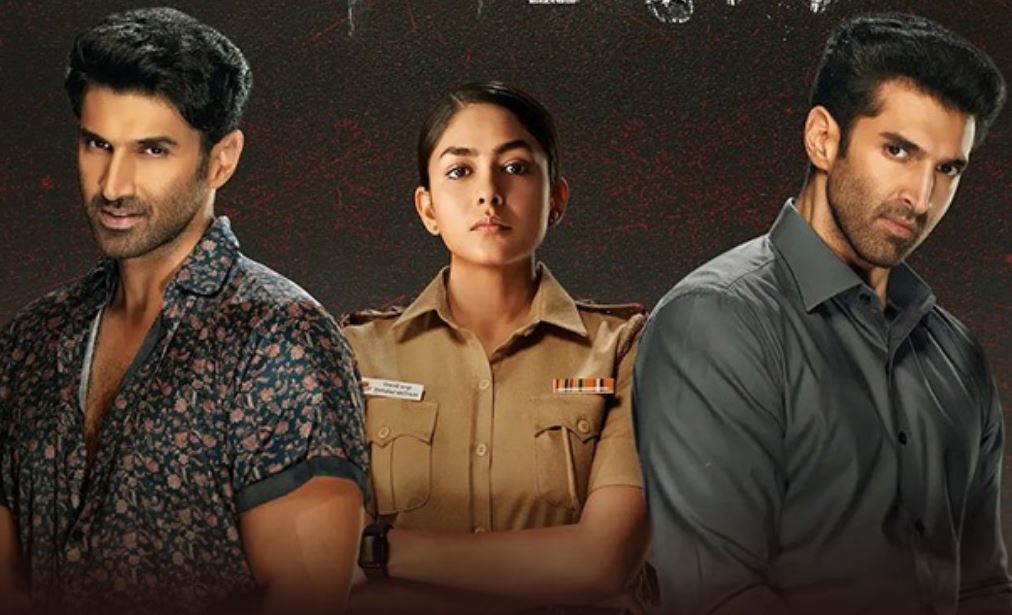 Apr 7, 2023
Two Aditya Roy Kapurs yet zero impact – Beyond Bollywood
Another Hindi remake of a South film that ends up in a disaster. Save for Ronit Roy and Vedika Pinto, the others put up a ham fest.
Rating: 1 / 5
By Mayur Lookhar
He banged his head in Sadak 2 [2020] and the viewers too banged their heads in disbelief as to what transpired in the Mahesh Bhatt directorial. Three years later, Aditya Roy Kapur makes light of two burly men punching him on the cheeks.  He feels the impact but there is no grimace on his face. The man simply shakes his jaw after every blow and even has the gumption to smile. "Punch him more," a viewer is likely to shout whilst enduring this over two hour-drama called Gumraah [2023]. It means misleading or astray as the film's makers describe it.
While the film stays true to the astray part, but the poor screenplay, shallow performances reduce Gumraah to a misleading film.  The Vardhan Ketkar directorial is the Hindi remake of Magizh Thirumani's Thadam [2019].  We haven't seen the original but the Hindi remake doesn't inspire us to watch it. Buzz has it that Ketkar and his writer Sumit Arora have produced a poor Hindi copy.
Set in Delhi/Gurugram, Gumraah opens with the murder of a gentleman called Akash Sardana [Aditya Lal]. The killer's face is revealed. So, where is the suspense? Hey, maybe this is not a suspense film. A selfie by a couple on a parallel roof catches the killer's face. It's remarkable how a photobombed image is crystal clear after zooming. Anyways, the cops arrest prime suspect Arjun Sehgal [Aditya Roy Kapur]. It seems an open and shut case. ACP Dhiren Yadav [Ronit Roy] is pleased as punch to see his bête noire behind the bars. His joy is short lived as few moments later, Sooraj aka Ronnie [also played by Kapur] is brought to the police station thus turning the investigation on its head. Arjun or Ronnie, who killed Akash? Gumraah then plays out to this conundrum facing ACP Yadav and the investigation officer SI Shivani Mathur [Mrunal Thakur].
Those who've seen the original are privy to the plot but Gumraah is guilty of few things before its release. Ketkar gave too much away in the trailer. In fact, the title itself is so revealing. While the makers claim that the film is inspired by true events, we are not convinced by it. The genesis of this story is admittedly inspired by crime stories featuring suspected twins. Although they are two entirely different worlds, but the tag team action in Gumraah is reminiscent of a 2013 Bollywood blockbuster that is a part of a popular action-thriller franchise. The smart reader will be quick to read between the lines.
The biggest and logical lacunae with Gumraah is the incompetency of the Delhi police to establish the motive behind the murder. By the time officer Shivani wakes up, the horse has long bolted. Inefficient policing is acceptable in cinema, but what excuse does one have for bad direction, writing, and poor performances?
Gumraah has a promising plot, but what it evidently lacks is a structured screenplay. The rushed screenplay makes it extremely difficult for a layman to decipher what really is happening? Who is on the screen now – Arjun or Ronnie? The latter's heavy Delhi accent separates the duo but it's not consistent. A few split screen scenes would have eased some confusion. Yes, all the dots connect in the end, but the poor screenplay, timid direction and shallow performances never build any engagement. 
One Aditya Roy Kapur can test your nerves. Imagine facing two. Arjun and Ronnie are totally opposite, but Kapur is not convincing in any of the two characters. It's bizarre how despite the prolonged poor form, Aditya Roy Kapur continues to get more opportunities.  (Was there ever any good run by Kapur?) People improve with experience, but as an artiste, Kapur has only deteriorated with every film. You can have great looks, sport chiseled bodies, but there is just no energy in Kapur. The repeated underwhelming performances justifies the nepotism criticism.
The worry for Gumraah is that it has more than one inconsistent artiste. Mrunal Thakur showed promise in Love Sonia [2018]. Sadly, she's been found wanting as an artiste since then. Her ardent fans will throw up Sita Ramam [2022] at us, but we were not convinced by that effort too.
Here we have a young Senior Inspector reprimanding the constables [much senior in age] for not wearing gloves whilst investigating the crime scene. Fair criticism, but the same officer turns up in a jogging suit to the crime scene. In fact, Shivani hardly wears the uniform.  The feminist will cry hoarse as to how a woman police officer is easily manipulated. Imagine a suspect, a trash talking guy like Ronnie taking out his shirt, unzipping his pant in front of a lady police officer. She's initially offended, but later seems cool with it.  Much of the chaotic investigation is down to the ego clash between Shivani and her boss ACP Yadav. Another uninspiring show by Thakur and Kapur seriously makes you question their casting.
While Thakur and Kapur are tough to endure, some of the supporting cast members are insufferable. Deepak Kalra as Chaddi – Ronnie's best pal is an eye sore. So, too, is Indresh Malik as Lakhani Seth, who is conned by Ronnie. There's the forensic expert who never misses an opportunity to flirt with Shivani. The Arjun-Jahnvi relationship has its mushy moments, but the duo saying 'cheers to stalking' is certainly promoting stalking culture. Delhi, Gurugram certainly doesn't need it.
The only consistent performer is the seasoned actor Ronit Roy. The adorable, smiling Vedika Pinto has a small but pivotal role.  She plays Jahnvi, Arjun's girlfriend. Pinto does her part well.  Hopefully, this would be the last of her prop-like characters.
The screenplay may be messy, but Ketan Sodha's background score is gripping in parts. Much of the action is indoors, but we don't see much craftsmanship from cinematographer Vineet Malhotra. Despite the multiple names in playback music, the few songs are anything but memorable.
Back in 1993, Mahesh Bhatt had directed a Gumrah of his own. Despite its western inspiration [nothing unusual then], Gumrah appealed to audiences then. Vardhan Ketkar has borrowed the title, remade a Tamil film but he lacks creativity. Sorry, Mr. Ketkar, audiences can't be misled into any Gumraah. Definitely not in 2023.
Disclaimer: This story is auto-aggregated by a computer program and has not been created or edited by filmibee.
Publisher: Source link