Gossips
Mar 27, 2023
TV Fame Krishna Mukherjee On Preparing Non-Veg Food Despite Being A Vegetarian; Read On!
One of the well-known actress from the popular television series 'Ye Hai Mohabbatein', Krishna Mukherjee tied knot with Chirag Batliwalla on March 13, 2023. The Bengali-Parsi couple's wedding took place in Goa. Krishna and Chirag's captivating connection caught netizens' attention, and they showered newlyweds with love and blessings. The TV fame has recently opened up about relationship with her in-laws.
Krishna Mukherjee's relationship with her in-laws
People frequently see this adorable couple as they keep their fans informed about every minute details of their life. Without a doubt, their images communicate a lot more than words. The actress also talked about how her in-laws embrace her and treat her like a daughter rather than a wife. When asked about their relationship during the same conversation, Krishna responded:
"I don't know how to cook non-vegetarian food and my husband loves eating non-vegetarian food. He was joking with me about making good chai and cooking food and we laughed how it will be a big task for me to cook non-vegetarian food. My in-laws are very supportive. My mother-in-law has not once made me feel that I am a bahu, she treats me like her daughter."
Chirag Batliwalla and Krishna Mukherjee's wedding
The television actress Krishna Mukherjee wed her partner Chirag Batliwalla in a discreet Bengali wedding in Goa. The bride and groom looked stunning in the pictures from their wedding that they shared on Instagram. Chirag matched the actress with a white kurta and dhoti, while Krishna Mukherjee wore a traditional red and white saree. "And the Bengali girl tied the knot for life with the Parsi Sailor," they said in the captions of their images. On this special day, we ask for your love and blessings. The couple's Instagram page received congratulations from various celebrities.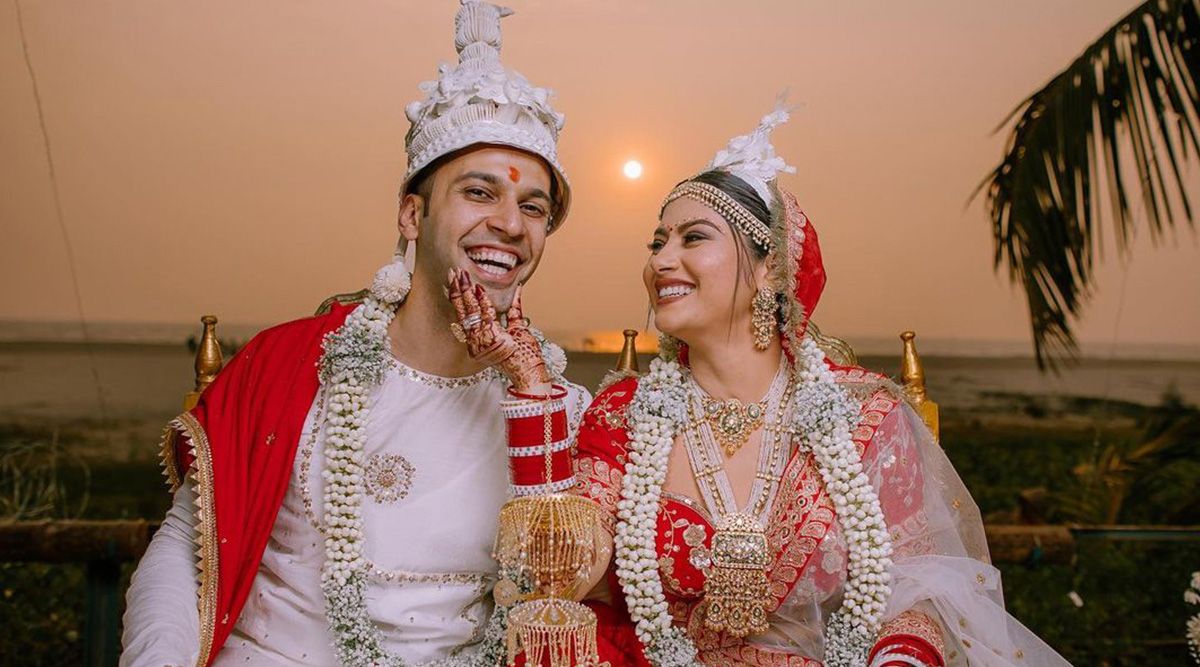 Krishna Mukherjee posted a captivating video of her entrance as a bride on her Instagram account, depicting the Bengali tradition of Subhodristi. The bride must enter the ceremony wearing a Paan patta over her face (Betel leaf). Krishna Mukherjee's response to a question regarding her honeymoon location was that her husband had kept it "hidden" Yet they're about to leave on their honeymoon. Krishna said: "Chirag has kept it a secret. We are happy that the wedding went well and soon we will head for our honeymoon."
When Krishna Mukherjee faced an 'oops' moment during her wedding
Krishna posted a sweet video from her Bengali wedding to her Instagram account on March 17, 2023. Krishna and Chirag were present when a kid entered carrying the varmala who tried to put it on the bride. When the purohit attempted to stop him, Krishna was speechless and started laughing hysterically. But Chirag's reaction, "Beta, beta main hoon," was simply too obvious to miss. The caption for the video said, "Hahaha..oops wrong number." Krishna was once also trolled for smoking hookah at her mehendi function. One user commented, "bas ab yhi sab bacha hai."
Krishna Mukherjee on her love story
In a recent interview, the actress talked about how she and Chirag first met, saying, "I had gone on holiday with my friends and met Chirag on the ship. He instantly won my friendship since he was so kind and compassionate. We were together for about a year. You won't find men nowadays who are as sympathetic and supportive. Chirag is a great guy, and I feel glad to found him." Chirag was in his merchant navy uniform when he first met Krishna. The couple had a dreamy yacht proposal. The TV actress also received a lavish bachelorette party from her friends at the Phuket beach.
Krishna Mukherjee's work front
The last time we saw Krishna was in Kuch To Hai: Naagin Ek Naye Rang Mein. She is also well-known for her work on numerous TV programmes, including Yeh Hai Aashiqui, Shubh Shagun, and Naagin 3. Krishna had appeared in as Priya Singhania in Harsh Rajput's place in 2022.
Disclaimer: This story is auto-aggregated by a computer program and has not been created or edited by filmibee.
Publisher: Source link