Interviews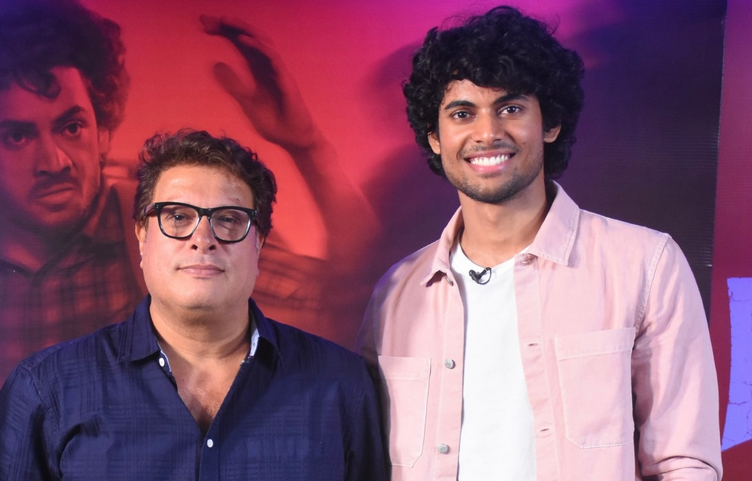 Sep 22, 2023
"The second season of Garmi is expected to be even more exciting and intense than the first" – Vyom Yadav
As Arvind Shukla in 'Garmi', actor Vyom Yadav delivered one of the best performances in an Indian series this year. The Varanasi born actor had done a few projects before featuring as the protagonist in the Tigmanshu Dhulia directed series which started streaming on Sony LIV earlier this year. However, 'Garmi' proved to be a turning point in his career and gave him a solid platform to showcase his skills as a performer. 
Arvind Shukla was depicted as a good-natured person who had anger issues. Was there anything common between you and Arvind? How did you connect to him?
When I initially read the script, I immediately identified with the common themes of the character's academic pursuits and desire to become a civil servant. As someone from the northern region of India, I could easily relate to these aspects of the character. However, the character's involvement in politics and struggles with anger were new to me. I had to put in a lot of research and effort to understand these aspects and fully step into the character of Arvind. Throughout the year 2022, I wore the shoes of Arvind's character, delving deep into his personality and thought processes. After much reading and analysis, I finally found a sense of comfort and familiarity with the character. I was convinced and felt at ease with the character's complexities, and there were no doubts or questions in my mind while portraying him.
Tigmanshu Dhulia explored the theme of student politics in his very first film 'Haasil'. 'Garmi', of course, had a voice of its own and was a long-format series. Do you have any memories of watching Haasil?
In my opinion, 'Haasil', which was released in 2003, was a film ahead of its time. People enjoyed it then, just as we enjoy it now, 20 years later. I first watched 'Haasil' in my first or second year of college, around 2018. I was already a huge fan of Tigmanshu Dhulia's work after seeing 'Paan Singh Tomar', 'Saheb Biwi Gangster', 'Bullet Raja' and other films, but I had never had the opportunity to explore his earlier works, such as 'Haasil', 'Charas' and Shagird. After seeing his work, including his outstanding performance in 'Gangs of Wasseypur', I revisited 'Haasil' and was enthralled by the performances of Irrfan Khan and Jimmy Shergill, as well as the incredible ensemble cast. Few directors can manage such a large cast and still give each character the importance and depth they deserve, but Tigmanshu Sir achieved this with ease. 'Haasil' felt raw and natural, capturing the essence of Allahabad (now Prayagraj), where we shot 'Garmi'. I have been to Allahabad and understand the tevar (attitude) of Prayagraj and Allahabad University, which were beautifully portrayed in the film. Overall, 'Haasil' was a perfect representation of the flavour and feel of Allahabad, and it remains one of my favourite films.
What kind of references were you given to play Arvind and familiarize yourself with the world he belonged to? Did the fact that your roots are from Uttar Pradesh help you portray this role?
Looking back, it was a wonderful experience for me to work on Arvind Shukla's character. I was given the freedom to build something that had never been seen on screen before. Although I was recommended to watch 'Haasil' for reference, it had nothing to do with the story we were creating. I had to research and create the character on my own, without being asked to copy anyone else's work. It was a custom hand-painted character, and I watched online videos, researched people in politics, and those who fight elections and rallies to create a unique character. I am proud of the fact that Arvind Shukla's character is one-of-a-kind, and I didn't have to copy anyone to play the role. My parents are from Uttar Pradesh and I was raised in Delhi. However, my roots are from UP and it did help me to understand the accent and body language of the character. For someone who isn't familiar with UP culture, it may not be as natural, but it wasn't a cultural shock for me.
Was it a tough decision to keep your engineering degree aside and pursue your dream of becoming an actor?
Balancing my engineering job at one of the top colleges in India, NSIT Du, and my passion for acting was incredibly challenging. I had a good job with a decent salary, which made it difficult for me to leave it to pursue my dream of acting. It was a constant struggle to manage both careers, but I loved acting and wanted to pursue it despite the difficulties. I would wake up early, start working at 9:30 AM, and work until late in the evening, with only a one-hour break for auditions during my workday. Even after work, I hit the gym and continued to work on my acting. The first time I got selected for a role was while I was at the gym after work. Despite the challenges, I was fortunate that I never had to deal with unemployment while pursuing acting. However, managing both careers was not easy, and it was like working with cool ice on a burnt hand. Everyone has their own battles to fight, and this was mine. Despite the challenges, I am glad that things worked out in the end.
What can we look forward to with the next season of 'Garmi'? When is it expected to come out?
The second season of 'Garmi' is expected to be even more exciting and intense than the first, as all the characters have been introduced and their backstories are revealed. There will also be new characters introduced, making it even hotter and more unpredictable. With the overwhelming love and positive feedback for season one, there is no doubt that season two will be highly anticipated by fans. In fact, I have been receiving constant DMs from fans asking when season two will be released. I am happy to announce that it will be coming out very soon, and I hope we can start shooting towards the end of the year. While we eagerly await its arrival, perhaps we can even bring back the ice bucket challenge trend for some cool relief from the excitement! (laughs).
You have stated that working with Tigmanshu Dhulia was like being in an acting school? Can you elaborate on this?
Tishu sir has an impressive 25 years of experience in Bollywood and has worked as an assistant director under the renowned Shekhar Kapur, who has directed some iconic films in the industry. He is a self-made man, and everything he has achieved is entirely his own. He is like hot iron from the furnace, intense and powerful.
Working around someone with such vast experience is truly a blessing. Tishu sir constantly shares his knowledge, tips, and techniques, making it a valuable learning experience for actors and everyone on set. Learning from someone who has already mastered their craft, especially someone like Tishu sir, who hails from the National School of Drama, is an incredible opportunity. It's like having a mentor who has read ten books on a topic and filters out all the essential tips and tricks for you. Tishu sir spoon-feeds this knowledge to you, making it an enriching experience. As an actor or a person reading a script, there may be multiple ways of doing things, but only experience can teach you the correct way. Working with Tishu sir has taught me so much, and I can't imagine anything beyond that!
Do you look at Garmi as a breakthrough project for you?
Without a doubt, this project has been an absolute breakthrough for me. It is a type of project that even a celebrity's child might not have had the opportunity to work on, as Tishu sir repeatedly mentioned to me, "this story I am writing, this story is not even something that a star kid might have received." I feel incredibly fortunate to have been able to work on such a project, and I could not have asked for a better debut as the lead. This has truly been a dream project for me.
Disclaimer: This story is auto-aggregated by a computer program and has not been created or edited by filmibee.
Publisher: Source link