Movies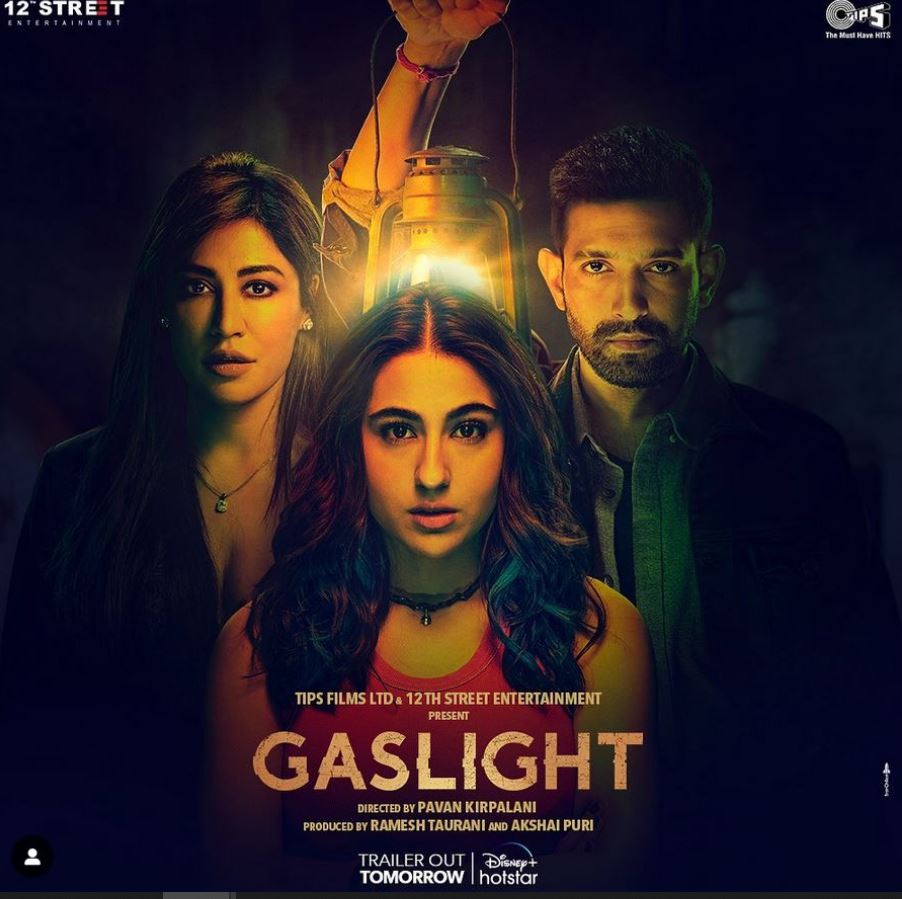 Mar 31, 2023
The Sara Ali Khan, Chitrangda Singh redemption – Beyond Bollywood
Though no out-of-the-box plot, director Pavan Kirpalani deserves praise for getting the best out of two actors who've struggled for consistency.
Rating: 3.5 / 5
By Mayur Lookhar
Watching Indian suspense, psychological thrillers can be frustrating. After the initial promise, they usually flatter to deceive. Writers, directors lose grip on the nerve. Exuberance gets the better of many actors especially when the cookie crumbles. Maybe that is why we don't see such films by the dozen in Bollywood. The few that come around naturally evoke an initial interest.
Honestly, the trailer of Gaslight [2023] was anything but impressive. The cast, too, didn't hold much promise. The title aroused our curiosity though as Gaslight is also the title of a 1944 acclaimed Hollywood classic that starred Charles Boyer, Ingrid Bergman. The American film was adapted from Patrick Hamilton's 1938 play of the same title. More than any inspiration, the hook for us was the possible horror element. Jeez, Bhool Bhulaiyaa 2 [2022] was the last horror, psychological thriller film that we saw on the big screen. That film though imbibed the Bollywood horror-comedy spirit. A conventional horror limits theatrical screens, plus the risk of earning's CBFC's A rating.  It's thus wise to release them on a digital platform. Writer Neha Veena Sharma and director Pavan Kirpalani took their Gaslight to Disney + Hotstar.
Kirpalani's Gaslight is set in Morbi, Gujarat. It follows the long-due home coming of Meesha [Sara Ali Khan], who had severed ties with her father after the death of her mother in an accident. The same tragedy also left Meesha crippled. Ratan Singh Gaikwad [Shataf Ahmed Figar] marrying for the second time further accentuated the father-daughter divide. Meesha returns after many years. She's largely lived like a recluse staying away from the modern world distractions – social media. Her stepmother Rukmini [Chitrangda Singh] and even her father is perhaps not aware how she looks as an adult. Meesha has returned home, but sadly her father is missing. She encounters spooky experiences compelling her to believe that something is really wrong in this palace. She seeks the help of Kapil [Vikrant Massey], her father's loyal servant to get to the bottom of this mystery.
Let's make it clear first. The desi Gaslight is no remake of the American or the preceding British film [1940] – both based on Hamilton's play.  At best, the Indian Gaslight [2023] is an ode to Hamilton's play and George Cukor's 1944 American film. 
As often with this genre, it is not the suspense per se, but the challenge for any filmmaker, writer is to create an environment for a familiar tale to thrive. The dark hue is apt for the story. Nikhil S. Kovale's production design and Apurva Bhagat, Ashish Naik's art direction go a long way in building a conducive environment for Kirpalani's Gaslight to shine. Create that environment, and see how other things fall into place. Sharma and Kirpalani's writing is fairly impressive.  The latter gets an A for direction and above all, getting the best out of his meagre resources.
Though they belong to different eras, Sara Ali Khan and Chitrangda Singh have one thing in common. After a promising start to their respective careers, both ladies have since flattered to deceive. Khan has to bear the brunt of other distractions too. Truth be told, their inconsistencies perhaps tested the patience of their ardent admirers too. It's remarkable how Kirpalani gets Khan and Singh to pull up their socks in giving a solid, measured performance.
Though on a wheelchair, Sara's Meesha shows great courage in lurking alone in the dark hours trying to unmask the mystery. Khan resisted her usual anxieties and stays in control of her emotions. Maybe being on a wheelchair ruled out any scope for exuberance. After being spooked out initially, Meesha goes about her task in a meticulous manner. When the time comes, she's isn't afraid to put her body on the line. Be it her tone or body language, Sara puts an impressive show that surely reinstils faith in the actress.
The same goes for Chitrangda Singh who delivers a rare fine act. Despite the perceived frosty nature of the relationship [step-mother – daughter], Rukmini doesn't indulge into needless pooh-poohing of Meesha, and stays clear of any poker face act. Gaslight is fit to be called as the Sara Ali Khan, Chitrangda Singh redemption.
Despite the mass in his name, Vikrant Massey has never been counted as a masses man. He's sheer quality, often leaving his indelible mark in any film or TV show.  It would be extremely harsh to point out the odd drop in intensity. No drag but the leisurely pace of the screenplay, demands its cast to hold its nerve until the mystery is unraveled. Massey gives another noteworthy performance.
While the three leads are impressive, but some from the supporting cast are guilty of little melodrama. Akshay Oberoi's Rana, the distant cousin of Meesha, and the Gaikwad family doctor Shekhavat [Shishir Sharma] cop the blame here. The big twist in the end will be contemplated, but Kirpalani left a vital clue early that justifies the climatic turn of events. Rahul Dev is impressive as the local cop who once crushed over Rukmini, but policing is often found wanting in such thrillers.
The rich production design is accompanied by Gaurav Chatterji's gripping background score which elevates the cinematic experience. Gaslight has adequate horror that keeps you on the edge of your seat. There is no needless or any overdose of jump scares.
Kirpalani has adequate experience in the genre – Ragini MMS [2011], Darr @the Mall [2014], Phobia [2016]. He switched to horror comedy with Bhoot Police [2021] that evoked mixed views.  He chucks the comedy totally, returns to his forte with Gaslight. It's his astute direction that ensures that this Gaslight never runs out of gas.
Disclaimer: This story is auto-aggregated by a computer program and has not been created or edited by filmibee.
Publisher: Source link