Box Office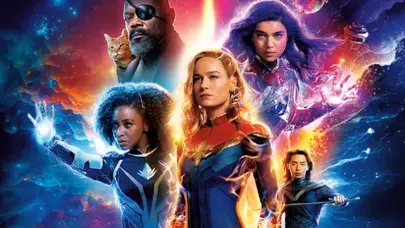 Nov 10, 2023
The Marvels Box Office Collection Day 1 India & Worldwide
The Marvels Box Office Collection Day 1 India & Worldwide has opened low .The Marvels starring Brie Larson , Teyonah Parris and Iman Vellani has opened at box office in India and also in USA and worldwide but the opening is low everywhere.
The Marvels USA and Worldwide Box Office Collection
The Marvels has collected $6.5 Million in previews in USA and is headed for $45 to $50 Million in USA in its opening weekend. Tracking for this movie had started with $75 to $80 Million which was reduced to $60 Million but the opening weekend is looking even lower. Worldwide The Marvels is expected to open $120 to $140 Million with $80 Million in Overseas.
This would be the one of the lowest opening for a Marvel movie even lower then the Eternals as the previous Captain marvel was a a billion dollar movie at box office in 2019 coming during the peak of Avengers this is a big flop. The Marvels has brought Disney + characters into movie and has also the most diverse movie stars following the trend but this has instead bombed
The Marvels India Box Office Collection
Day 1:
2 to 4 Crore nett Trade Figure
The Marvels had already a booking of 1.25 Crore in advance booking (pre sales)
The Marvels Budget
The Marvels total Budget is $ 270 Million or Rs 2249 Crores in Indian Rupees
Top  Hollywood Openers Worldwide 2023 Box Office
Barbie $1.44 Billion overall and  $635 Million in USA and  $805 Million Overseas
The Super Mario Bros. Movie $1. 36 Billion overall and  $575 Million in USA and   $786 Million in Overseas
Oppenheimer $945 Million worldwide and $324Million in USA and  $621Million in Overseas
Guardians of the Galaxy Vol. 3 $845 Million Worldwide and  $358 Million in USA and  $486Million in Overseas
Fast X $704Million Worldwide $146 Million in USA and  $558 Million in Overseas
Spider-Man: Across the Spider-Verse $690 Million Worldwide $381 Million in USA and  $308 Million in Overseas
The Little Mermaid $569Million Worldwide $298 Million in USA and $271
Mission: Impossible – Dead Reckoning Part One $567Million worldwide $172Million in USA and  $395 Million in Overseas
Elemental $494 Million Worldwide  $154 Million in USA and  $339,Million Overseas
Ant-Man and the Wasp: Quantumania $476 Million Worldwide and $214 Million in USA and $ 261 Million Overseas
Top  Hollywood Openers in India 2022-2023 Box Office
Avatar 2: 41.2 Crore
Doctor Strange: Multiverse of Madness:  28.35 Crore nett
Thor Love & Thunder: 18.2 Crore nett
Oppenheimer: 13.5 Crore nett
Fast X: 12.21 Crore nett
Mission: Impossible – Dead Reckoning Part One: 12 Crore nett
Black Panther 2: Wakanda Forever: 12 Crore nett
Antman and Wasp Quantumania: 10.85 Crore nett
Jurassic World Dominion: 8 Crore nett
Guardians of the Galaxy Vol. 3: 7.5 Crore nett
Black Adam: 6.8 Crore nett
The Batman: 6.66 Crore nett
Barbie: 5  Crore nett
John Wick 4:  5.1 Crore nett
The Flash:  4.65 Crore nett
Spider-Man Across The Spider-Verse: 4.2 Crore nett
Transformers: Rise Of The Beasts: 3.9 Crore nett
Indiana Jones 5: 1.9 Crore nett
Shazam 2: 1.81 Crore nett
Top  Hollywood Openers in India Box Office All Time
Avengers Endgame (2019) 53.1 Crore nett
Avatar 2: 41.2 Crore nett
Spiderman Far From Home (2021) 32.67 Crore Nett
Avengers Infinity War (2018) : 31.3 Crore nett
Doctor Strange : Multiverse of Madness (2022): 28.35 Crore nett
Thor Love & Thunder (2022): 18.2 Crore nett
Oppenheimer: 13.5 Crore nett
Captain Marvel (2019) – 12.75 Crore
Fast X: 12.21 Crore nett
Fast & Furious 7 (2015) – 12.03 Crore
Black Panther 2 : Wakanda Forever: 12 Crore nett
Mission: Impossible – Dead Reckoning Part One: 12 Crore nett
The Lion King (2019)- 11.06 Crore
The Avengers – Age Of Ultron (2015) – 10.96 Crore
Antman and Wasp Quantumania (2023): 10.85 Crore nett
The Jungle Book (2016) – 10.12 Crore
Fast & Furious 8 (2017) – 9.57 Crore
Mission Impossible 6: Fallout (2018) – 9.5 Crore
 Deadpool 2 (2018) – 9.48 Crore
Fast X (2023): 9 to 11 Crore nett
Jurassic World Dominion (2022) – 8 Crore
Thor Ragnarok -7.78 Crore
Guardians of the Galaxy Vol. 3 (2023): 7.5 Crore nett
Disclaimer: This story is auto-aggregated by a computer program and has not been created or edited by filmibee.
Publisher: Source link