Movies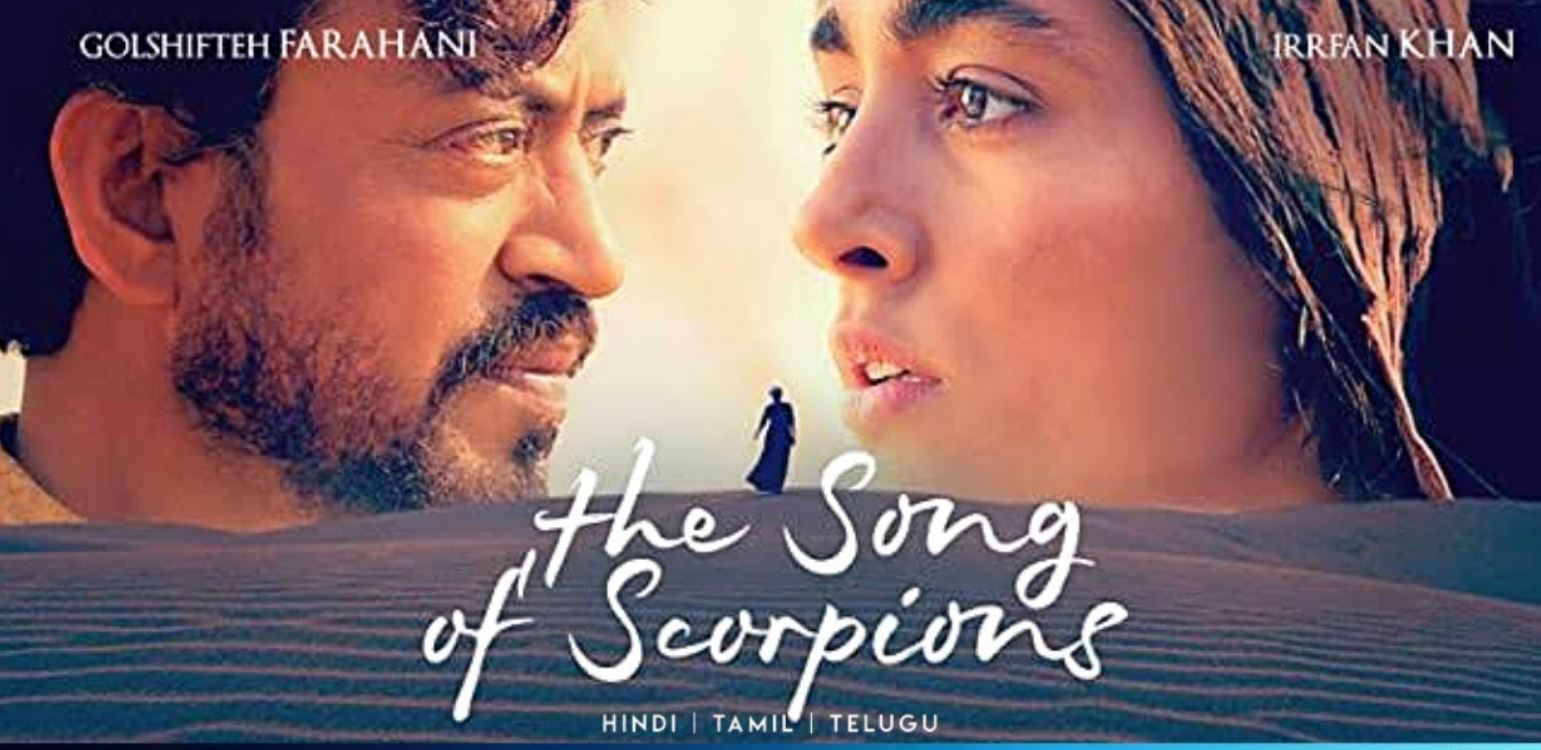 Apr 27, 2023
Sting in the tale! Irrfan Khan's last theatrical release is a visual treat – Beyond Bollywood
Irani actor Golshifteh Farahani stuns you in a Rajasthani avatar. Director Anup Singh's international film shines for its colour, culture, and the people in this poignant folk drama.
Rating: 3 / 5
By Mayur Lookhar
This reviewer has a habit of making little notes while watching a film. For the first time ever, there was nothing to jot down. The film was so immersive that it merited undivided attention. That it is the last theatrical release of the late Irrfan Khan perhaps added a sentimental value. We didn't want to miss every second of this experience.
Written and directed by Anup Singh, The Song of Scorpions was waiting in the wings to get a theatrical release. Unfortunately, the great man (Irrfan) didn't live to see this day. His son Baabil, though, graced the special screening. Singh and Irrfan had earlier given the acclaimed drama Qissa [2013].
Here comes another qissa (story) that is an international production. This one is a combined Swiss, French, and Singaporean collaboration.  Here's another tale that is rooted in Indian culture.
Set in remote Jaisalmer, Rajasthan, The Song of Scorpions rides on an Islamic folk surrounding scorpions. Young Nooran [Golshifteh Farahani] hopes to emulate her grandmother Zubeida [Waheeda Rahman] who is a folk healer. The villagers believe with good reason that the tribal lady's songs can counter the scorpion's poison. Those stung, are rushed to Zubeida and Nooran. Camel trader Aadam [Irrfan Khan] is smitten by Nooran the moment he hears her voice. He casually proposes marriage. The lady enjoys the attention from the man, but isn't prepared to take the plunge. 
A tragedy ensues which crushes Nooran from within.  A conservative society would it make it tough for her to live alone in the village. So, she accepts Aadam's proposal.  It's not the end of her trauma as subsequent revelations leave the lady disheartened.
The Song of Scorpions has you contemplating on the many probabilities surrounding the plot. A humble viewer might be in a bind, but the keen eyes will do well to premediate the 'sting in the tale' here. The patriarchal undertone shouldn't be lost. A simple folksy plot is churned into a fairly engaging screenplay. Not quite a slow-burn, but the engagement levels waver once Aadam is married to Nooran.
The international co-production sets high technical standards.  The Song of Scorpions is a visual treat all the way as cinematographers Pietro Zuercher and Carlotta Holy-Steinemann weave magic with their lens, capturing the desert region, it's culture and people in a breathtaking way. The long distant shots are a sight to behold. They dessert light turns your screen gold, while the gaslight, twinkling stars bring out the beauty of the cold nights. There is very little light in the moment of despair, each shot though proving to be an immersive experience.  The light and shade bring out the various moods, state of mind of the leading characters.
Gorgeously shot, The Song of Scorpions also has apt production design, limited but riveting background music and original score by Béatrice Thiriet that play to Rajasthani lyrics by Madan Gopal Singh.  The costumes reflect the culture but the trio of Nidhi and Divya Gambhir, Kay Devanthey are mindful of using the right shade depending upon day or night. Amina [Kritika Pande] often meets her friend Nooran in the dark of the night, wearing bright colour costume.
The slow-burn narrative is often subjective. There's a consensus though on the performance by the leading cast. The Irrfan was a master at these intense roles. He seldom needed dialogues, as his dig deep eyes conveyed the emotions. Despite being married with a kid, Aadam can't stop himself from crushing over Nooran. Often it is a woman whose heart is pounding during intimacy. Here, it is the opposite as Aadam finds himself breathing heavily, sweating when Nooran displays affection for her man.  Khan effortlessly slips into his character, showing grit, wit and eventual remorse.
Khan was it his usual best but it's the Irani beauty who leaves you stunned. She learned Rajasthani/Marwari language. It would be harsh to expect perfection, but Golshifteh astounds you with her language, intensity and choked emotions. The foreign accent only comes through briefly in a few words, but the lady truly justifies the director's faith in her.  Jeez, she's even good while (presumably) lip syncing to the songs. Golshifteh has set an example for global talents to find their space in Indian entertainment space.  From her screen presence to acting, dialogue delivery, expressions, you just can't take your eyes off this Noorani chehra
The film was shot in 2015. Child artiste Sara Arjun was ten when she shot for The Song of Scorpions. We were mightily impressed by her in Ponniyin Selvan: 1 [2022].  Jeez, she had this confidence, intensity even at age 10. Ayesha [Sara] is not peeved with her step-mom, but is kind of intrigued by her revered folk healing powers.  In one moment, she is down to tears as Nooran tries to force feed the child.  She's naturally shaken but few seconds later, Nooran comforts the child by giving a glimpse of her singing talents.
Shashank Arora is an unheralded name. He plays his part as Aadam's friend Munna to the T. Veteran actor Waheeda Rehman shines in her brief role.
That this film has taken six years to get a theatrical release only reveals the challenges it must have faced, despite having internationally acclaimed stars in Irrfan and Golshifteh.  The Song of Scorpions is a poignant tale, beautifully shot and well-acted. Singh compels the viewer to contemplate on what really transpired here. It's a piece of art that might cater to particular sensibilities.  Irrfan's last theatrical film is a great motivation to watch The Song of Scorpions. There, however, is plenty more color, drama, art to this stinging tale.
The Song of Scorpions is set to be released in theatres on 28 April.
Disclaimer: This story is auto-aggregated by a computer program and has not been created or edited by filmibee.
Publisher: Source link