Movies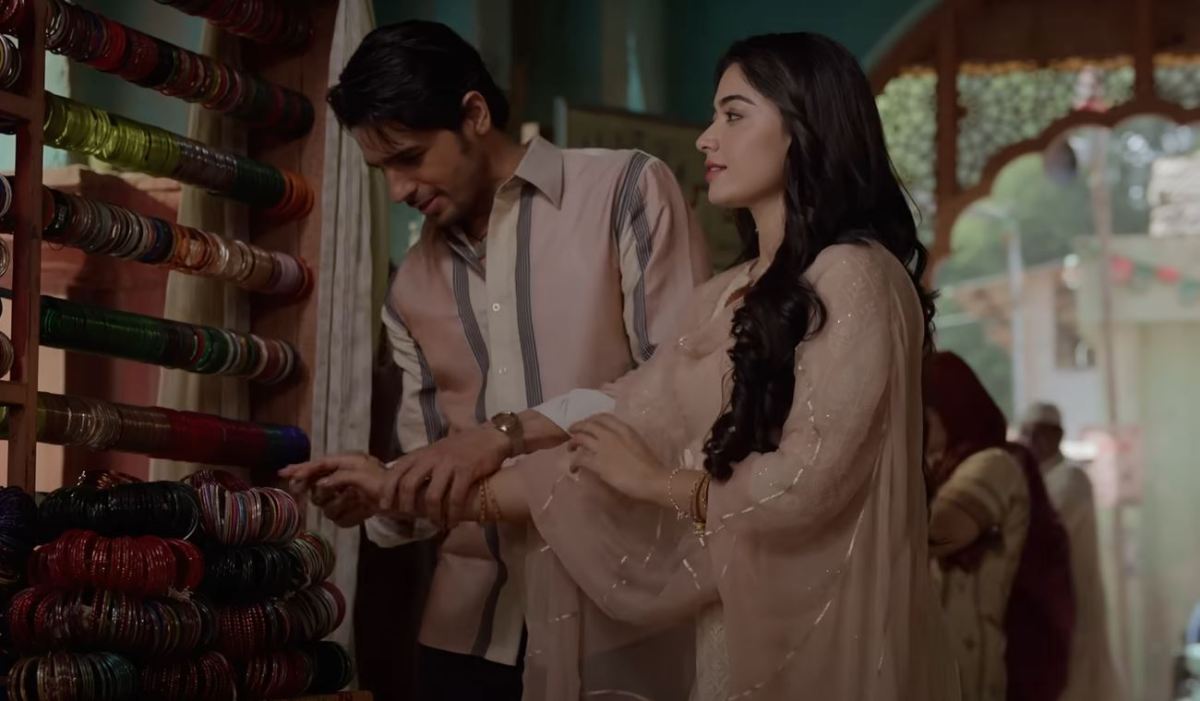 Jan 20, 2023
Sidharth Malhotra wins hearts, and pays a fine tribute to unsung heroes of R&AW – Beyond Bollywood
Director Shantanu Baggchi builds a fine espionage thriller that is based on true events. South Indian star Rashmika Mandanna holds her own in a Pakistani Muslim avatar.
Rating: 3.5 / 5
By Mayur Lookhar
"It's not their martyrdom, but the Tiranga flies high with their breath," those are the fine final words of Mission Majnu [2023]. The grief is quickly turned into endless gratitude. It is a debt that we the free citizens of India can never repay.
Director Shantanu Baggchi's Mission Majnu [2023] pays tribute to all unsung heroes from R&AW, especially those who played a vital role in the spy missions in Pakistan in the 70s.
Baggchi and lead actor Sidharth Malhotra had made it clear that their lead protagonist Tariq/Amandeep Singh Gill is a fictional character, but the film is inspired by true events. While Kahuta [city in Pakistan] is an integral part of the plot, the events here are largely concentrated on gathering intelligence in the hope that the then Indian political leadership would act appropriately. Declassified documents suggest that the Indian-Israeli plot to bomb Pakistan's Kahuta nuclear plant perhaps took place in 80s. Mission Majnu, though, opens our eyes to a probable earlier such ambitious effort.  
If a national security plot is aborted, then years later, the nation has the right to know what (who) really put the spanner in the works?
The trailer lulled us into believing that this could be a dramatic spy thriller for the masses. 129 minutes later, we are pleasantly surprised with the rather humble approach by Baggchi and his writers Perveez Shaikh, Aseem Arrora and Sumit Bhateja. It's a spy thriller but with little action. This critical situation demanded a realistic approach with Baggchi's agents needing to keep a low profile.
Amandeep Singh Gill [Malhotra] acquires the identity of Tariq Ali, who works as a simple tailor in Rawalpindi, Pakistan. He is treated like a son by the master. No time is wasted on romance, as very early into the film, Tariq says 'qubool hai' to the visually impaired Nasreen [Rashmika Mandanna]. Formulaic compulsions had slowed down BellBottom [2021]. An OTT release perhaps empowers the writers [Arrora, Shaikh] to adopt a more gripping, realistic approach.
Guns are out of question as Tariq uses his pleasant mannerism, wit to source the critical information. Malhotra enjoyed success as a soldier in the Vikram Batra biopic Shershaah [2021]. Mission Majnu and later there is Rohit Shetty's upcoming cop series. The actor appears to be on a healthy diet of patriotism with zero jingoism. He's been around for ten years but it's only fair to say that Malhotra has improved as an actor in the last two years. Save for the odd melodrama, Malhotra delivers a controlled performance. You do question though why lately some Bollywood spies are out to redeem their tainted father's legacy? Besides, the action atop Samjhauta Express needed more convincing.
It's a brave call on part of the producers, director Baggchi to rope in a South Indian to play a Urdu speaking Pakistani girl. It might sound a little crude, but a visually impaired wife works to an Indian spy's advantage. Meant to be her Bollywood debut, Mandanna was brave in picking Mission Majnu. Nasreen is definitely no prop as Baggchi and his writers allocate adequate screen time to the character. A Nasreen also helps to humanize Tariq. The director is also sensitive to the emotional state of Nasreen, eventually showing respect to the innocent girl. Mandanna is fairly impressive in her blind act.
The insensitive character here is Sharma ji [Zakir Hussain], Amandeep's reporting officer in Delhi who isn't afraid to mock the son of an alleged traitor. Sharma's ji bureaucratic attitude is worrisome for the R&AW agents inside Pakistan, and the real agency too would not be amused.
Mission Majnu, however, seriously questions the top Indian leadership when the Janta Party dethroned Indira Gandhi at the end of the Emergency period. The Netflix film is not very flattering to former PM Morarji Desai, a Gandhian-idealogue. But there is no mention of then foreign minister A.B Vajpayee or Information & Broadcasting minister L.K Advani – key Jan Sangh [now Bharatiya Janata Party] members who were part of the coalition government.
The film though pays a humble tribute to R&AW founding director RN. Kao [Parmeet Sethi]. Sharib Hashmi and Kumud Mishra are among the other R&AW agents in Pakistan. Aslam [Hashmi] and Tariq don't begin on a great note, but this is a bond that grows gradually. Hashmi plays his excitable Punjabi Muslim character to the T.
From playing the patriot Indian Muslim in Raazi [2018], then PM Nehru in Rocket Boys [2022], Rajit Kapur steps into the shoes of former Pakistani Prime Minister Zulfikar Ali Bhutto, who was dethroned by General Zia-ul-Haq [Ashwath Bhatt] in a military coup in 1977.  It's a reunion for the Raazi [2018] trio [Kapur, Bhatt and Shishir Sharma] with Kapur crossing the border this time. His early body language seems rushed, but Bhatt then seamlessly fits in the shoes of the suave, cunning Pakistani dictator.
A largely under-cover operation/screenplay sees some open action in the climax.  It is not over-the-top by any measure. Ketan Sodhia's gripping background score complements the intense, thrilling scenes. Save for the thematic Rabba Janda song, Baggchi doesn't burden his script with any needless track. Sony Nigam's patriotic Maati Ko Maa Kehte Hai song rightly plays over the final scene and the end credits.
Mission Majnu doesn't have much populist tropes, but the fine storytelling still merited some theatrical viewing. Pandemic forced Shershaah [2021] to have a digital release. There's no pandemic now, but Mission Majnu producers Amar Butala, RSVP opted for a digital release. The Rohit Shetty cop series is naturally lined up for a digital release.  Sidharth Malhotra's patriotic avatars are perhaps the best acts in his career, and it's slightly unfortunate that we never know how they would have fared in theatres. Nevertheless, one thing constant is that through Shershaah and now Mission Majnu, Malhotra had paid a fitting tribute to our sung/unsung heroes.
Disclaimer: This story is auto-aggregated by a computer program and has not been created or edited by filmibee.
Publisher: Source link