Web Stories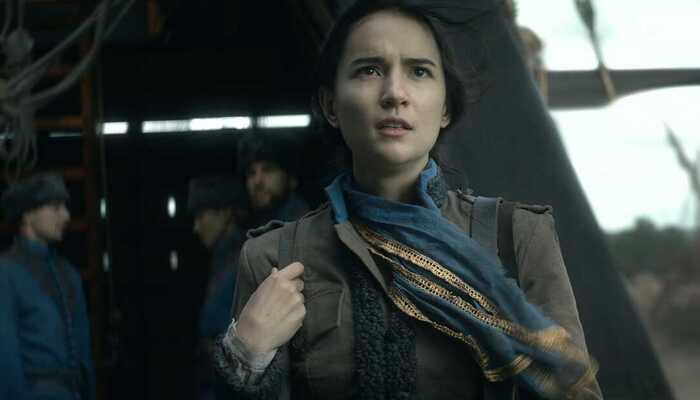 Feb 24, 2023
Shadow & Bone S2 to You S4 Part 2, Netflix Web Series Coming In March 2023!
From Shadow & Bone S2 to You S4 Part 2, New Web series Coming on Netflix in March 2023! 
With a plethora of web series available on Netflix, it's easy to become perplexed, as there is a diverse variety of action pictures, horror films, thrillers, romantic comedies, and mysteries, and new films and series are added to the list every month. With so many web series on Netflix, getting lost in the selection is simple. And since Netflix's only objective is to get better, 2023 will undoubtedly be better than 2022. Therefore, the upcoming month will be filled with amusement thanks to the diverse roster of web series debuting in March. So if you're curious about what Netflix has planned for March 2023, look no further; you've come to the right place. Here's the whole list of Netflix Webseries coming in March 2023. Check it out.
Framed! A Sicilian Murder Mystery Season 2
Release Date: 2 March 2023
Cast: Leonardo Fasoli and Maddalena Ravagli
Genre: Comedy, Crime
Framed! A Sicilian Murder Mystery is a 2022 Italian television series that is coming back with another season on Netflix. The plot centers around two unlucky TV technicians who stumble into a murder scene, and every step they take to avoid becoming suspects gets them deeper into danger.
Sex/Life Season 2
Release Date: 2 March 2023
Cast: Sarah Shahi and Mike Vogel
Genre: comedy, erotic, drama
Sex/Life is a Netflix American drama streaming tv series created by Stacy Rukeyser for Netflix, which is returning with a whole new second season. The show will continue to follow Billie's evolving relationship with her family and her past, including her incredibly attractive ex, Brad, and her future.
Release Date: 3 March 2023
Cast:  Donatella Versace, Jason Bolden, Isabel Marant
Genre: Reality competition
Next in Fashion season 2 is a Netflix popular reality show and fashion design competition series hosted by two designers, Tan France, and Gigi Hadid. The show focuses on designers worldwide as they compete for a chance to win $250,000 and have their collection unveiled on the site of a high-end fashion retailer, Net-a-Porter.
Divorce Attorney Shin
Release Date: 4 March 2023
Cast: Cho Seung-woo and Han Hye-jin
Genre: Legal Korean drama
Divorce Attorney Shin is an upcoming South Korean television series that follows the difficult life of Shin Sung-han, a divorce lawyer. It will consist of twelve episodes. Two episodes will be available every week on Saturdays and Sundays.
MH370: The Plane That Disappeared
Release Date: 8 March 2023
Genre: Mystery Documentary
With the title "MH370: The Plane That Disappeared," Netflix is preparing to release a thorough documentary about the mysterious disappearance of the notorious Malaysia Airlines flight and its passengers. Even after nine years, the MH370 event is still only a distant memory. It's a truly amazing mystery, similar to how a number of people simply vanished off the face of the planet.
Release Date: 9 March 2023
Cast:  Penn Badgley and Tati Gabrielle
Genre: Psychological thriller
You is a popular psychological thriller series based on Caroline Kepnes' books. The show revolves around Joe Goldberg, a serial killer and bookshop manager who falls in love and becomes completely fixated. The first part of season 4 has already been released and fans are anticipating the release of its second part.
Release Date: 10 March 2023
Cast: Idris Elba and Cynthia Erivo
Genre: Crime thriller
Luther: The Fallen Sun is an upcoming crime thriller movie directed by Jamie Payne and written by Neil Cross. The trailer shows him escaping from prison to solve a crime that continues to haunt him before facing a scary new enemy, played by Andy Serkis. The movie is a continuation of the TV series Luther, which ended in 2019 after five seasons.
Release Date: 16 March 2023
Cast: Jessie Mei Li and Archie Renaux
Genre: Fantasy Fiction
Shadow and Bone season 2 is an American fantasy streaming television series developed by Eric Heisserer for Netflix. Since the show is based on Leigh Bardugo's book series of the same name, we already have some information. Probably after the events of Siege and Storm, Season 2 will take place. It will follow Alina and Mal as they flee, with the Darkling pursuing them at practically every turn as he seeks to conquer Ravka.
Invisible City Season 2
Release Date: 22 March 2023
Cast: Marco Pigossi and Alessandra Negrini
Genre: Science Fiction
After its debut, Netflix's Invisible City quickly became a fan favourite, introducing viewers to a world where Brazilian folklore and modern-day city life collide unexpectedly. The show follows investigator Eric as he looks into a strange death in the city, which leads him to learn about a secret realm inhabited by spirits and legendary beings. The second season is currently set to debut in march, which is exciting for the fans.
Love Is Blind Season 4
Release Date: 24 March 2023
Genre: Dating Reality Show
Love Is Blind is a dating reality series where men and women from all walks of life participate in a social experiment to find true love. A new batch of singles will try their luck to find the true love of their life in this upcoming season.
Disclaimer: This story is auto-aggregated by a computer program and has not been created or edited by filmibee.
Publisher: Source link