Movies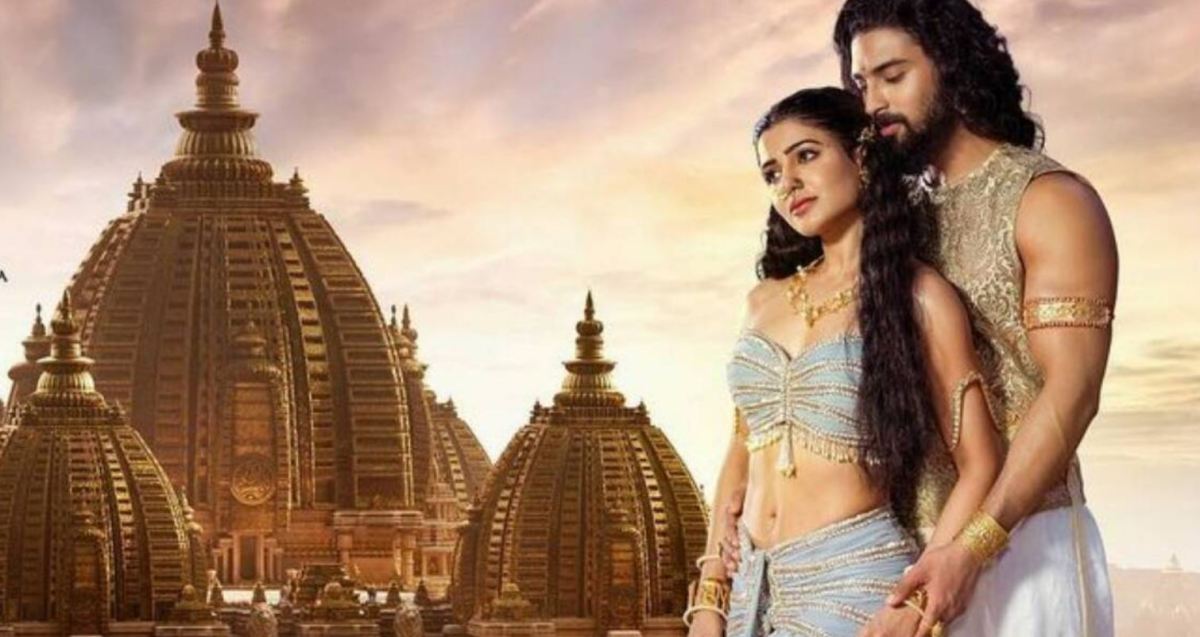 Apr 14, 2023
Samantha promised Disney, delivers Shockuntala – Beyond Bollywood
Story, screenplay, performance, visual effects, there is very little to cheer about the Gunasekhar directorial.
Rating: 1 / 5
By Mayur Lookhar
Pan India has a become the flavour each time a South Indian film comes to Hindi belt.  Southern stars suddenly have started speaking in Hindi in press conferences in Mumbai. There's no such thing as South, North film, it's an Indian film. We get to hear such statements.  Some talk of diversity, yet often end the same sentence with a 'We are all one" line.  The ever-smiling media all clap, yet hardly anyone notices the irony in the sentence. Hey, for our diversity to be celebrated, we first need to stop saying that we are one.
Producer Dil Raju, his lead artistes Samantha Ruth Prabhu, Dev Mohan, the reticent director Gunasekhar were in Mumbai not too long ago spreading the word around their 'pan India film' Shaakuntalam [2003]. It's beaten at every presser but what truly constitutes a pan India film is still to be defined. Truth be told, the 'pan India' idea is nothing but a gimmick.  Diversity encompasses different sensibilities. Before any film is dubbed in a non-local language, the question shouldn't be pan India, but will it cater to the particular sensibility?
Independence after 700 years of invasion was followed by 67 years of secular rule.  Maybe, India has come too far down the road to reconnect with its ancient, Bharateeyan roots. It's a brave call to tell mythology in the traditional format. Director Gunasekhar, producer Dil Raju felt confident in telling the mythological tale of Shakuntala, who first appeared in a chapter in the Hindu epic Mahabharata, later adapted into a Sanskrit play Abhijñānaśākuntalam by the 4th century CE author Kalidas.  The first cinematic depiction of the much-revered Shakuntala was done in 1940 Tamil film Shakuntalai that starred the late great M.S. Subbulakshmi.  Legendary filmmaker V. Shantaram produced a costume drama on the same in Hindi in 1943. It had Jayshree playing the titular role.
The epic play has since seen many translations across various cultures. Expectedly, Dil Raju and his team toed the 'millennials-haven't-seen' line to sell their Shaakuntalam. The Telugu film was naturally turned into a pan India film by releasing it in multiple languages. He roped in popular actress Samantha Ruth Prabhu as his Shakuntala. The star revealed that she wasn't confident in doing this role, and had initially turned it down.  The eye-catching quote from Samantha during the Mumbai presser was how she loved Disney and hoped that Shaakuntalam would give a similar experience. Shaakuntalam has its fable elements, but equating it with Disney is bizarre to say the least.
Shaakuntalam is based on Kalidas' play. Gunasekhar, his Hindi writer Naresh Namdev deserve credit for respecting the language of the period. The odd Urdu word is pardonable. The film is informative for those uninitiated with Kalidas' great play. The Telugu film sticks to the original text without any distortion.  Shaakuntalam isn't lost in translation, but it's lost in its tone.  Samantha appears to have dubbed the Hindi dialogues too. To put it bluntly, she is all over the place making it a insufferable experience for herself, and disappointingly for the fans. While Neeta Lulla's costumes match the era, but Samantha has this sombre look for the best part of the film. That is reflected in her painstaking tone too. Unlike the Adipurush [2022] teaser, one can't really fault Gunasekhar, Neeta Lulla for their costume designs. Women perhaps did use the Ochre to color their lips in ancient time. Samantha, however, appears to have relied on the shiniest lipstick of the present era.
Though primarily a love story, Gunasekhar's Shaakuntalam-Dushyant affair looks staged and devoid of passion.  There's no real chemistry between Samantha and Dev Mohan. The young actor seems overawed by his accomplished co-actor. Samantha is very underwhelming while Dev Mohan would give Prabhas a run for his money in this ham fest. They are not alone here as virtually every actor cops the blame. Even seasoned artistes Madhoo and Gautami flatter to deceive. It's a style that might cater to local audiences, but hamming has few takers in the Hindi belt
Veteran actor Mohan Babu plays Durvasa, the angry sage who curses Shakuntala.  Usually, ancient sages threw holy water while cursing. Here the splash follows once the cursing is over. Kabir Duhan Singh has become a favourite villain down south. Save for brawn, he doesn't bring anything to his asura [demoic] character.
Sachin Khedekar, Kabir Bedi are recognizable faces. The former is decent as Kanva Maharishi. Though a cameo, the latter hams like he did in Mohenjo Daro [2016]. It would be unfair to comment on other South artistes based on the Hindi version. Samantha left us bitterly disappointed but Aditi Balan looked more appealing. In fact, she seemed more fit to play Shakuntala. In stead, Balan ended up playing the chirpy friend Priyamvada.
Though the Hindi dialogues are fine, but it's the energy-sapping screenplay that breaks the deal for Shaakuntalam. It hardly builds any engagement. The artistes are disappointing but the Hindi lyrics, and the respective playback voices are more tough to endure than the star cast. The music is evidently lost in the translation.  Lip sync is always a challenge but there's no excuses for the editor when you can't sync a simple 'hoho' in an audio-visual song.
Shaakuntalam's biggest flaw is the amateurish visual effects. Shakuntala is introduced with a flurry of butterfly surrounding the forest beauty.  More than butterflies, they look like paper sparklers. The VFX featuring animals is a howler. In one moment, it appears that a dummy white tiger is appearing on the corner of the screen. The poor production designs never give an immersive experience of the time. Yes, back then maybe people possessed boons. They were genetically stronger.  So, humans dressed in humble clothing in an ice-clad mountain is testimony of their immunity. But how can you explain that there is snowfall around but not one flake drops on the human body or their costumes. In fact, they conduct themselves as if they are walking in peak summer.
Though a love story, Shaakuntalam has its good vs evil conflict too.  The love story is underwhelming, but Gunasekhar also blunders with the action, which is usually the USP of South Indian films.  As a viewer, you expect an epic fight but what unfolds is a disaster of epic proportions. Dev Mohon looks listless in the action scenes. The lone saving grace of the film is the child artiste who appears at the fad end of the film. The adorable little girl mutters big, traditional dialogues with supreme confidence.
The child does her part, but it's the adults, both in front and behind the camera, that don't do justice to the legend. Samantha, Dil Raju promised Disney, but end up delivering a Shockuntala.
Disclaimer: This story is auto-aggregated by a computer program and has not been created or edited by filmibee.
Publisher: Source link