Movies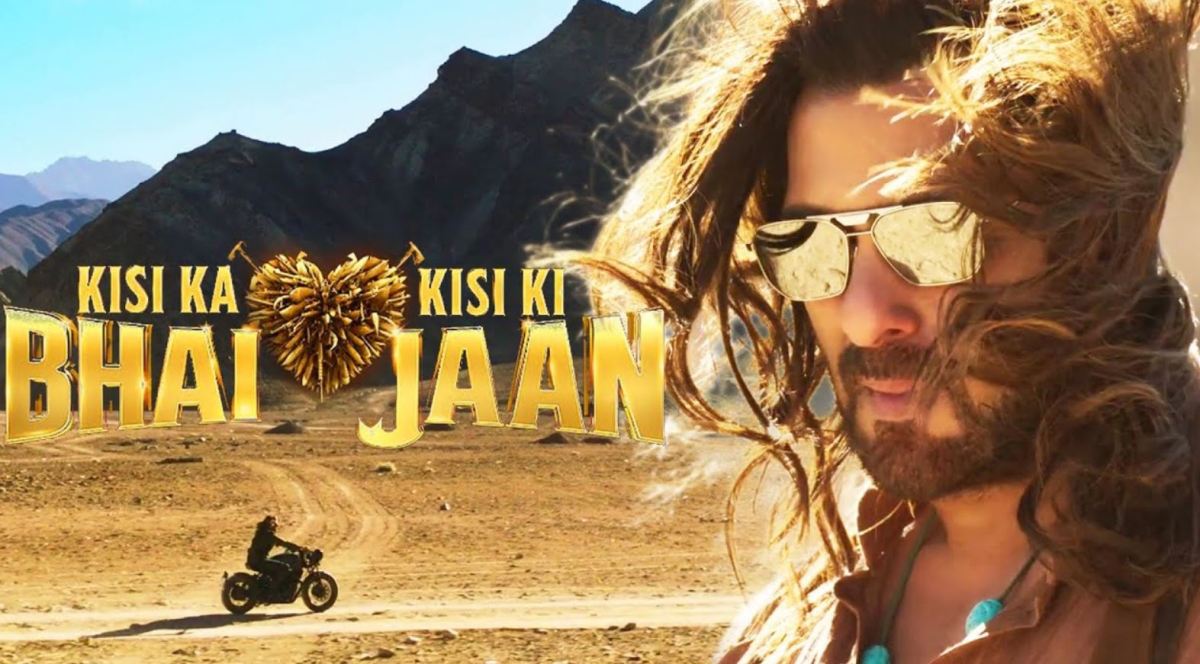 Apr 21, 2023
Salman Khan you… jaane bhi do bhaiyon! – Beyond Bollywood
Despite being a family, action drama, the Farhad Samji directorial ends up being an unintentional comedy.
Rating: 1 / 5
By Mayur Lookhar
Two weeks ago, he came three hours late, but all was forgotten as Salman Khan turned the Kisi Ka Bhai Kisi Ki Jaan trailer launch into a fun-filled affair. Bhai, as Khan is fondly known, was in great spirits charming his co-stars, media with his vintage sense of humour.
During the hour-long event, Khan made a candid disclosure about the song Naiyo Lagda, crooned by Palak Mucchal and Kamaal Khan, which was lying in the dumps for 10 years.  Khan revealed how not many were convinced by the song save the hero. "Everyone was against me. (They said) He's lost the plot, it's an 80s, 90 style track, how is it going to do well (now)?, He has become arrogant! I liked the song, it is my film, I'm having it in my film," said Khan.
The more funny but also pertinent line came a second later when Khan declared, "If it (song) doesn't work that doesn't mean that in the next film, you can tell me not to interfere. No, you won't get that opportunity. As long as the director, heroine, hero likes it, we will use it."
Arrogance is a wrong word but Salman is a super star who goes by his instincts. To put it mildly, 'Agar bhai ko pasand hai, toh it is on'. Besides, who would have the audacity to question bhai?  This confidence reflects the star power,Khan's standing in the industry. One has to respect that conviction, but gone are the days where a super star's word was taken as the Gospel's truth by the audience, which perhaps now also includes Khan's diehard fans.
We recollect a hilarious joke on social media post the release of the dud Radhe [2021]. One Salman fan had commented, "Radhe is a terrible film. It would have been better that we lied on the road, and Bhai ran a car over us." Now in all probability, this is no fan but a troll. However, deep inside even Khan's ardent fans would admit that the actor has been a shadow of himself since Tiger Zinda Hai [2017]. Sadly, things are unlikely to change with Khan's latest release Kisi Ka Bhai Kisi Ki Jaan [2023]. 
Yet another Hindi remake of a south film – Veeram (2014), Kisi Ka Bhai Kisi Ki Jaan was initially conceived as Kabhi Eid Kabhi Diwali by producer Sajid Nadiadwala. Creatives differences with Khan led to the former exiting the project. Farhad Samji took over the director's reign. Khan looked to Kisi Ka Bhai Kisi Ki Jaan to stem the rot.  144 minutes later, you're lucky to still have some jaan (life) left into you.
We haven't seen the original but there appears no drastic change in the principal plot of the remake. Bhaijaan [Salman Khan], a nameless guy from Delhi is much adored in his equally nameless basti (slum) that looks anything but.  Mahavir [Vijender Singh], a local politician and goon wants to evict all inhabitants but he is thwarted in his attempts by Bhaijaan. 
Bhaijaan's three brothers Love [Siddharth Nigam], Ishq [Raghav Juyal], Moh [Jassie Gill] are in love with Chahat [Vinali Bhatnagar], Sukoon [Shehnaaz Gill] and Muskaan [Palak Tiwari], respectively. They can't get married till bhai gets a girl. The problem here is that that Bhai feels that 99 % women are fine, but the fear of other the 1 % dissuades Bhaijaan from marrying.  Huh. Such an 80s trope.  Bhaijaan's life though changes when Bhagyalakshmi aka Bhagya [Pooja Hegde] comes into his life. The lady though comes with some additional burden. 
Much of its plot was revealed in the trailer. It's so boring, repetitive that it doesn't even deserve a mention in this review. The only eye-catching thing in this story, more so Bhaijaan's character is the subtle reference to bhai himself. Like Salman, this Bhaijaan is still a bachelor. Like Salman, this Bhaijaan once had a serious friendship with Bhagya [Bhagyashree] but it didn't materialize into any concrete relationship. Similarly, Bhaijaan loves to sing, paint.  Though no biography, but Bhaijaan seems close to Salman. Obviously, there is no hit-and-run, nor any buck-ing troubles here.
The conflict here is to choose between violence or nonviolence.  The choice is made simple when Bhaijaan sighs, "When a violent man troubles a nonviolent person, then another violent man needs to step up to defend the nonviolent man". Phew, trust these killer dialogues to draws whistles from the masses, but it is bound to test the nerves of the classes.
 Though meant to be a family, action drama, Kisi Ka Bhai Kisi Ki Jaan inadvertently ends up as comedy. You're amused to the hilt by the silly plot, screenplay, Samji's inept direction, and the laughable performances. At 57, Khan can no longer pull off these action-packed roles with ease. The ridiculous long hairdo, beard doesn't add any freshness to Khan's look. Usually, one keeps their expectations humble with a Salman Khan film. However, it would be grave injustice to the readers, audience to not tell the truth. This is another poor effort by Khan.  There is serious lack of intensity by Khan both in terms of drama as well as action.  
Khan isn't alone here as the rest of the cast is anything but impressive. Pooja Hegde strives hard, there is no real chemistry between Salman [57] and her.  Hegde, though, shows some improvement from her Mohenjo Daro [2016] days.
The younger lot – the likes of Juyal, Gills [Jassie and Shehnaaz], Tiwari, Bhatnagar would simply consider themselves lucky to avail the Salman Khan rozgaar yojana (recruitment drive].
The younger lot can be excused but there is none for Jagapathi Babu or boxer Vijender Singh. The latter has long stated that he isn't interested in acting. Maybe, the moolah or the chance to share screen space with Salman Khan was a motivating factor.  While he packs quite a punch, but poor Singh would struggle to compete with a novice.  Jagapathi Babu hams his way, stretching his vocal cords much to the chagrin of the audience.  Seasoned actor Venkatesh makes a decent effort but loses the plot in the climax.
Creatively, Kisi Ka Bhai Kisi Ki Jaan has very little to offer. The shabby music, production design adds to its overall disappointment.  The action is a bit too over-the-top even for the excitable Salman Khan fans. Delhi Metro Rail Corporation won't be pleased at the poor representation in the action scenes.
"Kaam nahi karogey, toh paise kaise kamaogey". Bhaijaan makes a pertinent point. The nature of the show business though is that good or bad, you still get paid for work. Quality control though is found lacking in Bollywood.  For a man who goes by his instincts, even Salman Khan will have to reassess his film making ideology.  A super star can do so as s/he pleases, but when audiences start leaving mid-way through the film, that should be an eye opener.  The ball is in your court bhai.
Watch the video review below.
Disclaimer: This story is auto-aggregated by a computer program and has not been created or edited by filmibee.
Publisher: Source link