Movies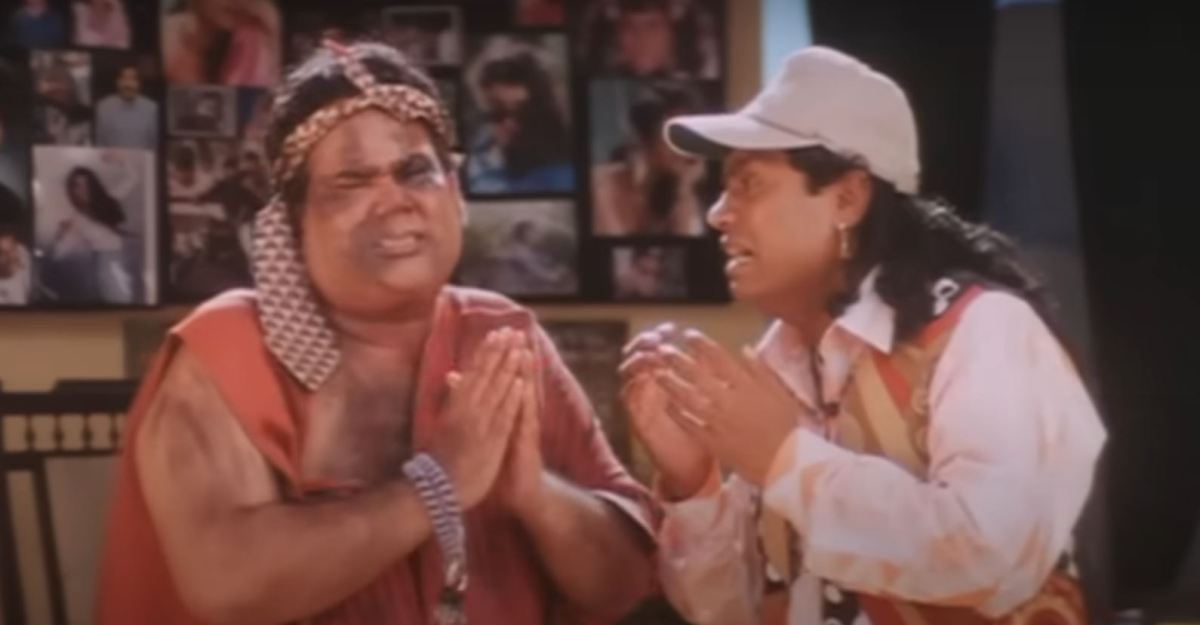 Mar 12, 2023
Revisiting Satish Kaushik's struggles to seek his dues from Johnny Lever in Hum Aapke Dil Mein Rehte Hain – Beyond Bollywood
That was all part of humour in the reel, unfortunately, demanding his rightful dues in the real could have proved fatal for the veteran artiste.
By Mayur Lookhar
Satish Kaushik's death has turned into a controversy after one woman Saanvi Malu alleged that her husband Vikas could have killed the veteran actor, filmmaker. According to Saanvi, Vikas supposedly owed Kaushik Rs15 crores. On 9 March, Kaushik was rushed to Fortis hospital in Delhi after complaining of chest pain. His manager Santosh Rai rushed him to the hospital where he was declared dead upon arrival. Kaushik is said to have been staying at Malu's farmhouse then.
As inquest continues into Kaushik's death, Saanvi's allegations have sent shockwaves across the nation.  Does cinema mirror the real? Not often in Hindi cinema, which is usually escapist in nature, but Kaushik's situation with Vikas Malu has brought back memories of the reel.
Back in 1999, Kaushik had acted in and directed the romantic drama Hum Aapke Dil Mein Rehte Hai. It starred Anil Kapoor, Kajol, Gracy Singh in leading roles. The film was a Hindi remake of Telugu film Pavitra Bandhan [1996].  Those were the days of formulaic films, where the successful ones were those that also had humour tales that ran parallelly to the core story, or simply provided comic relief.
Kaushik himself participated in the humour where he was joined by the legend Johnny Lever.  As the shocking details emerge in Saanvi's allegations, we couldn't help but revisit a similar tale in Kaushik's film.  The actor, director went by the name of German, while Lever played the role of Sunny Goel, who ran a photo studio. German is lead character Vijay's [Anil Kapoor] secretary.
Goel had taken a loan of Rs1 lakh from German, but when the time came to return the money and the interest, he went incognito. German himself had taken a loan from Salim [Rakesh Bedi] to lend money to Sunny. Poor German is a simple soul, who was confident that Goel would return the money. However, when he turned up at Goel's studio, the latter rudely turned German away even refusing to acknowledge him.
"Maharaj, please repay my loan," German pleads to Goel, who asks him to bear patience.  German then replies, "Maharaj, sabr (patience) karte karte, lagta hai main ek din kabr tak pahuch jaunga". It translates to "Sir, patience will one day lead me to my grave."
Who would have thought that one day, these words will ring true for the veteran artiste in the real world!
Returning to the film, the conman Goel asks German if there was any written proof? There was none as German had given the money out of good faith. Goel even reminds German that there was no eye witness when he gave him the money.  With no evidence, Goel totally snubs German, refusing to even acknowledge his existence.
Poor German then humbly keeps calling Sunny, but each time, the latter fakes identity to avoid him. He even pretends to be Sunny Deol/Dharmendra to lambast German. Goel even speaks in different languages – English, Punjabi, Marathi. When German speaks Marathi, holding a grammar book in his hand, Sunny switches to speaking Gujarati.  Later when German translates his plea into Gujarati, Sunny resorts to gibberish.
This is followed by Sunny faking as Sanjay Dutt. When he realizes that Sunny is making a mickey out of him, German hatches a plan to trick Goel. German calls Sunny pretending to be Shah Rukh Khan's secretary. German lies to Sunny that the super star is keen to get a picture with him. The star struck Sunny believes it to be true and reveals his true identity. That is when German breaks the truth to him, and once again makes a plea to return to his loan with interest.  With nowhere to hide, Sunny now urges German to come to his studio in the evening.
Poor German obliges. Sunny asks him to come inside. Next moment, two hired goons appear with the innocent German having no whiff of what is to follow. The goons take German inside, as Sunny quickly pulls down the shutter of his shop.  Thereafter, Sunny rejoices listening to the cries of poor German who is bashed up by the hired goons.
When the shutter opens, German gingerly steps out, looking all black and blue. A teary, broken German then tells Sunny, "The lesson that I've learnt today is that never ever lend money to a powerful person."
Phew. That wasn't the end of the drama. If we recall well, German used the same dirty trick against Salim, who then forgoes his loan.
Well, all this was part of banter in the Bollywood film. In the real world, though, it appears that Kaushik might have lent money to a dangerous man in Vikas Malu.  Kindly note, It's Saanvi Malu, the wife of Vikas who has made sensational allegations against her own husband.
Poor Kaushik maybe gone, but his fatal words in the Bollywood film will haunt his family and fans forever.
Watch the German-Sunny saga in Hum Aapke Dil Mein Rehte Hain below.
Disclaimer: This story is auto-aggregated by a computer program and has not been created or edited by filmibee.
Publisher: Source link