Movies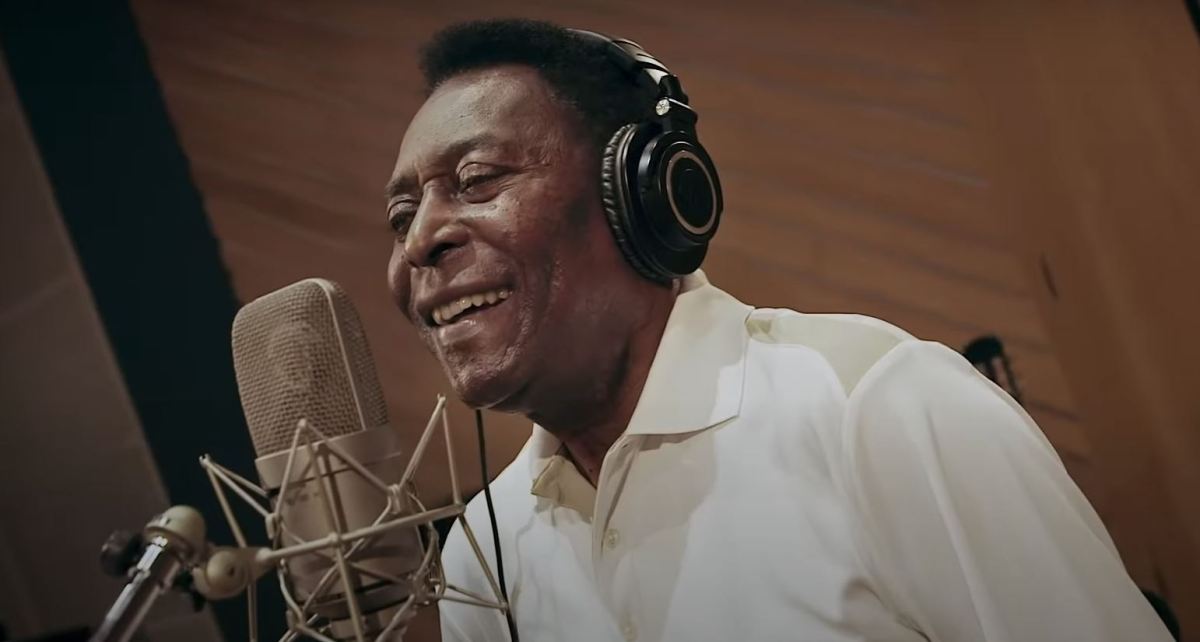 Dec 30, 2022
Revisiting Pele's tryst with cinema and music – Beyond Bollywood
A magician on the field, the legendary footballer also charmed in front of the camera with John Huston's Escape to Victory [1981] being the marquee film in the footballer-actor's career. He also shone as a singer, songwriter.
By Mayur Lookhar
The world bids adieu to 2022 on a teary note as legendary footballer Edson Arantes do Nascimento, better known as Pele, passed away on 29 December in a Sau Paulo hospital. The Brazilian was suffering from tumor and age-related illness. He was 82.
Long hailed as the one of the greatest strikers of all time, Pele won three FIFA World Cup medals [1958, 1962, 1970] in his illustrious career. He scored a record 1279 goals in his long career. A global icon, Pele will be mourned by all. One will naturally hail his great feats on the football field, but the Brazilian also enjoyed a tryst with cinema/TV. No, we're not referring to sports documentaries, but the legend also acted in a near dozen titles.
Pele first experimented with cinematic arts when he was an active player. It all started by playing himself in Argentine filmmaker Carlos Hugo Christensen's film O Rei Pele [1962]. Naturally the great man played himself. He played a character first in the Brazilian soap opera Os Estranhos [1969]. Author Ivani Ribeiro cast him as Plinio Pompeu, a famous writer who befriends extraterrestrial beings.
Two years later, he played Dr. Arantes in the adventure fantasy film O Barão Otelo no Barato dos Bilhões [1971]. He'd play the lead character Chico Bondale in filmmaker Oswaldo Sampaio's film A Marcha [1972].
Pele the actor gained global recognition with the American-British-Italian film Escape to Victory [1981], stylised as Victory, that was directed by John Huston. Set in the World War II, the film starred Sylvester Stallone, Michael Caine, Max von Sydow and Pelé. It also had cameos from other noted footballers like Bobby Moore, Osvaldo Ardiles, Kazimierz Deyna, Paul Van Himst, Mike Summerbee, Hallvar Thoresen, and Werner Roth.
Pele, Stallone, Caine are part of an Allied prisoners of war who are interned in a German prison camp during the second World War. They play an exhibition match of football against a German team. Pele played the striker Luis Fernandez. Initially, it was Stallone who was supposed to hit the winning goal, but not blessed with great footballing skills, Stallone opted to play the goalkeeper.
Pele also played a reporter in O Barão Otelo no Barato dos Bilhões [1986] who would go onto to score a winning goal in the film. That year, we also saw him play Santos, a mentor to a young player in Hotshot.
The later years would see Pele largely feature in cameo roles, often as himself, most notably in the cult comedy Mike Bassett: England Manager [2001]. His last appearance in a TV soap was O Clone [2002]. He played himself and sang the song "Em Busca do Penta" (Seeking the Fifth).
He was passionate about music too. "Peléginga" was his biggest hit. Recorded with a choir and an orchestra, the samba album included 12 songs written by Pelé. He also collaborated with Brazilian singer Elis Regina. His last cameo appearance in a film was as himself in the biographical film Pele: Birth of a Legend [2016]. Kevin De Paula played the legend. Indian music maestro A.R. Rahman composed music for the film.
The legend maybe gone, but he leaves behind a legacy that stretches much beyond the football field.
Disclaimer: This story is auto-aggregated by a computer program and has not been created or edited by filmibee.
Publisher: Source link