Movies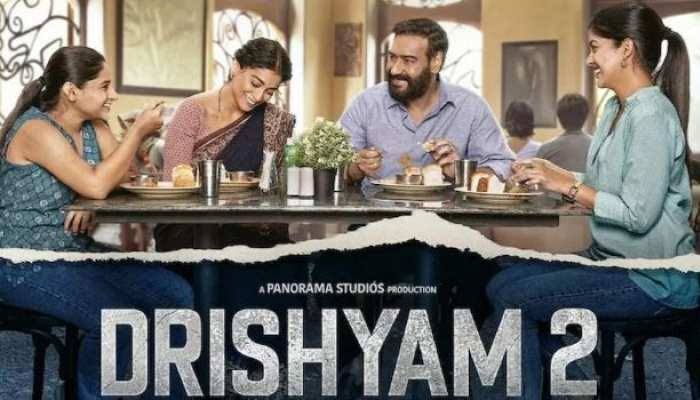 Nov 16, 2022
Release Date, Cast, Plot & Where To Watch
Drishyam 2 starring Ajay Devgan and Tabu will hit the theatres on Nov 18, 2022.
Ajay Devgn and Tabu are reuniting for the sequel of the suspense thriller Drishyam (2015).
The movie also stars Akshaye Khanna who plays IG Tarun Ahlawat
---
Ajay Devgn 'Drishyam' released in 2015  is a remake of the Malayalam movie of the same name. The sequel to the original Malayalam movie, Drishyam, was released in 2021. Critics and viewers loved the sequel and as a result, it was remade in Kannada as Drishya 2, and in Telugu as Drushyam 2. After the success of the regional remakes, Bollywood too jumped onto the opportunity to remake the sequel. Drishyam 2 is all set to hit the theatres on Nov 18, 2022. Here's everything you need to know about it.
Drishyam 2 (Hindi) Release Date
Drishyam 2 is releasing on November 18, 2022. Announcing the release date of Drishyam 2 on social media, Tabu wrote, "#Drishyam 2 releasing in theatres on 18th November 2022." Ajay Devgn too announced the release date of the film on his social media accounts.
Drishyam 2 Plot Summary
Drishyam 2 is a remake of the 2021 Malayalam movie of the same name and also the sequel to Drishyam (2015). It is a continuation of Vijay Salgaonkar and his family's story. The movie depicts how Varun's murder changed their lives. The movie is a gripping tale of an investigation.
In the prequel, we saw how Vijay (Devgn) deceived the police after his daughter (Anju) accidentally kills the son of IG (Meera Deshmukh). Devgn used his brain and cinematic knowledge he gathered over the years to protect his family, and in the end, succeeded.
In Drishyam 2, the same case reopens with new witnesses and confessions. It is a perfect mixture of suspense, thrill, drama and emotions. Will Vijay be able to protect his family this time? You need to watch the movie to get the answer.
Recap Of Drishyam (Prequel)
Drishyam (2015) chronicled the story of a family man Vijay Salgaonkar, played by Devgn. He did all he could to protect his family after an unfortunate incident involving his elder daughter brought them under the police's scanner. Tabu essayed the role of Meera Deshmukh, Inspector General of Police. Now, in the sequel, the makers have promised to take the audience on a 'yet another thrilling journey.'
Drishyam 2 (Hindi) Cast
All lead cast members will reprise their respective roles in the sequel. The only new addition is talented actor Akshaye Khanna. He will play IG Tarun Ahlawat, Meera's colleague. Here's a look at the cast of Drishyam 2:
Ajay Devgn as Vijay Salgaonkar, owner of a movie theater and aspiring film producer
Tabu as Meera Deshmukh, former IG; Sam's mother
Akshaye Khanna as IG Tarun Ahlawat, Meera's colleague
Shriya Saran as Nandini Salgaonkar, Vijay's wife; Anju and Anu's mother
Ishita Dutta as Anju Salgaonkar, Vijay and Nandini's elder daughter
Mrunal Jadhav as Anu Salgaonkar, Vijay and Nandini's younger daughter
Rajat Kapoor as Mahesh Deshmukh, Meera's husband and Sam's father
Neha Joshi
Kamlesh Sawant as Sub-Inspector Laxmikant Gaitonde (suspended)
Yogesh Soman as Assistant Inspector Vinayak Sawant
Drishyam 2 Official Trailer 
The recall teaser of Drsihyam 2 on Sep 29, 2022, followed by the official trailer on Oct 17, 2022. Watch both videos here:
Where to watch Drishyam 2?
Drishyam 2 will release exclusively in theatres on Nov 18, 2022. So, if you haven't watched the original movie and don't want spoilers, it's better to watch it ASAP in theatres.
Drishyam 2 will eventually land on OTT after its theatrical release. As per the reports we have Amazon Prime Video has acquired digital streaming rights. We can expect Drishyam 2 be on Prime Video in early January 2023.
Disclaimer: This story is auto-aggregated by a computer program and has not been created or edited by filmibee.
Publisher: Source link