Web Stories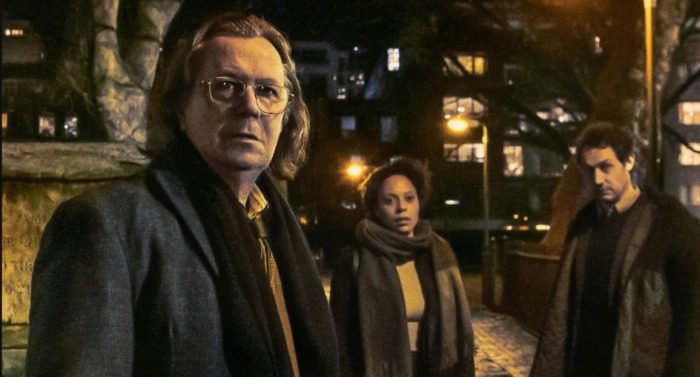 Jul 2, 2023
Release Date, Cast & Everything We Know
Slow Horses Season 3: The popular British spy thriller television series is coming back with two seasons back to back. Here's everything you need to know!
Slow Horses, the popular British spy thriller television series based on the novels by Mick Herron, has garnered a dedicated fan base since its debut. Slough House is an administrative hellhole for MI5 service rejects who have messed up but have not been fired. Those who are sent there are called "Slow Horses."
The show debuted on Apple TV+ on April 1, 2022, and has had two successful seasons. However, following the success of the Apple TV+ show's second season, the third and fourth seasons have been greenlit and will begin filming simultaneously.
While we wait for Slow Horses season 3, our thoughts are already wandering to the fourth instalment, which is currently in development. Therefore, this article will delve into everything you need to know about the upcoming season, including the plot, cast, release date, and more.
When will Slow Horses Season 3 premiere?
The first season of Slow Horses premiered in April 2022, and the second season was released after a few months, in December 2022. In June 2022, the series was renewed for the third and fourth seasons.
Even after a year, Slow Horses season 3 does not yet have a set release date. Given that filming is wrapped up and that a trailer was placed at the end of season 2, it might happen in late 2023. So, based on the previous seasons, we may anticipate that season 3 will debut in the third quarter of 2023.
What will be the plot of the third season?
The third instalment will "open with a bombing that detonates personal secrets, rocking the already unstable foundations of Slough House," according to a press release. Other than that, there aren't many plot details for season 3 yet. However, we do know that Season 3 is based on Herron's third book in the Slough House series, Real Tigers.
The slow horses will find themselves embroiled in a new web of intrigue. Balancing their personal struggles with their dedication to protecting the nation. Jackson Lamb is back on the job, trying to solve another mystery. Just when he thought things would go back to normal, something unexpected happens. This time, Lamb will have to put aside his grudges and get to work. In the third season, when Catherine disappears out of the blue, Lamb and his team will risk their lives to find her and uncover a rogue agent.
Expect a blend of espionage, political machinations, and character-driven drama. However, once season 3 is released, we will know what to expect from the fourth Season.
Who is in the cast of Slow Horses Season 3?
Slow Horses boasts a talented ensemble cast and many familiar faces are expected to return for the next season. The main characters from Seasons 1 and 2 will likely return. Check out the list below:
Jackson Lamb (played by Gary Oldman)
River Cartwright (played by Jack Lowden)
Diana Taverner (played by Kristin Scott Thomas)
Other significant characters, we expect to return are:
Rosalind Eleazar as Louisa Guy
Christopher Chung as Roddy Ho
Jonathan Pryce as David Cartwright
Freddie Fox as James Webb
Dustin Demri-Burns as Min Harper
We will see a lot of newcomers joining the cast for the upcoming seasons. They are:
Ṣọpẹ́ Dìrísù as Sean Donovan
Hugo Weaving
Joanna Scanlan
Ruth Bradley
Tom Brooke
James Callis
Is there any trailer?
Slow Horses season 3's teaser trailer was released at the end of the second season. The video gives a quick look into what's in store for us. The minute-long teaser hints at the mysterious disappearance of Catherine Standish and the secrets that follow. Check it out below:
Stay tuned for the latest updates on the full-length official trailer of Slow Horses Season 3 as and when they become available.
How Many Episodes Are There in 'Slow Horses' Season 3?
The British spy series has two seasons, each with six episodes. Each episode is around 41 to 53 minutes long. Although the episode guide for Season 3 of Slow Horses hasn't been announced yet, we can expect it to have the same number of episodes as the previous seasons. Similar to the first two seasons, Season 3 will probably premiere with two episodes and then release one new episode every week.
Where to watch Slow Horses?
Apple TV+ is the only platform where yu can stream the show legally.
Disclaimer: This story is auto-aggregated by a computer program and has not been created or edited by filmibee.
Publisher: Source link