Movies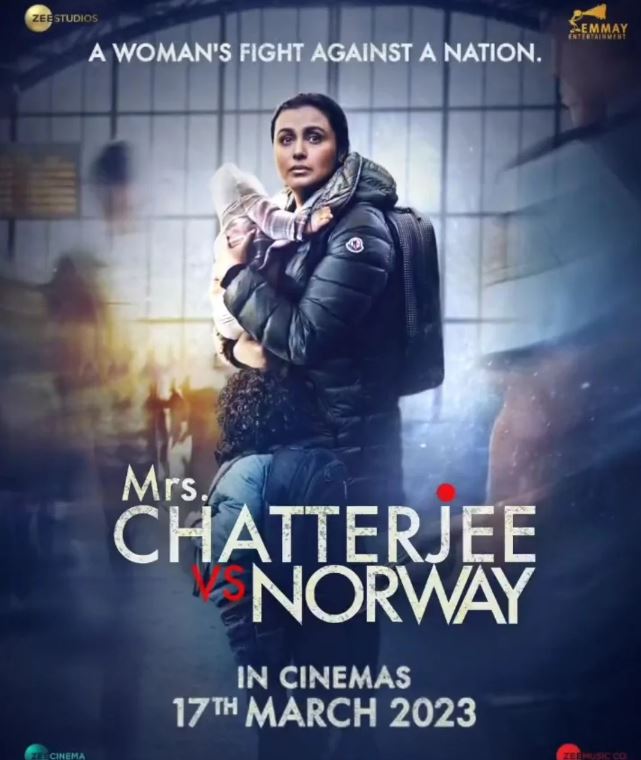 Mar 13, 2023
Rani Mukerji's maternal instincts make or break this story – Beyond Bollywood
An inspiring tale but director Ashima Chibber doesn't quite do justice to Sagarika Chakraborty's story. Jim Sarbh, Anirban Bhattacharya chip in with fine acts.
Rating: 2.5 / 5
By Mayur Lookhar
Can a bachelor relate to maternal instincts? This reviewer has adequate babysitting experience, but a bachelorette is likely to be more sensitive to maternal instincts than a bachelor. That's the dilemma for such reviewers. Hey, but good cinema can move stone cold too. If not maternal, we hoped that Mrs. Chatterjee vs Norway [20223] could still give us a feel of paternal instincts.
The 2012 tragic case of Savita Halappanavar saw protests resulting in the amendment to the Irish constitution with regards to abortion. However, India applying diplomatic pressure on a European nation was considered a difficult proposition then. Things have changed under the Narendra Modi-led Bharatiya Janata Party since 2014. The late Sushma Swaraj left a lasting impression during her tenure [2014-2019] as the External Affairs Minister.
The recent visit of German Chancellor Olaf Scholz saw India convey its grievance over baby Ariha, who was taken away from her parents, courtesy the child care system in Germany. Ariha's story all the more made one curious about writer-director Ashima Chibber's Mrs. Chatterjee vs Norway that speaks about similar grievance in another European country.  
Inspired by the true story of one Sagarika Chakraborty, Mrs. Chatterjee vs Norway [2023] gives us a dramatic account of the Bengali woman's struggles in seeking custody of her young children. Though a science graduate, Debika Chatterjee [Rani Mukerji] had given up on her career, married a fellow Bengali professional Anirudh Chatterjee.  She gave birth two kids Shubh (boy) and Suchi (girl). Life seemed fine until Velfred, a Norwegian government appointed child care services cast its shadow in the desi household.
The film opens with the pivotal scene where two Velfred officials run away with Debika's children. You're taken 24 hours before to give a sense as to how we've come to this dreaded situation.
One Indian woman against the whole Norway. Though a brave title, but surely Ashima, her co-writers Sameer Satija, Rahul Handa, and producer Emmay Entertainment would have been mindful of diplomacy on either side. Mrs. Chatterjee doesn't quite strip Norway, but it certainly takes the veil off the Norwegian Child Welfare Services. The Bollywood film partly reminded us of the Rosamund Pike, Peter Dinklage-starrer thriller I Care a Lot [2020]. Overt there, the principal characters though were not saints.  The protagonist Maria Grayson [Pike] was a con lady who exploited the system to seek guardianship of old people living alone, and feasted off their wealth.
Ashima Chibber aimed to expose the lacunae in the Norwegian Child Welfare Services. It takes a while to get a sense of the larger sinister design of this business. Did diplomacy limit Chibber in her ambitions?  Maybe yes, but the film also concentrates on the internal conflicts that sees Mrs. Chatterjee largely wage a lone battle.  The cause here lies in the deep-rooted patriarchy. It's this internal conflict that made the couple ripe for the taking. During a little argument, Debika tells her husband Anirudh [Anirban Bhattacharya], "You (men) want everything on a platter, but you don't want the wife to come free." A clever dig at the illegal dowry system.
The Norwegian Child Welfare Services are the problem, but Chibber banks more on the desi patriarchy to connect with primary audience.
Rani Mukerji stunned all when she claimed at a promotional event how she never met Sagarika Chakraborty. She banked on the director's inputs, and opted to have her mother Krishna as a reference to play this character. There's no harm in it as Sagarika was an unknown quantity until the film's trailer dropped.
The Bengali-speaking audiences are the best to judge but maybe Rani's tone is more reminiscent of a Bengali in Mumbai. Chibber is smart to weave in Bengali sentences at the appropriate moment. We see a mixed show by Mukerji, but the lasting impression of Debika is her maternal instincts. They kick in the moment the child care officials take away her children. That frantic run by Debika, screaming her child's name, falling off to the ground. Woman or animal, the maternal [protective] instincts instantly take over.  In the context of the film this maternal instincts, reactions work like a double-edged sword. To the desis, it is a Hindustani mother's fierce love, but Debika's reactions also serve as cannon fodder for Velfred. The maternal instincts though are the essence of this film. It simply makes or breaks Mrs. Chatterjee's story.
Though you feel for Debika, but you're not quite moved by Rani's performance. For a lady to suffer one body blow after another, Debika surprisingly shows a steely resolve immediately after a Norwegian higher court rejects her custody appeal. Later, she takes a bold step that further complicates the matter. However, you do question how in the aftermath, Debika lands up at the Indian-Norwegian diplomatic press meet.  Did we miss any scene where she sourced fake accreditation? While ample screenplay is rightly given to show the mother's plight, very little is revealed on the condition of the kids. Of course, one is an infant, but the injustice meted out to the little children could have added another layer to the film's emotional quotient.
Mrs. Chatterjee vs Norway suffers due to its inconsistent screenplay and performances. The Nordic nation has Norwegian and Sami as main languages. It's not their English per se, but the presumably Norwegian characters are not up to the mark.  It must be noted that the film was shot in Estonia. Once the film travels back to India, the Norway element is drastically reduced.  The devil though makes a finale appearance, but it's toothless in an Indian court.  Honestly, the film is much more engaging the moment it lands in India.  A key character pops up straight into the court. Maybe, Chibber and her writers could have added a layer to this female public prosecutor who fights for Debika in the Kolkata Court.
A certain creative liberty is taken in the legal proceedings in the desi court, where the judge makes an exception for Norwegian lawyer Daniel Singh Isiuk [Jim Sarbh]. After initially defending her in Norway, the man has now been appointed by the Norwegian authorities to track down Debika in India and see if any treaty is flouted. Sarbh and Anirban Bhattacharya are brilliant in their efforts.
A defining image of Anirudh is one where the momma's boy sleeps with his mother, who has come to Norway to further accentuate the divide.  Anirudh's mother is a traditional Bengali.  It's a little bizarre though how her Bengali is also interspersed by words/tone akin to a North Indian.  It's refreshing though to have an Indian film where a local addresses Anirudh as a foreigner.
The Shubo Shubo and Aami Jaani Re tracks play out finely to the corresponding situation. Norway has its own visual appeal, but the grey hue works with the grim plot.  Hitesh Sonik's background score is fairly efficient. The final court order finely plays to national anthem-style mellow tunes.
Despite its flaws, Mrs. Chatterjee vs Norway is no disappointment. Sagarika Chakraborty seemed happy with the film and thanked Rani for telling her story.  The Sagarika Chakraborty story is vital to bring back little Ariha too. Who knows, there are plenty of Arihas., Suchis still lying in some Western child care.
Disclaimer: This story is auto-aggregated by a computer program and has not been created or edited by filmibee.
Publisher: Source link