Movies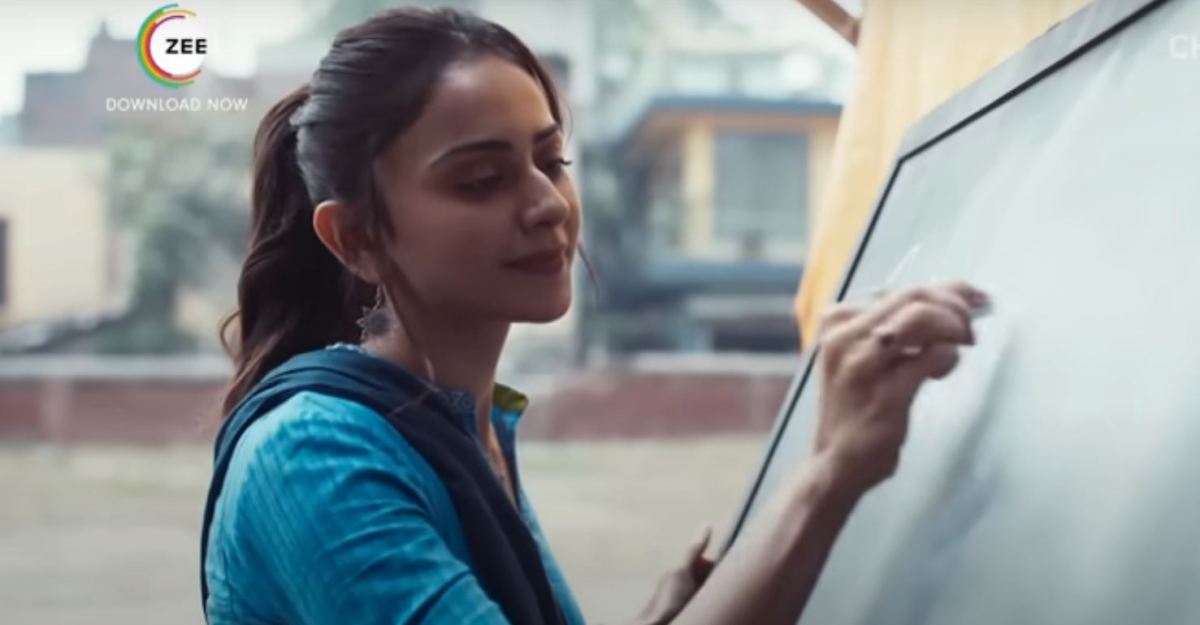 Jan 7, 2023
Rakul Preet Singh, Zee5 set to impart sex education in school via their social comedy – Beyond Bollywood
Although the OTT has seen similar films in Helmet [2021] and Janhit Main Jaari [2022], Chhatriwali appears to have a taken a more direct approach to send the all-important social message.
By Mayur Lookhar
First there was Helmet [2021], then Janhit Mein Jaari [2022]. Maybe those films didn't penetrate the social message deep enough and so Zee decided to rope in Chhatriwali [2023].  Jokes apart, it is not the number of films, but the number of births that needs to be checked.
Directed by Tejas Prabha Vijay Deoskar, the Zee5 film stars Rakul Preet Singh in the lead role of a teacher who imparts sex education to children in her vicinity and school. Unlike Helmet and Janhit Mein Jaari, the protagonist here takes the cause by design and not default. The trailer opens with Satish Kaushik [voice] talking about two kind of people – one [student in class] don't know how to talk straight, then those [Rakul Preet Singh's character] who can effectively communicate with difficult people through their straight talk. 
The protagonist initially starts as an ambitious girl eyeing to open a showroom. But after learning of the two miscarriages of her brother's wife [Prachi Shah], and the ill effects, Rakul Preet Singh's eyes open to the problem faced by many such women due to unsafe sex. It is not easy to change adults, the best time to pass the right message is when one is young. So, the character then takes it upon herself to impart sex education to children.
It strongly appears that Rakul and the film has taken a straight approach to tackle the issue. The raincoat reference between Rakul and Sumeet Vyas' characters before going under the sheets goes against that approach, but it is the adult man who is shy of speaking straight.
Kaushik plays Rakul's neighbor who owns a condom manufacturing firm.  He sure could have got a better hairdo. The film acknowledges sex education being there in textbooks, but perhaps not taken that seriously by students and the school authorities. That is where the protagonist will lead the change. It's good to see students pose direct questions to their teacher, with no innuendos, that is often been the bane of many such films.
Chhratriwali definitely has a fine social message but the elementary trailer doesn't quite build great engagement. Hardcore Hindi audiences will hope that there is no overdose of the Punjabi tone.  As always, never judge a film by its trailer. We hope Chhatriwali turns out to be a better film than Helmet and Janhit Mein Jaari.
Chhatriwali [2022] is set to be released on 20 January. Watch the trailer below.
Disclaimer: This story is auto-aggregated by a computer program and has not been created or edited by filmibee.
Publisher: Source link