Movies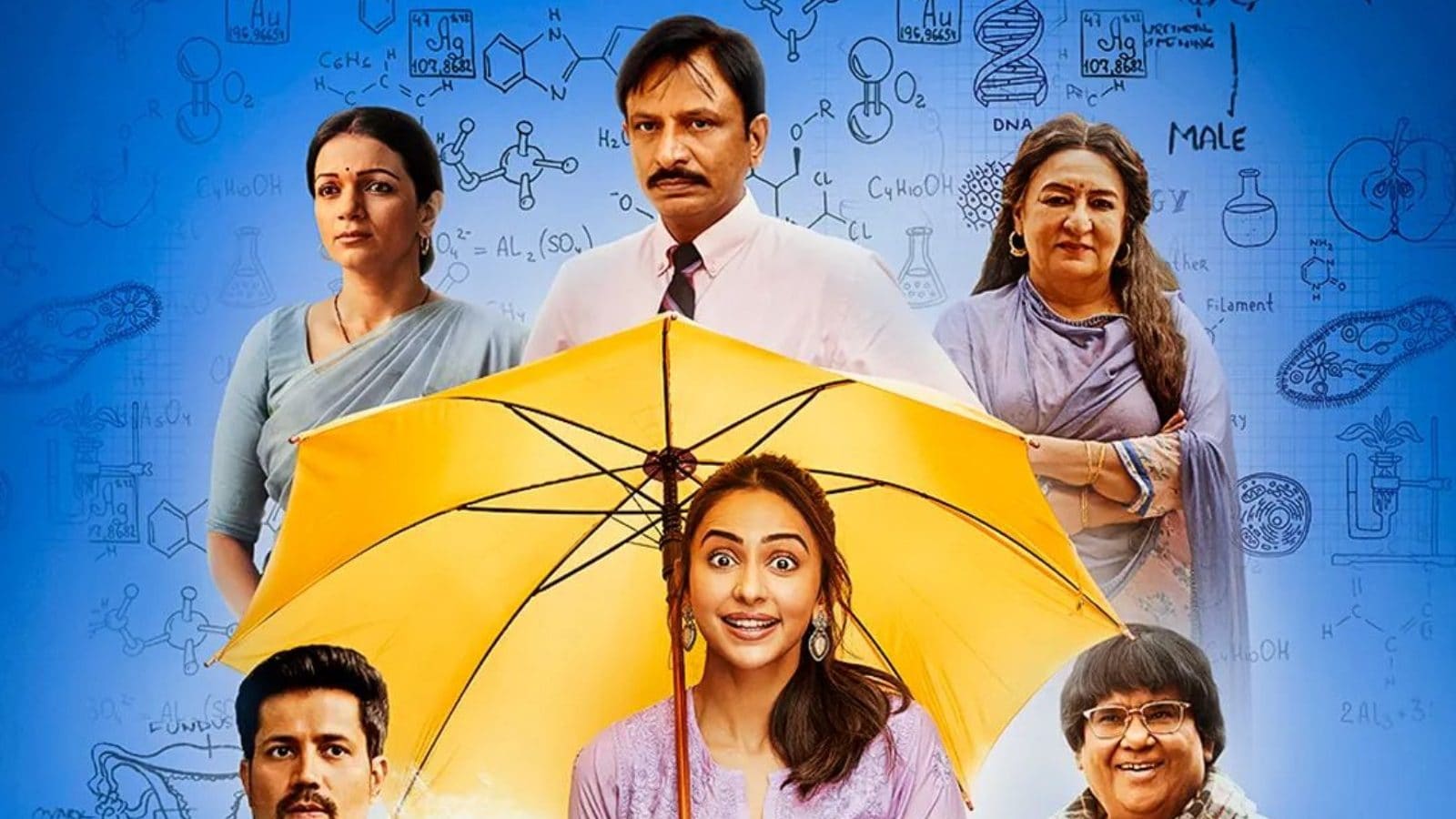 Jan 20, 2023
Rakul Preet Singh, Sumeet Vyas Shine in This Much-Needed Story
Last Updated: January 20, 2023, 07:55 IST
How often, back in school, have we giggled and whispered every time the topic of the reproductive system came up during our biology classes? And how often were our curiosities quenched with logical answers? Rakul Preet Singh's latest film, Chhatriwali makes you laugh and giggle like a child again, and then it asks the most important question- what is so shameful about safe sex practices or knowledge about the changes one's body goes through that we either dismiss it as a joke or sweep it under the carpet.
The film revolves around the idea of safe sex and the use of male contraceptives. Rakul Preet's character, Sanya, who is a chemistry graduate is desperately looking for a job. That's when she is offered to be the quality control head at a condom company, a job which she very reluctantly takes. With the condition that her employer will not reveal where she works, she signs a one-year contract. During this time, Sanya falls in love, gets married and leads a double life without telling anyone where she works at.
However, the men in her family do not believe in using contraceptives and the manager at the local clinic calls it 'ashleel' (filthy). Sanya finds out that her sister-in-law has gone through a couple of abortions and miscarriages because her husband doesn't want to use a condom and has put her life at risk with the daily use of birth control pills. Even Sanya needs to make a project of sorts to make her husband Rishi understand the importance of safe sex. From there she gets the idea of teaching the women of her town the importance of male contraceptives.
While the ball is in her court for a long time, things quickly go south once the word is out that she is a condom tester. She is shunned from her in-laws' house and her attempts to teach people about safe sex go in vain. For most of the part, the script depends on humour to put across the points of the character. Without bringing forward the ground reality of the women in a grim manner, the film takes a very jolly approach to teach important things. For instance, we see a group of women happily singing the slogan "If you want our love, you need to accept condoms" once they decide they will reject their husbands' advances if they are not using contraceptives.
The film doesn't beat around the bush when it comes to giving these messages. Right from the first scene, when the manager of the contraceptive company tells his former employee that the work they do is not shameful but a life-saving one, we know where it is headed. And that makes it an engaging watch as well.
Rakul Preet has always been good at playing the happy-go-lucky girl next door, who can also hold her own and believes in what she does. She is thoroughly complemented by Sumeet Vyas, who plays her confused yet supportive husband. Rajesh Tailang, as the conservative brother-in-law, who despite being a biology teacher, asks his students to skip the reproductive system chapter and focus on the digestive system chapter, is very convincing in what he does.
While promoting the importance of the above-mentioned points, the film also doesn't forget to address the problem at its roots. Teenagers with wrong or no knowledge of sex often grow up to be adults who miss out on these safe practices because it never strikes them that they are going wrong. When a teenage boy asks Sanya whether his girlfriend can get pregnant just by kissing him, we might be letting out a laugh, but we know this is a question that people actually have had, outside the world of fiction.
The film also raises the point that teaching teenagers about safe sex practices and providing them with the knowledge of how their bodies function is not an obscene act. Rather it is to make them aware of what is wrong so that they don't commit a grave mistake. It is interesting because right after I finished watching the film, I came across a couple of news articles mentioning that a state's drug control department has asked pharmacies to not sell contraceptives to those below 18 after condoms and cigarettes, among other things, were found in a student's bag. It made me wonder why the film couldn't have come out at a better time.
Chhatriwali might end on a euphoric note with the regressive characters finally understanding the importance of these things but we know we have a long way to go before this fiction turns into a reality. Till then, we can take inspiration from films and try to wonder – what is so shameful about safe sex practices or knowledge about the changes one's body goes through that we either dismiss it as a joke or sweep it under the carpet.
Directed by Tejas Deoskar and starring Rakul Preet Singh, Sumeet Vyas, Satish Kaushik, Dolly Ahluwalia, Rajesh Tailang and Prachee Shah Paandya among others, Chhatriwali is streaming on Zee5.
Read all the Latest Movies News here
Disclaimer: This story is auto-aggregated by a computer program and has not been created or edited by filmibee.
Publisher: Source link