Movies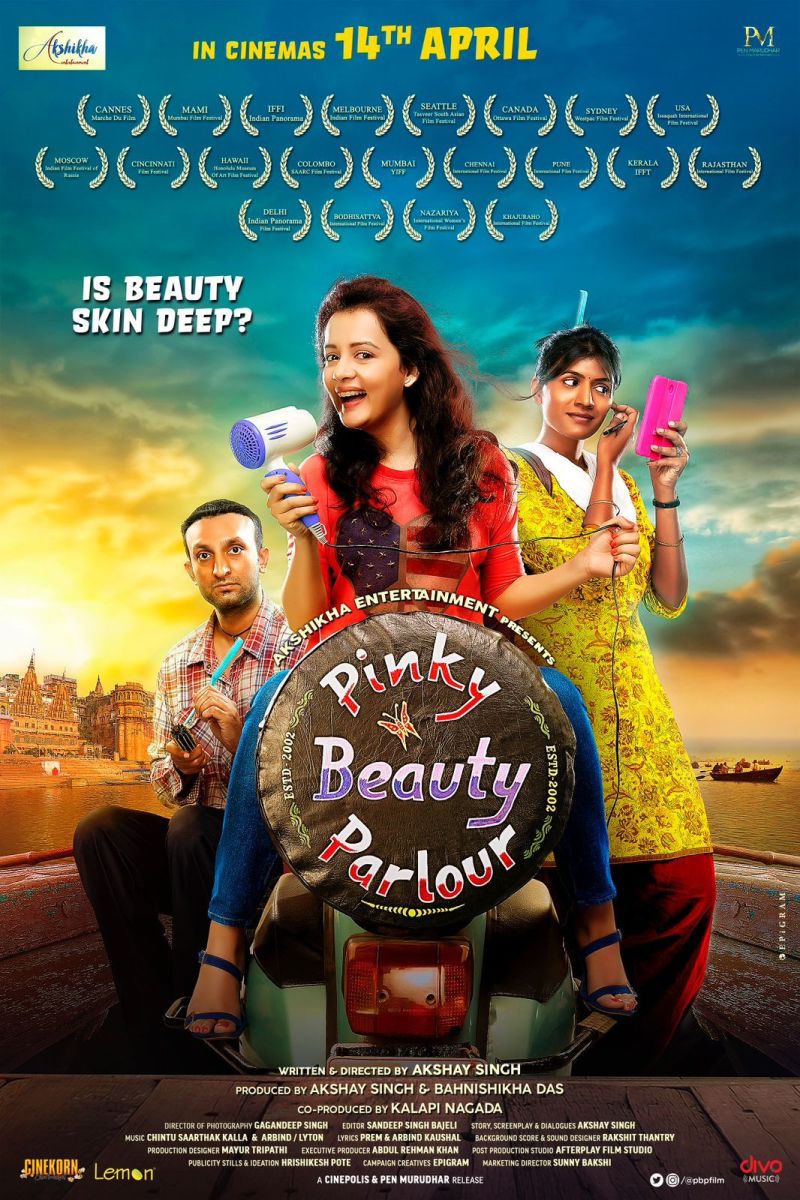 Apr 13, 2023
Pinky Beauty Parlour review: Actor, director Akshay Singh tackles color bias in a respectable dramedy – Beyond Bollywood
Unheralded artistes Sulagna Panigrahi, Khusboo Gupta deliver a strong message through their on-screen sibling revelry/rivalry.
Rating: 2.5 / 5
By Mayur Lookhar
It's not often a visual defines a whole film. One of the recent fine examples is director Amit V. Masurkar's Sherni [2021]. Maybe midway through the film, there is this aerial shot where on the left there is the village, and on the right, you can see a jungle. Dividing the two is a mining ridge. That visual narrated the man vs nature conflict of Sherni which is acerbated by the ridge.
The conflict in unheralded actor, writer director Akshay Singh's Pinky Beauty Parlour [2023] isn't that complicated. The opening scene begins with a mother clicking a photo of her two little daughters Bulbul and Pinky at a party. A voice is heard in the background where one comments that the two don't look like siblings. The mother downplays it by saying that Bulbul has got the skin tone of her father, while Pinky is fair like her. She feels Talcum powder will make Bulbul look fair and lovely. While the mother is trying to pacify Bulbul, but in the process, she inadvertently has sowed the seed of divide between her daughters.
Years later, the mother is no more. She has passed the reigns of Pinky Beauty Parlour to her daughter. No surprise that it is named after the younger daughter. Bulbul [Khusboo Gupta] and Pinky [Sulagna Panigrahi] are having some celebration at their humble beauty parlour in Kashi, Varanasi. Déjà vu as someone comments that they don't look like siblings. The sisters shirk it off before Pinky is persuaded to sing a song. She sings the Talcum powder song from their childhood. That in essence defines this sibling revelry/rivalry. A tragedy ensues where the key members in this Pinky Beauty Parlour are also under suspicion. The subsequent investigation, interrogation takes us back into the past, throwing up individual versions and and what possibly could have led to this tragedy.
Unfortunately, a death in a humble beauty parlour is unlikely to make headlines in a small town like Vashi. That the case is handled by two inept local cops – Senior Inspector Jata Shankar Singh [Vishwanath Chatterjee] and his deputy Sami Akhtar [Jogi Mallang] – all the more doesn't leave much hope for the truth to emerge. How can there be a fair probe when the former seems to be infatuated by Pinky?
Actor, director, writer Akshay Singh's character Dulal is a shy servant and it makes him a soft target for one and all.  Rupa [Arpita Banerjee], one of the workers in the parlour, teases him as a kaccha aam [raw mango].  She even questions whether Dulal is a 'swayam sevak'? Phew, that's a dangerous thing to say in Kashi. However, Dulal is one who can be bullied easily. He speaks in a frail tone, often gets shaken when his boss Bulbul or anyone says anything to him. Maybe, he's just playing poker face. The name Dulal and the region where this film is set, would naturally make right wingers suspicious about this man. Singh is impressive in this meek character.
The needle of suspicion isn't limited to the custodians of Pinky Beauty Parlour. There's one nagging customer Mrs. Srivastav who has taken the parlour to court for a misleading beauty promise. 
Akshay Singh's film harps on the never-ending color bias.  Probably, it's a subject that is done and dusted on television soaps. However, Singh deserves credit for having a more realistic take on the social ill. It's the internal conflict(s) that grabs your attention. Besides, it's nice to see Kashi beyond its famous ghats.
A fine story idea, but it suffers due to inconsistent screenplay, writing. The first half feels very elementary. The present is followed by a past anecdote. It's not the non-linear narrative, but it's the lack of intensity in the screenplay, performances that hurts Pinky Beauty Parlour.  Maybe Singh could have added some background score to bring momentum to the pivotal scenes. At the interval, we felt that here is another fine story that fails in its execution.  
Fortunately, Singh and his actors pull up their socks and attain respectability. Singh ups the humour quotient – slapstick in nature, thus succeeding in building engagement. Though things are predictable but the engaging second half screenplay and better performances uplift the film.  It's our two inept cops who finally prove that they are worthy of that khakhee. It's an interesting pair. One a Hindu and the other a Muslim. None of them question each other's actions. In fact, it's the Muslim cop who has strong suspicions over the name Dulal. The duo also interrogate Rupa's chauvinist boyfriend Sumit [Sangam Rai] who sports a Saffron stole. The film doesn't shy from taking subtle political digs.
Shankar and Sami do things in their own way. They are slow, but it's their shenanigans that amuse the audience. Vishwanath Chatterjee and Mallang come into their own, and they basically lead the film in the final hour.
Sulagna Panigrahi can now qualify to be called a seasoned ariste having begun her career way back in 2007 with the TV show Amber-Dhara.  Kashmira Irani, her conjoined twin in the Sony Entertainment Television show, proved her mettle in the gripping horror Welcome Home [2020].  Pinky Beauty Parlour proves that Panigrahi isn't your baby face beauty anymore. The girl from Orissa ups the intensity. Yes, the divine smile, crooked tooth is very much there, but Panigrahi also shows her a rare envious side to her.
Khusboo Gupta comes across like a breath of fresh air. Her casting is a horses-for-courses policy, but hopefully she doesn't get bracketed into these 'fair and lovely' roles. You can sense the aroma of Khushboo through her free spirit, but it's the internal turmoil that attracts you to Bulbul. She has carried the burden of the color bias from her childhood.  Things didn't change much as an adult. "It's not that guys didn't like me, but it's their parents who rejected a dusky girl," Bulbil moans. More than the color bias, this reviewer relates to that loneliness. The whisky serves as a poison but it further pushes you into a shell.  The emotional state also makes you vulnerable to predators.
When the dust settles, one is gripped by melancholia. Pinky Beauty Parlour hits out at color bias. It subtly slams the cosmetic industry for their 'fair and lovely' promises.  More so, it condemns the society's obsession with fair skin.  However, more than external, it's the internal strife in Pinky Beauty Parlour that will stun everyone.  No amount of 'gold facials', talcum powder can clean the dirt within. Inspector Shankar rightly pulls out Plato's quote, "Beauty lies in the eyes of the beholder". Dear Bulbul, you are the most gorgeous woman we've ever seen.
Disclaimer: This story is auto-aggregated by a computer program and has not been created or edited by filmibee.
Publisher: Source link