Movies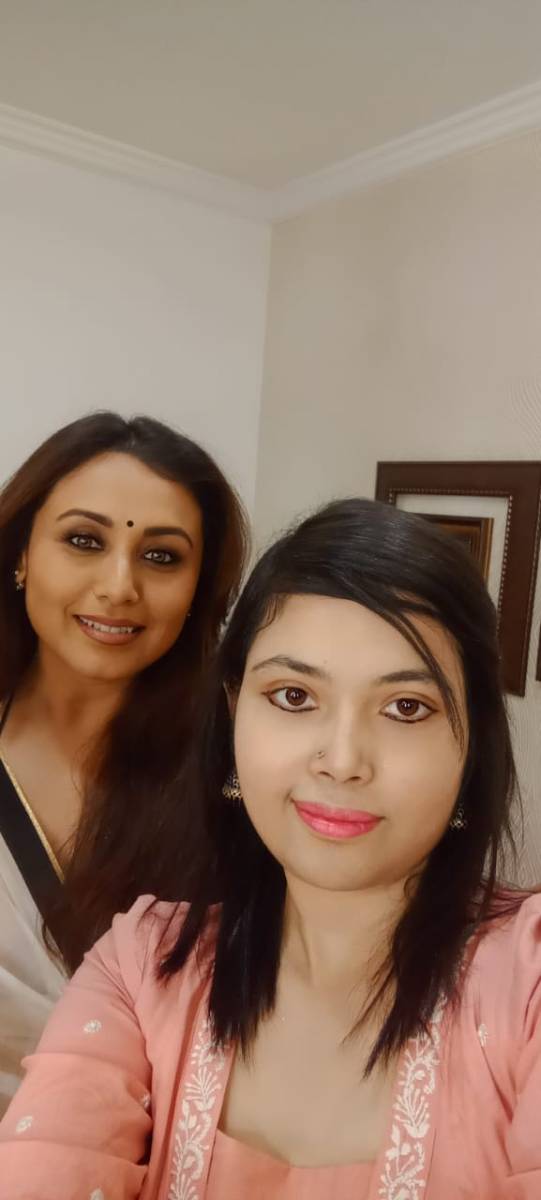 Mar 18, 2023
People might protest against Norway after watching Mrs. Chatterjee vs Norway – Beyond Bollywood
Speaking to Beyond Bollywood, the feisty Bengali expresses her gratitude to Rani Mukerji for telling her story. She corrects all that she is yet to get divorce from her husband, accuses her in-laws of brainwashing him.
By Mayur Lookhar
Mother India maybe a dramatic title, but Sagarika Chakraborty's life has been full of drama. Back in 2011, Chakraborty made news for braving to take on a Western country for its unethical practices related to Child Welfare. Imagine your kids being taken away from you and sent to a foster home.
Chakraborty didn't just fight the Norwegian Child Welfare Services, but there was a domestic battle too as her husband and his family allegedly left the mother alone in this fight. A decade after getting the custody of her children, the Sagarika Chakraborty story is told on the big screen as Mrs. Chatterjee vs Norway [2023].  Chakraborty had earlier penned her story in the Journey of a mother [2022]. Cinema though enables to tell her story to a wider audience.
Mrs. Chatterjee vs Norway [2023] has released in theatres on 17 March.  The software engineer now lives in Noida. She surprisingly met lead actor Rani Mukerji for the first time last week.  We couldn't meet her then, but Chakraborty spoke to Beyond Bollywood over the phone. She expressed her gratitude to Mukerji and the film-makers for doing justice to her story. Though she has her children back, the struggle still continues as she seeks a divorce from her husband Anurup Bhattacharya.  Sagarika hopes to help other parents who have faced similar injustice.
Excerpts.
The film had an early press show, and largely the word of the mouth has been positive. Have you gauged the feedback?
I have watched the film. It's a really heart wrenching movie.
Watching the film must have been an emotional ride for you, isn't it?
Yes. It is kind of a mental agony to watch those scenes from my past life. All the memories spring back to mind while watching the film. It gets traumatic to watch but Rani Mukerji has played my character very beautifully. My story is all about a mother fighting against all odds.
Have your kids seen the film?
They haven't seen yet as they were having their exams then. My daughter Aishwarya is 12 years old. She has googled to see the early reaction [reviews] to the film.
Are you happy with the way the film has come out?
Yes, I'm very happy because the film is based on my autobiography The Journey of a mother [2022]. I've been through lot of struggles. This character is very difficult to portray in two hours and fifteen minutes. [Director] Ashima Chibber is a very kind person.  Rani has played my character beautifully. Whatever they have shown in the film is the truth.  This film needs to be watched by all. It's not just a family drama, but it also exposes the unethical practices in Western countries. We should protest against it. It Is not India alone, but parents from other countries, too, have faced such a thing.
I believe they [film-makers] have succeeded in building an emotional connect through this story.  It's not just parents, but even unmarried people can connect to it. I appeal to the audience to watch this film.
Recently, we heard about a similar case involving one baby Ariha who has been kept in a German child care service.
I'm in touch with the parents.  I intend to meet them, the next time I'm in Mumbai.
Rani Mukerji had left everyone stunned by saying that she never met you during the shoot of the film. When the film-makers approached you, were you surprised that here is an actor who will play a character inspired by you, but till date she hasn't met or spoken to you?
Well, Covid-19 didn't permit that. Ashima had many digital conversations with me for hours. Once the lockdown down happened, I had to cancel my flight. We had many conversations over Zoom with Ashima and other team members.  We spoke about the book, and many things about my life. Rani got so much details about me through the book and Zoom interviews.
How did this Mrs. Chatterjee vs Norway journey began?
Writer Sameer Satija had read my book. He had approached me.  He asked me to suggest possible names to play the leading character. Rani was one of the names that I had suggested.  I've watched Anirban Bhattacharya. He's a versatile actor.  I felt that no one else could portray my husband better than him. They [film-makers] were kind enough to take my advice.
Oh, so you know best who could play your husband.
(laughs) Yes.
While the Norwegian Child Welfare Services may have ulterior motives, did you get support from the local population?
Yes, even now locals have been supportive. The film will be shown in 150 countries. It will be released in 20 provinces of Norway. I've heard that the shows are booked. There were few who protested in Norway. I'd met families who faced the same problem.
Time heals all wounds. After all these years, has your husband expressed a desire to meet the children?
No, never.
Does your son miss his father?
No, because he's been away from him for long. My daughter knew nothing as she was an infant then.  She is not keen to see her father. Even after all these years, my husband never bothered to know about our well being. The support from my parents and family is enough for me. 
There were times when seeing other parents shower love on their children, my kids used to ask when will their father turn up? I used to lie that their father was working abroad.
You are still a young lady. You never thought of remarriage, finding an emotional support for you and your kids?
No, I haven't. I've spent too much time fighting the cases. Other incidents too happened which I hope to reveal in the second part of the book.  I realized that I need to be self-independent. I received many proposals during college. I prioritized my career. I feel settled now. If I want, I can remarry but I've left that to the future.  Besides, I'm not yet divorced.
What? But I read that you got divorced in 2012.
No, lot of lies have been floated. I'm separated but not legally divorced yet.
Phew, is the case still dragging on?
I didn't file any court case. I never asked for any alimony. I intend to go to court soon.
You also didn't take any compensation from the Norway government, why?
My in-laws, husband's brother did this for money. I'm a mother. I'll never do anything for money. They are my kids. I want to raise them through my own hard-earned money. I want to earn so much that I don't need to depend on anyone.
Did Anurup raise objection to your book and now this film?
He hasn't spoken to me for long. I learnt that he spread lies about me.
There are stories of him accusing you of slapping your child in front of Norwegian child care officials.
No, I didn't. My husband, in-laws were supporting Norway Child Welfare Services. My kid was spitting out food. As a mother, I just looked at him with stern eyes, telling him to not do such things. My finger was pointing to my son, but these officials billed that as me 'raising hand' against my child.  I never imagined that my husband would turn against me and our kids.  My husband's brother brain washed him.
 One of the interesting things in the film is how Neena Gupta's character seems to be inspired by the late Sushma Swaraj, who has been thanked in the film. Did you meet her?
No, I didn't meet her. But my parents met Sushma Swaraj when they protested outside the parliament then. Brinda Karat was the first to meet them. Later, Sushma Swaraj and Pratibha Patil joined them.  These three ladies helped my family and me.
What about S.M. Krishna who was the foreign minister then. He was then succeeded by Salman Khurshid.
Yes, they too helped.  There was no politics, as all these big names were there for my family and me. The government, Indian embassy in Norway were always there for me. I'd spoken a bit to Sushma Swaraj ji over the phone. She was a nice lady.  Brinda Karat stood by me even when I came to India and fought for the custody of my children in Kolkata. Mani Shankar Aiyar's daughter Suranya also helped me after returning to India.
I learnt so many things from this experience. I later met other  families whose children were taken away by the Child Welfare Services.
You are a shining example of hope for all such parents. So, I believe you have many more missions to achieve. 
There is plenty more to my story. It's tough to raise kids as a single mother.  My son is still traumatized by the past.  I've been wanting to write the second part of the book. My struggles continue. I didn't write my book for just women, but also for men. The second part will be different from the first (chuckles). I can assure you the second part will have a happy ending.
On a lighter note, if tomorrow you get an opportunity to tour Norway, will you go?    
(laughs).  Yes, I would. One must travel to Norway before marriage, but not after it.
Hope they haven't banned you from travelling to their country?
No. I believe they [Norway government] are now scared.  Other parents too suffered the same.  I think they realized that this girl has lots of power.  I reckon people might protest against Norway after watching this film.
I reckon only a Bengali tigress can put up such a fight.
(laughs).  Yes, that's true.  Their government is wrong. So, their citizens will have to fight against the unethical practices. I'll be speaking about it at a conclave in Delhi from 17 March. I've heard there are people coming from Norway, Brazil, Human Rights Commission.
Disclaimer: This story is auto-aggregated by a computer program and has not been created or edited by filmibee.
Publisher: Source link