Movies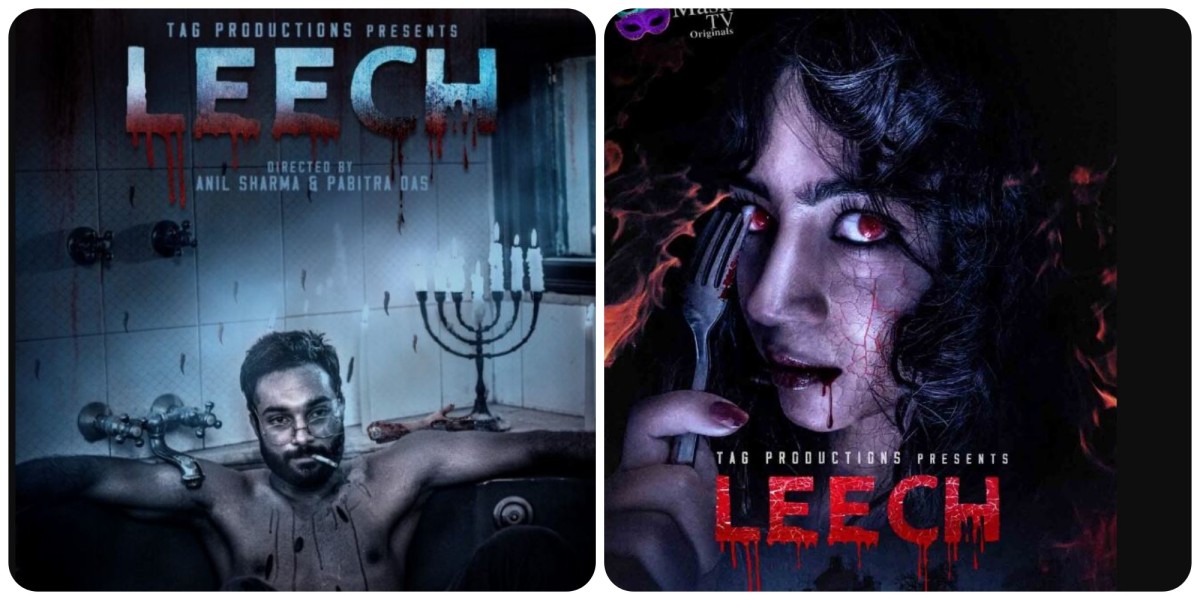 Mar 22, 2023
Not just blood, this Leech sucks every sense out of you – Beyond Bollywood
The director duo of Anil Ramchandra Sharma and Pabitra Das weave in a feminist angle in their extremely dark tale. Poor production values though result in this Leech never having any grip on the audience.
Rating: 1.5 / 5
By Mayur Lookhar
A newly hired domestic places a leech on a little boy's hand. The father is unmoved. Later, the father tied his son's hands, wraps the bread plastic bag around his head, leaving the child to suffer. The mother comes in the nick of time. The father is still unmoved.
"Oh, he was repeatedly asking for food, I saw this cautionary text on the plastic bag that says keep it away from children," the father tells his wife. Yes, the boy is adopted but any normal human being would FEEL sick in the gut just imagining that a man can do this to a child.  Unfortunately, Fredrick feels nothing. He suffers or claims to be suffering from alexithymia [a condition where one has no emotions whatsoever for oneself or others]. So, the best-selling author devises dangerous methods by putting his wife and child at risk, just so that watching them in pain, could trigger some feeling in him.
Maybe writer Abhik Benazir didn't find any stone cold to play this character, and so he chose to play it himself.  Fair enough for such a story where the principal character can't even afford a smile. Fredrick is stone cold.  He has the studious look of a noir writer, but hey, for a guy who feels nothing, how can he write a book where characters are usually driven by emotion?  "I create them", he simply sighs.
This man is weird, but so too his actor wife Sadia [Sanam Zeeya], who has Renfield's syndrome – an obsession with drinking blood. We heard of marriages made in heaven. The Fredrick-Sadia union though is straight out of hell. They call it a compromised relationship. We feel they are perhaps parasites feeding off each other. Sadia still has strong emotions for her husband and adopted son Erik. 
Benazir's world is extremely disturbing for the civil souls. You need to be a stone cold to withstand the gore here.  Right from the first scene to the last, Leech stuns you, and leaves you numb.  Beneath the gore though lies a feminist subtext that condemns an ugly, horrific stereotype. Anushka Sharma tried that with Pari [2018] and later with Bulbbul [2020] which she only produced.
Those tales felt desi in every bit, Leech, though, hits you like a Western psychological horror.  The closest desi resemblance would be Bhaskar Hazarika's Aamis [2019]. That was still driven by passion. Leech is cold as ice.
At first, Benazir strikes you as someone who is out to beat John Abraham for the woody title.   Slowly, steadily, he compels you to get into the head of this weird author. How can an actor be Sphinx-like throughout the film? Pardon for the language, but this f*****g Fredrick is immovable. From being very frustrating, Benazir eventually earns your respect as 'the guy who has zero emotions.
Unfortunately, Benazir went numb whilst penning the screenplay. Despite an intriguing plot, the screenplay feels amateurish. Save for Benazir, the other actors strike you as novices. Leech is perhaps a classic example of a low-budget film that had set boundaries, and it had to make optimum use of its resources. Sanam Zeeya is overtly undercooked. The supporting cast comes across as production crew who were coerced into facing the camera, because they couldn't afford basic talent.  There's the private detectives Hamilton [Vishal Singh] and Newton [Ved Prakash]. The former is also the co-screenplay writer. If you yourself can't do justice to your script, character, there is no one to blame.
Sadia and Fredrick's domestic Javed [Sanju Dhirhe] is insufferable to watch. Even the usually dependable Atul Srivastava hams his way as Sadia's school principal. Mir Sarwar will be simply delighted to play a Francis, and no Kashmiri militant. Most of these actors even struggle to pronounce Frederick, thus questioning Benazir's decision to name his principal character as one.
The shoddy writing, cringeworthy dialogues, amateurish editing seldom builds any engagement. There is no proper transition from scene to another. There is simply no direction. Leech gives an impression as if the director duo of Anil Ramchandra Sharma and Pabitra Das were simply there to say 'action' and 'cut it'.  Make no bones about it, this Leech story had potential, but the poor production values never grip the audience. Not just blood, but this noir sucks every sense out of you. 
Save for Benazir's intense act, and some neat production design in the climax, Leech seldom grips one's imagination.  This noir will stream on Mask TV, but producers will struggle to mask this disturbing story. This one is strictly for the cold–hearted.
Leech is set to stream on Mask TV from 24 March.
Disclaimer: This story is auto-aggregated by a computer program and has not been created or edited by filmibee.
Publisher: Source link