Movies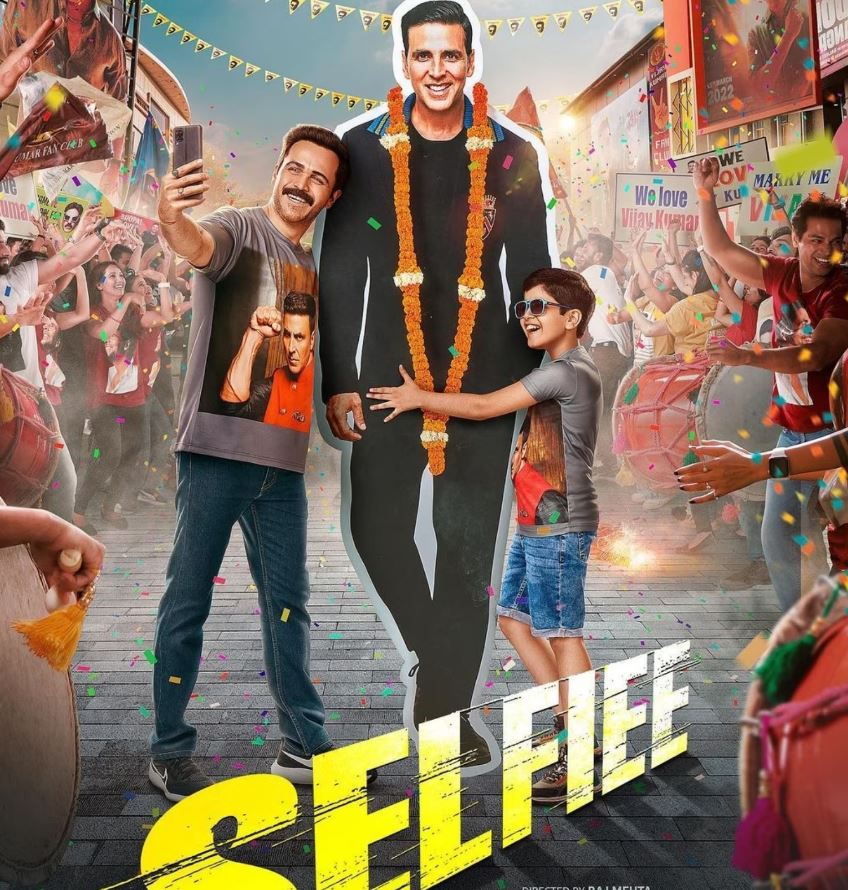 Feb 24, 2023
No end to Akshay Kumar's self-destructive cinema – Beyond Bollywood
A shallow plot, insufferable writing, direction and uninspiring performances. This Raj Mehta directorial is a recipe for disaster. Abhimanyu Singh's lone good effort in a goofy role ain't enough to like this Selfiee.
Rating: 1 / 5
By Mayur Lookhar
The American desi gynecologist assures the super star and his wife that their surrogate and the unborn is doing fine. He ends the video call by taking a cheeky dig at the actor's last release Don't Angry Me. "It was fine but more on the massy side, and less classy."
Vijay Kumar [Akshay Kumar] takes it in his stride as the doctor is a dear friend. However, next second, he tells his wife [played by Diana Penty] that had the doctor continued, he would have pierced the notebook screen and punched him in the face. Vijay's unaware that the call is still on. Pat comes the doctor's reply, "Vijay, I can hear you". An embarrassed Vijay reminds the doctor that he was simply joking with his wife.
Class is over rated but the doctor's classy /massy observation mirrors the critics who have a nose for realism, logic. Maybe, some stars would prefer to ignore the few sincere voices. However, even the most ardent Akshay Kumar fan-critic would have a hard time defending the super star's last few years in Bollywood. Give the man some credit though as he sportingly admitted during Cuttputlli [2022[ trailer launch that he alone needs to be blamed for the rut. Akshay Kumar even stated that he needs to relook his choices, align himself with the changing audience taste.
A Vijay Kumar can afford to chuck the classes as he is God-like for the masses. We're not sure if that is an option for the struggling Akshay Kumar. A Selfiee [2023] feels quite personal in few parts but it does little to stem the rot for Khiladi Kumar, who continues on the path of self-destruction.
The Malayalam original titled Driving Licence [2019] was cheered on by its target audience. We chose not to watch the original, thereby sparing Selfiee makers and Akshay Kumar fans of the comparative analysis. Honestly, if the core plot is the same, it doesn't speak volumes of Prithviraj Sukumaran's original either.
Om Prakash Agarwal [Emraan Hashmi] is a righteous RTO [Regional Transport Office] inspector from Bhopal, Madhya Pradesh. He is a die-hard fan of Vijay Kumar. A dream opportunity arises to meet his idol but certain unforeseeable events leave the super star livid with Agarwal. Insulted in front of his child [also a VK fan], Agarwal vows to bring the super star down to his knees. The fan has turned against his super star. Though reminiscent of Shah Rukh Khan's Fan [2016], but Selfiee plays out to an altogether different tamasha (drama).
The ridiculous tussle all over a selfie and a driving licence pans out into an insipid 143 minutes drama. Yes, the unforeseeable circumstances are to blame, but a little bit of common sense would have spared them the blushes.
Rishabh Sharma has adapted or literally aped Sachy's original screenplay and turned it into a Selfiee [2023] for the Hindi audience. Rishabh and director Raj Mehta have combined to give one Good Newwz [2020], that was later followed by the average JugJugg Jeeyo [2022] which itself was mired into a plagiarism row. A Selfiee is just another addition to the list of terrible Hindi remakes of Southern films. When will Bollywood learn that not every Southern hit is worthy of a Hindi remake.
The silly plot aside, the shallow writing, and average dialogues leave a lot to be desired. Few cheap dialogues, innuendos are a desperate attempt to ring in humour. It's bizarre how the events in Selfiee reflect poorly on the RTO, polity, citizen of Madhya Pradesh most of whom are star struck. Surely, the MP government, police, other RTO officials all cannot be fixated with the Vijay Kumar v/s Om Prakash Agarwal tussle. There's Vimla Tiwari [Meghna Malik] the local politician who conducts herself like an ecstatic fan, obeying all command of Vijay Kumar. Certain politicians can be star struck, but why would any politician devalue herself in front of an actor? Malik does her act well, but in the process embarrasses the entire Madhya Pradesh polity.
Media bashing has become a norm, and sadly acceptable to the sycophant scribes. We've learnt to take things in our stride, but when will Bollywood realise that they are barking at the wrong tree?
Poor Emraan Hashmi will simply be relieved to get a meaty role. However, this Om Prakash Agarwal seems forced on him. Here is an RTO cop who arrives at a multiplex while on duty. He's brought his child along with him. "Son did you bring the clothes?". The child replies, "You think I was carrying books in my school bag?" Whoa! Such fine upbringing. Seconds later, Agarwal forgets that he is on duty, wears a Vijay Kumar film merchandise, climbs onto to a huge hoarding to garland his idol. This kind of fanfare might still be evident in single screens, but a cop metamorphosing into a fan during working hours is hard to digest. Mr. Agarwal is a lucky man to still be in job. Who needs critics? Agarwal's colleague himself states that this man has not yet matured.
Hashmi clearly looks uncomfortable in this role. The MP accent only surfaces in parts, primarily noticeable when Agarwal is taking a Q & A Test of Vijay Kumar. This entire 'driving licence' quest is broadcast live in Madhya Pradesh, and presumably many parts of the country. Agarwal's colleague cheering Vijay Kumar, and later lamenting him for being too harsh on the super star, reeks of fanaticism, and reveals his scant regard for duty. And when the fans turn into a mob, it's a recipe for disaster. It's not the conduct of Agarwal or his colleagues, but what's insufferable is the farce that's passed in the garb of entertainment.
Though not a crazy fan of Vijay Kumar, Minty Agarwal [Nushrratt Bharuccha] adds some value to Om's life and this story. The effort though is elementary. What's unacceptable is the insensitivity on part of the director and the writer to embarrass Om's son in school. Poke fun at adults, but it's utterly gross to shame a child in a creative work.
Diana Penty has little to offer here. Don't blame the director for limiting her screen time. Poor Adah Sharma has to bear the brunt of gassy humour. Mrunal Thakur's special appearance in the opening track does little to build engagement. As good as she looks, but the dancing is barely visible in the Kudiyee Ni Teri track.
What does an Akshay Kumar gain out of this Selfiee? We'd be pleasantly surprised if it stems the rot. Akshay adds a personal touch with Vijay Kumar taking pride in doing 3-4 theatrical releases a year, couple of OTT films, and the odd reality TV show too. Akshay is entitled to hit back at his critics who believe that he now offers only quantity, but less quality. Fans will be forgiving of Kumar's bad choices, but vanity, ego is something that you don't really see from the actor both on or off the screen. At a time when he is struggling, this sense of pride in quantity all the more sharpens the knife for his critics. Akshay is not as listless as his previous films, but nor has he done enough to turn the tide. With Selfiee, Kumar continues on the path of self-destruction. There is a sense of helplessness, and eventually throwing in the towel by Vijay Kumar. Come on Akshay, you are only 30 years younger in the industry.
The lone bright spot in Selfiee is Abhimanyu Singh, who gets to play a rare cheeky role. Suraj Diwan [Singh] started his career alongside Vijay. They were once roommates, but destiny has delivered contrasting fortunes.  Singh could have done with authentic prosthetic to reveal the bald patch. Here is an actor who has paranoia over his failure, and envies others' success. He consults a tarot card reader, so typical of forlorn people in every field. Diwan has to endure bad films, cheesy ads but Singh regales in the chaos, insecurity and buffoonery of Diwan. Maybe, he subtly exposes the KRs and the KRKs of the industry.
Save for the Sher track by Vikram Montrose, the others flatter to deceive. The Main Khiladi Tu Anari (remake) song playing to the end credit was perhaps a late addition and simply used as a marketing tool.
The most pertinent takeback from Selfiee is the scene when Vijay Kumar's fuming producer Dheeraj slams a news anchor for running the #BoycottBollywood trend. "Stop with this boycott. As it is our films are not working, and you are running this negative campaign".
It's the one moment which perhaps drew genuine laughter in the hall. With all due respect, we remind Bollywood to stop barking at the wrong tree. The audience doesn't really need our reviews. Content speaks for itself. The audience has moved on from cliché content, the ball is in your court. Rather than a Selfiee, the industry needs some serious self-introspection.  
Disclaimer: This story is auto-aggregated by a computer program and has not been created or edited by filmibee.
Publisher: Source link