Movies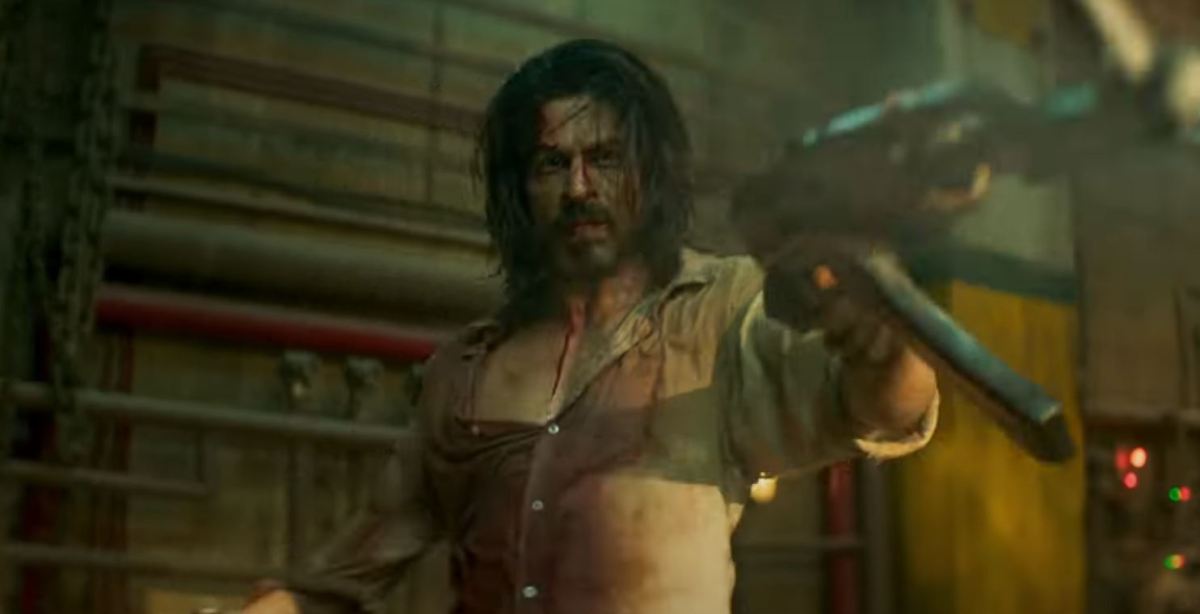 Jan 10, 2023
New swag, new tone! SRK's all new action, patriot avatar has potential – Beyond Bollywood
The Siddharth Anand film is perhaps a prelude to Anand's earlier directorial War [2019]. Though the Western influence is apparent, who is to rule out the masses saying salaam to this YRF Spy Universe action thriller.
By Mayur Lookhar
Back on his birthday on 2 November, we saw the Pathaan [2023] teaser and opined that the King of hearts (Shah Rukh Khan) is now aiming to become King of action. Over two months and a trailer later, the King of hearts looks a distance memory. It's Action Khan that reigns supreme in the trailer.
There is an altogether new swag, new tone to Shah Rukh Khan. We didn't find the trademark 'ayee' shivering tone at all. More than the chiseled physique, it's the new found aggressive but still cool, and witty attitude that builds intrigue around this Pathaan. "Ab Pathaan ke ghar party ho, toh Pathaan toh mehmaan nawazi ke liya toh aayega, aur pathaake bhi laayega." This catchy dialogue aptly defines SRK's Pathaan avatar.
YRF declaring a Spy Universe will naturally draw connect to the earlier films, mainly War [2019], that was also helmed by Siddharth Anand. As feared earlier, Pathaan doesn't appear to be a rehash of War, but it perhaps is a prelude to the events in War. The presence of a younger looking [black dye] Ashutosh Rana hints at a Pathaan and Khalid [Tiger Shroff] connection. Who knows Pathaan could be a colleague of Khalid's father and a senior to Kabir [Hrithik Roshan].
Dhoom [2004] antagonist John Abraham plays the baddie in Pathaan. His character heads one private terror group Outfit X, that specialises in carrying out contract killings/operations. The Urdu inscription on the gate of a missile site spells out the usual enemy. It's difficult these days to take names of real organizations, agencies. But surely director Anand could have thought of a better name.
A private terror organisation having radical guns but also fair men in uniforms. One of the rumoured changes in Pathaan is the removal of the words ex-KGB, (changed to ex-SBU) Surely, rogue KGB officials haven't joined John's Outfit X. A Pathaan dialogue mentioning that a soldier should never ask what a country has done for him perhaps suggests that maybe Abraham's character, too, was once an Indian soldier. One has got to say though Abraham looks in great shape and fairly intense in the trailer.
Deepika Padukone looks like a desi Bond girl. She, too, is an agent like Pathaan. We see her in a Saffron outfit beating up a henchmen. We hope that she shows better agility than the few action shots in the trailer.
If no worry, but having a 58 year old protagonist and a 50-year-old antagonist comes with its set of challenges. Age is not a prime factor per se, as seen from the likes of Tom Cruise, Daniel Craig, but the desi artistes have had their share of back troubles. So, we presume the stunt choreographers to be in action here.
The Western influence is apparent, but that was the case with War too, which defied all such criticism to emerge as a blockbuster. However, certain aerial shots of flying objects partly rekindle memories of watching remote-controlled cheap drones at Juhu Beach. Remember, yours truly is based in Mumbai.
The trailer definitely builds more intrigue than the teaser. Pathaan is set to be released on 25 January. Watch the trailer below.
Disclaimer: This story is auto-aggregated by a computer program and has not been created or edited by filmibee.
Publisher: Source link