Movies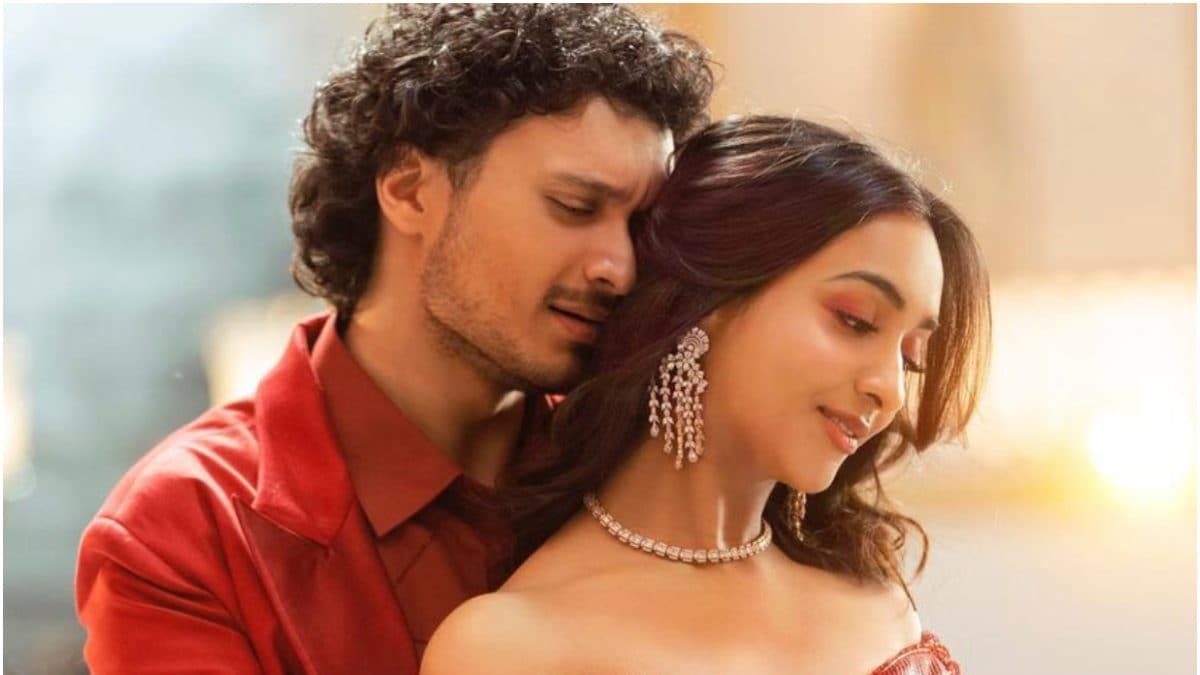 Apr 28, 2023
Namashi Chakraborty Shines In a Weakly Written Love Story
Love at first sight, boy chases girl, girl falls in love, then boy impresses girl's family – Bollywood's typical notebook for romantic comedies may have different shades for us to watch, experience and enjoy, but what does one do when it looks repetitive and doesn't make you laugh? Well, that's what Rajkumar Santoshi's Bad Boy does. The film is a quintessential love story that has the right intentions to tickle your funny bones and make you root for the lovers, but unfortunately, it fails to come through.
Given Santoshi's illustrious career with films like Andaz Apna Apna and Ajab Prem Ki Ghazab Kahani, 90s' and 2000s' charm with over-the-top background music, comedy, and dialogues may work their wonders, but they don't hold you long enough in this film. Of course, the idea and intention of love winning over everything may strike the right chord, but bad writing and screenplay let you down.
Namashi Chakraborty, the younger son of veteran actor and icon Mithun Chakraborty makes his debut with the film. As someone who hasn't grown up watching Mithun's magic in the cinemas, looking at Namashi's performance with a clean slate – without the baggage of comparisons with his father, was a complete win. There's so much honesty and conviction in how he plays Raghu. His emotions are pure, his acting is top-notch, so much so that you'd root for him till the end.
The story opens with a good-for-nothing Raghu bumping into a grumpy old man, only to fall in love with his daughter, Ritu with one glance. While the first half may quickly establish the narrative and predictability, there are moments where Ritu will remind you about Ek Villain's Ayesha, while Raghu will remind you about Ajab Prem Ki Ghazab Kahani's Prem. Although their love story, the comic timings, and the music keep you entertained, an overdose of it just makes it tedious.
The second half of the story drives smoothly, with the dramatic twists and turns making it look interesting. Johnny Lever's extended cameo appearance with his humorous dialogue keeps you hooked. He lights up every frame effortlessly. Apart from that, the film's climax may rile you up for its writing, for all the good reasons as it quickly lets you off the hook.
Amrin Qureshi, who also makes her debut in the movie, brings in a different sense of charm and sensitivity with her on-screen presence. While she portrayed her part with honesty, she deserved a better character arc. Despite holding on to her roots, Ritu lacks the necessary complexity and character depth that modern audiences expect from female protagonists in cinemas.
While Namashi and Amrin's performances are brilliant individually, their on-screen chemistry fails to give the same vibe. They may talk about innocent love, but it only looks good if watched with rose-tinted glasses. All in all, Raghu and Rituparna's love story does give out an important message about respect, and emotional maturity.
Saswata Chatterjee as a grumpy old man who's constantly looking out for high quality and high-standard in everything does a splendid job on his part. He has surely outdone himself in some scenes, but if looked at his filmography, this film could have been an easy pass for him. Mithun's on-screen aura in his cameo appearance may charm you over.
Overall, Bad Boy offers an overdose of over-the-top entertainment, and cringe-worthy dialogues, and will take you back to the 90s-style comedy. It may also serve you as a guilty pleasure watch, but it fails to deliver a good cinematic experience due to its predictable plot and poor writing. The film's message about love and respect being the strongest emotion is commendable, but it is lost amidst the film's lack of novelty and repetitive plot.
Read all the Latest Movies News and Entertainment News here
Disclaimer: This story is auto-aggregated by a computer program and has not been created or edited by filmibee.
Publisher: Source link