Movies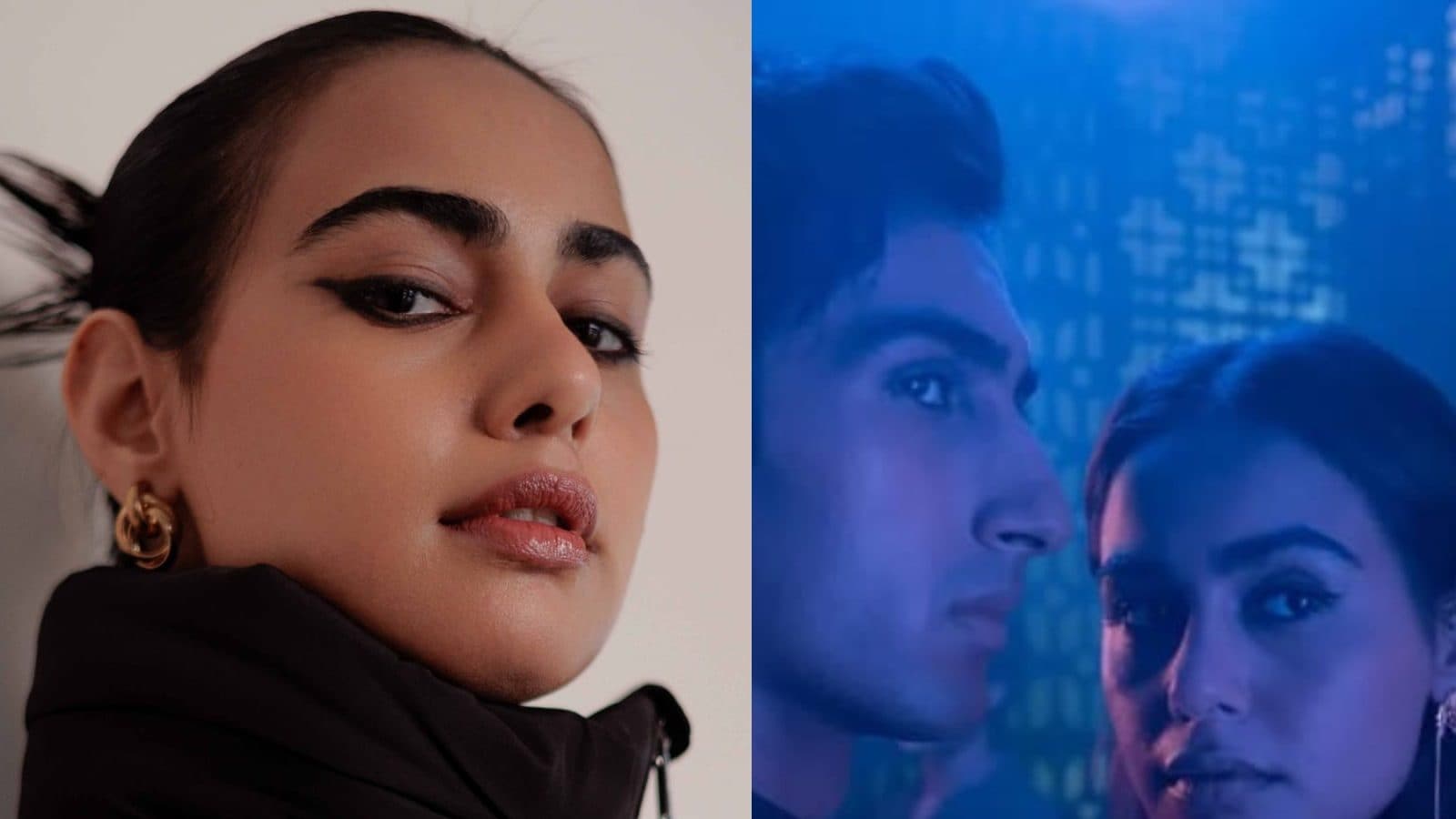 Mar 5, 2023
Naina Bhan Reveals Her Parents' Reaction to Her Bold Scenes in Class, Decodes Her 'Indian Mean Girl' Character
Edited By: Bohni Bandyopadhyay
Last Updated: March 05, 2023, 16:43 IST
Naina Bhan can currently be seen in the Netflix series Class.
Actress Naina Bhan, who made her debut with the Netflix series Class, opened up about her role, her intimate scenes in the show and how her family reacted to it.
For Naina Bhan, watching Ashim Ahluwalia's Miss Lovely (2012 film) in college to being a part of his latest series Class, has been a sweet ride. The actress made her debut with the Netflix production which is an official remake of the Spanish series ELITE. The show introduced around 11 new characters, and Naina, who's one of them, says that working on her debut project made her feel like she is in film school again.
In an exclusive conversation with News18, where she opened up about the show and her character Koel Kalra (Carla Rosón Caleruega's equivalent in ELITE), Naina said, "I studied filmmaking at the National Institute of Design. Once in college, I remember just sitting on the campus at 3am and watching reviews of Miss Lovely and wondering who the director is. I figured out it was Ashim and cut to five years later, I get a message during the lockdown that there is a show he is directing and whether I would like to audition. I completely surrendered myself to him and to the show because I knew I was in great hands. It's Netflix and ELITE has gotten so much love internationally so I felt it was all the right combination. I wanted to learn not just about acting but about direction as well and watching Ashim along with the other three directors was like a masterclass. I felt like I was in film school again."
Naina plays a cold and manipulative Koel in the series, who she says is completely different from her real-life persona. Naina expressed, "I am nothing like Koel and when I started out with the process, I thought how would I get into the skin of such a powerful and confident young adult? When I was her age, I was definitely none of those things. I learnt so much from her in terms of how much of a go-getter and self-confident she is. She is a true hustler. Initially, it was really stressful for me to try and give in to the power of the character because she demands so much. But after doing the wardrobe, hair and makeup, acting workshop and getting the briefing from the directors, what happened was I would walk in the vanity as Naina and walk out as Koel."
The actress also had several bold and intimate scenes with her co-stars Cwaayal Singh (Balli) and Moses Kaul (Sharan), which was one of the things that made her nervous about the role. She also revealed that the process of shooting for these also lead her to her journey of becoming an intimacy coordinator.
"I'm not going to lie, that was of course one of the things that made me nervous about the role. It is not something that has been often done in Indian cinema. Knowing that it was Netflix and Ashim really gave me a lot of confidence to be ready to take it on. I needed that trust factor, knowing that I was in the right hand. I knew the gaze would be correct and the way that it would be shot would be aesthetic. Then, both my partners Cwaayal and Moses were professional and there was a lot of comfort and trust between all of us. We had a great intimacy coordinator on set called Aastha Khanna who made sure that all the set protocols are taken into consideration."
Naina continued, "In fact, after the show, I actually ended up training to become an intimacy coordinator and I got my accreditation. It is such a new field and I feel there are very few intimacy coordinators who've been on the other side of the camera. I think I can bring a lot to it because I've been through that journey. In India, because of the kind of social dynamics and the social construct we have, the love language is so different from Western intimacy. What comes to mind is something like Ram Leela, where there was so much play. It makes sense in an Indian context, whereas in the west, something like having sex on the first date is not a big deal. So I am really excited to create a new language for intimacy in India."
Were her parents supportive of her when it came to doing intimate scenes? The actress answered, "We shot this for two years so I knew what I was getting into. I knew that there was a good amount of intimacy involved. I had discussed it with my parents and we went over it together. We made that decision as three adults together. I don't know what they went through or if they had any reactions, but whatever I heard from them, they told me that they were super proud of me and it was very tastefully done. Both my parents are my number one cheerleaders and supporters. They're too proud of me. I really want my family and my parents to be an example for other people. It is a more convenient story to say that I fought against all odds to be here but I really want to say that my parents are normal middle-class people who have raised both me and my sister with a well-rounded understanding, treat us like adults and empower us as women. It is a moment of pride for me to come from a family that I come from."
Before signing off, the actress left some interesting insights about her character. "Koel is not a character you see in an Indian context. It is difficult to find examples of people to play her. You can always argue that in Hollywood there's Regina George (Mean Girls; Played by Rachel McAdams) but they are Hollywood 'mean girls.' How do you make an Indian mean girl and make sense of it? How do you make sure it doesn't come out as it has been hijacked from a foreign film and put in an Indian one? While Carla is icy and not emotional, people found Koel to be emotional. I feel sex and the power it holds are so different in Spain and in India. If Koel was a character who was flat and icy, without showing any emotion, then people who have not related to her. They would have wondered why is she unaffected because that's not the imagery people are used to seeing in an Indian context. If a girl has had a breakup then you want her to cry. It would have been really strange if she was cool with her boyfriend breaking up with her. It was integral to make her slightly more emotional because that is how we emote here."
Besides taking on more acting projects, Naina Bhan is also focused on her career as an intimacy coordinator. "I have a couple of conversations in the pipeline but currently, I am equally focused on working as an intimacy coordinator and I hope that people can advocate for more on set. I would love to play completely different kinds of characters going ahead as an actor. It will be really nice to do something lighter as Koel was quite heavy. I would love to do a rom-com and an action film as well because I have trained as a boxer," the actress concluded.
Read all the Latest Movies News here
Disclaimer: This story is auto-aggregated by a computer program and has not been created or edited by filmibee.
Publisher: Source link