Interviews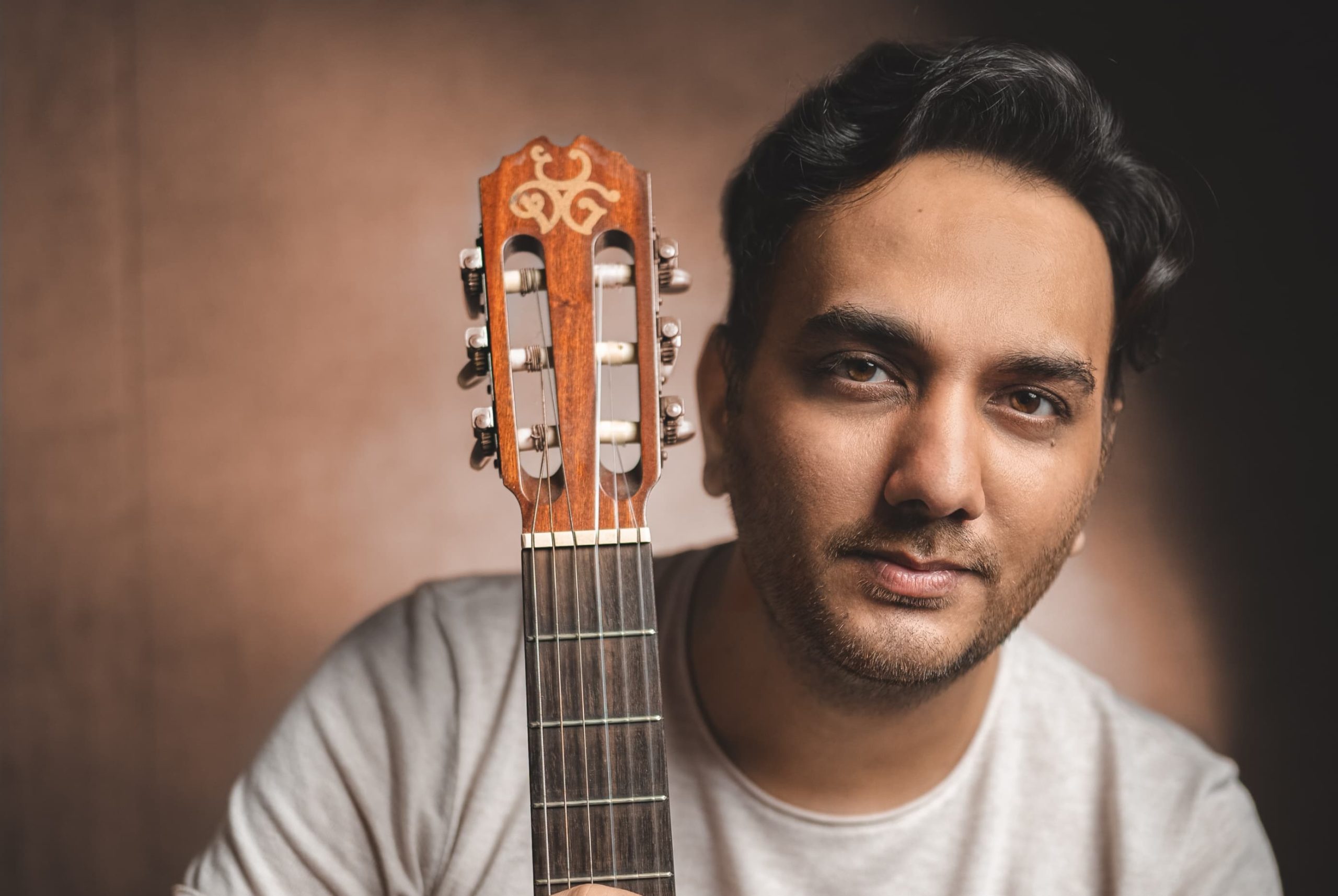 Jul 31, 2023
"My song in OMG 2 is very different from anything I have done so far" – Pranaay
In a career spanning more than 15 years, Pranaay has worked in cinema, advertising and the digital space. Apart from composing memorable songs for films and popular jingles for television commercials, the composer has also done the background score for some of the most acclaimed web shows to have been made in the recent past.
In this interview, Pranaay talks about his journey as a composer, song from the Akshay Kumar – Pankaj Tripathi – Yami Gautam starrer 'OMG 2', working with Vishesh Films, why he enjoys doing background scores, importance of formal training in music, upcoming projects and more. 
Tell us about the song you have done for 'OMG 2'.
My song in 'OMG 2'is very different from anything I have done so far. It has a very Indian sound to it. Just like 'OMG', 'OMG 2' has a very relevant theme. The makers have told the story very honestly. In a franchise like this, you need to have that honesty. Amit (Rai, director) was clear about what he wanted. He was very particular about the language and words to be used in the song. The song or the visuals were already shot. I saw the footage and that gave me a good idea of the kind of emotions he wanted in the song. 
In the last couple of years, you have done the background score for several popular digital shows like 'Broken But Beautiful', 'Never Kiss Your Best Friend', 'Salt City', 'Yeh Meri Family' and 'Kafas', among others.
Doing the background score is something I didn't plan to get into. I was primarily doing songs for films and composing jingles for advertisements. I had a couple of friends who were starting their production houses. Since our musical tastes matched, we started working together. I started doing the background score for shows in 2018. 'Rasbhari' was one of the shows I worked on.
Almost ten years back, you had also done the score for a TV show called 'Teri Meri Love Stories' which was aired on Star Plus.
Every episode of 'Teri Meri Love Stories' would feature a new story. I did the background score for just one episode. It was produced by Mr Rajan Shahi who was a friend of mine. When he approached me, I told him I wouldn't be able to do a typical TV score. He told me it's a very different show and I should give it a shot. I had a good experience scoring for that one episode.
Do you plan to do background scores for films as well?
Definitely! Till now, I have done songs for films and background scores for shows. It is not by design. What happens is that the industry looks at you in a certain way. It tends to put you in a box. So, when somebody calls me for a film project, they expect me to do a song. As far as web shows are concerned, I get approached to do the background score. I would love to work on films where I get to do all the songs and the background score. Some great songs are being made for web shows but unfortunately, they are not being promoted adequately.
If you are a musician and have been given the gift of music by the Almighty, it means you can create the background score, do songs and do any kind of music-related work. Till now, the audience has heard only 5-10% of what I do.
Till a few years back, on most films, the composer would sit with the director and create a song based on the brief given to him. What is happening these days is filmmakers come to composers and tell them things like, "give me a romantic song which you have" or "I need a dance number". I yearn to have a deeper connection with directors and the films they make. The directors are very involved in the background score. It is a much more collaborative process than creating songs today.
Back in the day, the background score of English films would release on CDs but in India, we were not getting the opportunity to hear background scores outside films. Now, scores are releasing on streaming platforms and have a longer shelf life.
People are getting more aware about background scores and that's a good thing. The themes I created for the show 'Broken But Beautiful' were very catchy. If you put lyrics to them, they will become full-fledged songs. The quality of background scores have also become much better. Between the '90s and the 2000s, one witnessed a huge change. When A. R. Rahman did the background score for his films, it was an extension of the songs he created for the album. That gave you a complete, wholesome experience as a listener.
When you were in college, you started taking guitar lessons from Bismarck Rodriguez.
As soon as I got into college, I was very lucky to find a good teacher in the form of Mr. Bismarck Rodriguez. He has taught Ehsaan Noorani and many other musicians. At the age of15-16, I started learning from him. I used to learn on a western classical guitar. He would always say that a musician should know how to read music. Nowadays, a lot of people do not realize the importance of reading music. I am glad he pushed me in the right direction and imparted the kind of lessons that are helping me till date. I learnt from him for seven years. I took piano lessons from his daughter Maureen Rebello. I also learnt Indian classical music from Pandit Rajan Santram ji. Once I got into it, I decided I want to make a career in music.
Did you take any training in music as a child?
No, but I used to sing in the school choir. Initially, I was studying in St. Xaviers in Fort. We shifted after a couple of years and I got admission in St. Annes in Malad. I was probably the only non-Catholic student in the school who used to sing for the choir (laughs).
Your debut in Hindi cinema happened with the song 'Kaisa Yeh Raaz Hai' from the Emraan Hashmi – Kangana Ranaut – Adhyayan Suman starrer 'Raaz The Mystery Continues'. How did you get the film?
What I did was very bold. When you are young, you don't know any better. I got Mahesh Bhatt saab's number from somewhere. I just called him and told him that I have a demo CD with a few songs and would like to play it out to him. I remember I had created five songs for my first demo CD. This was in 2006. I had recorded the songs in a proper studio. Vishesh Films was the only production house at that time which was open to newcomers. I met Bhatt saab and he put me on to Kunal Deshmukh whom we referred to as KD. I pitched a song to KD for 'Jannat'. Unfortunately, it could not be used in 'Jannat' but was used in Vishal's (Mahadkar) first film 'Blood Money'. All of us were 20-22 year old kids then. Mohit was four or five years older to us. Sometimes, we would jam at the staircase of Vishesh Films' office. Those were fun times.
Out of all the songs in the film, 'Kaisa Yeh Raaz Hai', perhaps, was the closest to the theme of the film. You got to work with names like KK and Sayeed Quadri on your very first song.
Every composer would has a bucket list. At that time, all of us were floored by KK. Once the track was locked, Mukesh (Bhatt) ji asked me who would I want to sing the song. KK was the only singer on my mind. He then asked, "lyrics ke liye kaun chahiye?". I expressed my wish for the song to be written by Sayeed saab. The next day, I was on a call with KK. Those were early mobile days. I had a landline. I called KK from my landline to check the scale. KK was extremely busy those days with recordings and concerts. I hummed the tune while playing the chords on a guitar on the phone. He made a few suggestions and we locked the scale. When we met at the studio, he was very gracious. I learnt a very important lesson that by just observing him. I learnt how to treat newcomers and put them at ease. He was extremely humble despite being such a big star. Even I would request for another take, he would have no issue with it.
'Kaisa Yeh Raaz Hai' was not from the bank of songs you had created?
No, it was made specifically for the film. I had initially met them for 'Awarapan'. Vishesh Films was working on multiple films at that time. So, I was pitching for different films. I knew they were making a sequel to 'Raaz' and it would also be in the horror space. I took a chance and made a tune that, I thought, would fit into that world. Mukesh ji liked it and that's how I became a part of that film.
'Teri Yaadon Se', which you had made for 'Jannat' went on to be used in 'Blood Money' and became quite popular.
When I pitched the song for 'Jannat', KD had really liked it. If Bhatts liked a song, they would remember it and make it a point to use it later in one of their movies. I have many wonderful memories with both Bhatt saab and Mukesh ji. I was 23 or 24 years of age when I got my first song. After the recording, I thanked Mukesh ji for the opportunity he had given me and bent down to touch his feet. He stopped me and said that, "Pranaay, don't thank me. I should thank you for giving me a good song. You made our film better." I was overwhelmed to hear this. While asking me to write down the budget for the song, he also asked me to write down my fees. Seeing my reluctance, he told me, "Pranaay, is making music your hobby or profession? Never do anything for free." At that age, getting the right guidance and mentorship is very important. I was fortunate to get a mentor like Mukesh ji.
You also did the songs for '3 AM', Vishal Mahadkar's second film.
Yes! Vishal and I were friends and used to hang out quite often. I used to play him the songs I would create. Just like Mukesh ji, he had a great memory. When he was making '3 AM', he asked me to give him a few of the songs I had played out to him earlier.
You worked on four Tiger Shroff films, 'Munna Michael', 'Baaghi', 'Baaghi 2' and 'Baaghi 3'.
Sabbir Khan was somebody I used to meet during my struggling days. He was, in fact, the first director I met after 'Raaz: The Mystery Continues'. At that time, Sabbir was making 'Kambakht Ishq'. He had a very strong sense of music. I composed the tracks 'Swag', 'Swag Rebirth' and 'Feel The Rhythm' for 'Munna Michael'. For 'Baaghi', he called me after the entire album was done. When I met him, he told me, "There is a situation in the film. It needs a certain style of music which is very different from yours." Sabbir said that based on the songs he had heard from me till then. He had this hookline called 'Let's Get Ready To Fight'. He told me that he wanted an action oriented song which would be played when Tiger is doing some gravity-defying stunts. I made a song. He played it to Sajid Nadiadwala and he also liked it.
Those who have followed your work must be of the opinion that your volume of work in films should have been higher.
It's partly because of the choices I made. I didn't want to do remixes or recreations. Those who are doing recreations are doing them quite well. However, it's not something I ever wanted to do. I don't want to mess with somebody else's creation. There are a few other reasons why the listeners have heard only a handful of songs created by me in films. Once the bigger labels come into their picture, they push their preferred artists. I did music to follow my passion. I feel that if I am not passionate about something, I should not be doing it.
You have worked on more than 500 advertising campaigns. Out of all the jingles you have composed so far, which one has been your favourite?
The 'Get Your Mark On' track for Gillette caught on in a big way. I did a proper song for a Nissan Micra commercial which featured Ranbir Kapoor. Even the music for the Mirinda ads with Asin was received very well.
Have you enjoyed working in the advertising space?
Yes! The requirements in advertising are very different from the kind of requirements you come across while doing a film project. A film or a series takes a while to complete. When you are working on such projects, it takes very long for your work to come out. In advertising, the turnaround time is really short. There have been instances when I have scored the music for a commercial and it has come out on TV the next day. Also, there is less politics in the advertising industry. In advertising, everybody is focused on serving the brand.
What instrument do you use to compose music?
I am primarily a guitarist. If you keep creating music using the same tools, your songs will sound similar. Sometimes, I use a guitar. At times, a tune comes up while playing a keyboard. Sometimes, I am humming something randomly and a tune takes birth.
You have a company named Thriver Entertainment. What are your plans for it?
We are in the process of releasing songs in different languages. I recently collaborated with lyricist Madhan Karky to create a bunch of songs in Tamil. The process started in a very interesting manner. I had made a tune and told him that it needs Tamil lyrics. He asked me, "what do you want to do with it?". I said, "I don't know" (laughs). He was very enthusiastic and said that we must work on it. I will also be releasing a few songs in Hindi. Releasing music independently comes with its own set of challenges. I am still trying to understand the different aspects of marketing music.   
Disclaimer: This story is auto-aggregated by a computer program and has not been created or edited by filmibee.
Publisher: Source link