Interviews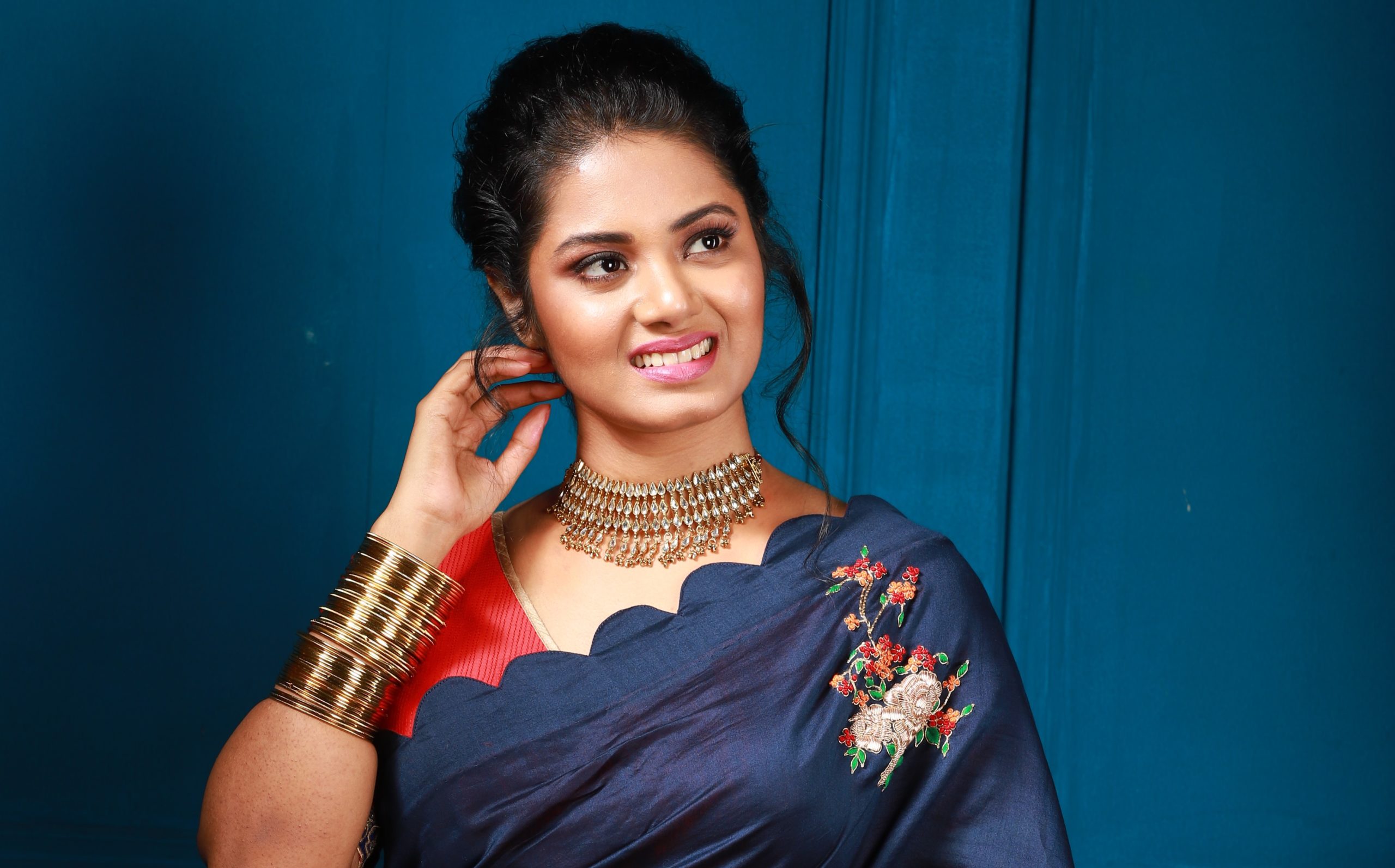 Jul 23, 2023
"Music labels should offer artists the space to create original music" – Anwesshaa
When a very young artist commands a lot of respect and admiration based on the work done by them, you know they are somebody who are devoted to their craft. Anwesshaa was a child when she went for a professional recording for the very first time. She started learning music from a very young age and continues to be a student till today, despite having several accomplishments to her credit. With more than 500 films and countless songs to her credit as a playback singer, Anwesshaa has managed to achieve more than what many hope to accomplish over several decades.
Anwesshaa was just 14 years of age when she participated in Amul Star Voice of India Chote Ustad. While she had done recordings in Kolkata prior to that, it was the first time the national audience took notice of her ingenious talent. One reality show led to another and soon, Anwesshaa found herself occupied with studio recordings and live performances. She has sung in more than 500 films. Some of the most prominent films she has sung for, across different languages, include 'Golmaal Returns', 'Kaanchi: The Unbreakable', 'Raanjhanaa', 'Prem Ratan Dhan Payo', 'Yoddha: The Warrior', 'Bojhena Shey Bojhena', 'Kanamachhi', 'Power', 'Santheyalli Nintha Kabira', 'Revolver Rani' and 'Sita Ramam'.
In this interview, Anwesshaa talks about her eventful journey in the music industry, becoming a composer, effect of music reality shows, singing for A.R Rahman, what makes Arijit Singh stand out, the importance of training, finding fulfillment with independent music, upcoming projects and more.
How do you look back at your journey till now?
When I look back, it feels that I have been through a very long journey. I started from a very young age. While I am just 29, a lot of people think my physical age is much higher as they have been seeing me work for the past several years. I have already spent 15 – 16 years in the industry. I am getting the opportunity to do something I am passionate about and I will always feel grateful about that. I would have never got such satisfaction and happiness in a 9 – 5 job.
You recently embarked upon a new journey as a composer. While you were composing songs independently, you became a film composer with the Bengali language film 'Limelight'. When did you decide you explore yourself as a music composer?
There are certain things you can do but you stay oblivious to it for the longest time. I had never really thought about composing songs. Composing or song writing, I thought, was a talent I didn't have. I had never walked on this path. I had started my career as a singer and was happy being one. However, I would randomly make some tunes at home and enjoy the process. I had never thought about releasing those compositions. My parents would always encourage me to make tune and one day, they suggested that I should write lyrics for these compositions as well. When I thought some of my compositions were decent enough to be produced, I recorded them properly and started putting them up on my YouTube channel. Making songs on my own gives me a lot of satisfaction as I am creating something from zero. I get to participate in several interesting processes including finalizing the arrangements, recording live instruments and choosing the singers. All this has helped me broaden my horizon as an artist. I started composing professionally 4-5 years back. I am thoroughly enjoying this journey of being a composer.
I never thought I would get offers to compose for films. I have done two films in Bengal. The director of the Marathi film I did recently is from Karnataka. I had worked with him on a film earlier. He had heard some of my non-film compositions and when he started working on his new Marathi film, he asked me if I would be interested in composing for it. He gave me a lot of freedom to work on this film. This is the kind of faith producers and directors need to put in musicians. It creates a respectful work culture. I have done both the songs and the background score for the film.
You have also scored the music for a Marathi film called 'Pahije Jatiche'. The trailer of the film released recently.
I had a great time composing the songs and background score for this film. It is my third film as a composer and first Marathi film as a music and background score composer. Along with the background score, I have done four songs for the film. I am grateful to my director Kabaddi Narendra Babu sir and producer Mr. Mallikarjun Garje for having faith in my abilities as a composer and giving me adequate creative freedom while working on this project. I thank my singers Hrishikesh Ranade and Abhay Jodhpurkar for lending their soulful voices to the song. I am also grateful to my arrangers Akshay Menon, Devdutta Baji and Som Chakraborty for taking my songs to another level. Som Chakraborty and Kohinoor Mukherjee did an incredible job with mixing and mastering the song and ensuring that the final output sounded good. The film is releasing on 4th August.
Do you plan to compose for Hindi films as well?
Yes, I am looking forward to composing for Hindi films as well. An artist should not be bound by any language barrier. I have sung in multiple languages and I hope to compose for films made in different languages as well.
You have stated in an interview that sometimes a part of a tune or the mukhra comes organically to you and then, you sit and compose the antara. Which instrument do you use to compose music?
Sometimes, I get a tune in my head in an incomplete form and then, I work towards developing it. However, that's not something that happens all the time. Sometimes, the director gives me a brief and I try to come up with a tune that would work well for that situation. I am a listener also, so I try to be the first judge of my compositions. If I don't like something I have composed, I don't present it to the makers.
A while back, Debojyoti Mishra sir, a senior Bengali composer had gifted me a ukulele. It is a lovely instrument. I watched some tutorials and learnt a bit of it. Though I have not become extremely proficient at it, I can guide the arranger on the chord progression and other things while composing the songs and the background score. I realized that knowing how to play an instrument can help a composer greatly.
You gained national recognition as a child after appearing on the music reality show 'Chhote Ustad' in the year 2008. You went on to participate in several other reality shows including 'Music Ka Maha Muqabla'. Do you think reality shows help an artist in propelling their career forward?
There are pros and cons of participating in reality shows. Things have also changed drastically in the last few years. For me, participating in reality shows was a very positive experience. Reality shows became the medium through which I could reach out to people in the industry. I started getting offers to sing for films after participating in reality shows.
Today, you see countless reality shows being churned out throughout the year. It becomes difficult for a contestant to register an impression in the minds of the viewers. After a particular season of a reality shows comes to an end, the audience might not even remember the names of the contestants who participated in it. There is an overdose of such shows and there is no gap between the seasons.
Unfortunately, reality shows have become a business these days. There is no interest in finding genuine talent. Sometimes, even the performances are auto-tuned. Because of these things, the artist does not get the opportunity to grow. When they will not be informed about their mistakes, they will not be able to correct themselves.
Pritam Chakraborty was one of the judges on 'Chote Ustad'. He offered you to sing a song for 'Golmaal Returns'. The song was composed by his associate Ashish Pandit and Sachin – Jigar, who were assisting Pritam then, recorded your voice for the track. Do you plan to sing for him in the near future?
I have had a great rapport with Pritam sir and I hope to sing for him soon. In the past, he had tested my vocals for many songs. He had recorded my vocals for the background score of 'Kalank' as well. He had seen me grow right from my childhood. He gave me a break at the age of fourteen and I will always be grateful to him for that. Even though I was a child, I got the opportunity to sing for the heroines, Kareena Kapoor Khan and Amrita Arora. There is a channel in Bengal called Star Jalsha. A while back, I sang the theme song for the channel which was composed by Pritam da.
While 'Tha Kar Ke' from 'Golmaal Returns' was the first Hindi song to release, the first track you recorded for a Hindi film was a recreated version of R.D Burman's 'Do Lafzon Ki Kahani'. The song was recreated by Jatin Pandit for the film 'I Am 24'. Recreations were not very common then but are extremely common now. What are your thoughts on this trend?
There has been quite a shift in the taste of music labels. They are taking a lot of decisions because of which original music has taken a backseat. People want to create original music are not getting enough opportunities. While the audience wants to listen to original music, the labels are not being very encouraging towards it. Trends are being driven by music labels and not the audience. We are depriving the audience of good music. Even the audience is complaining about too many recreations and remixes coming their way.   
2013 was quite an eventful year for you. While 'Tu Sab Kuch Re', the duet you had sung with Sonu Nigam for Subhash Ghai's 'Kaanchi: The Unbreakable' earned a lot of attention, 'Benaam Khwahishein', the Coke Studio India ghazal you had sung for Papon became very popular. 
Working on 'Kaanchi' was a highly memorable experience. Subhash ji was directing a film after several years. He was extremely enthusiastic about the project as he was getting back to direction after a few years. We had a lot of sittings and everybody was working in the same space. It was like a time travel for me. When I started doing playback, I didn't get the essence. Sometimes, you don't even know who you have sung the song with. Technology has advanced greatly and these changes have taken place because of this. When you work with somebody, vibrations are shared. It becomes a collaborative effort. The collective energy reflects in the song. I got the opportunity to interact with Sonu ji during the promotions.
Singing 'Benaam Khwahishein' was a wonderful experience as well. At that time, I did not have a mobile phone. Everybody used to contact my father. Kalyan Baruah, who works with Papon da, recommended my name to him. Papon da heard some of my songs and decided to have the song recorded in my voice. He spoke to baba and briefed him about the song. He told me it was a female solo song. I had been a huge fan of the brand Coke Studio and was very excited to get the opportunity to be a part of it. I went to Papon da's studio and heard the track. We did a lot of rehearsals at Whistling Woods with the musicians. Performing and recording the song live with all the musicians was a blissful experience. Even now, after all these years, I come across cover versions of the song. Last year, on World Music Day, there was an event at which both Papon da and I were performing, though separately. We spoke during the event and he told me that we must work on another song soon.
The same year, 'Banarasiya' from 'Raanjhanaa' released. It was your first song with A. R. Rahman. Did he give you any advice that you remember?
No, he didn't give me any advice. It was like how two friends meet and interact with each other. I had heard from Javed Ali bhaiya and Neeti Mohan di that Rahman sir is a very soft-spoken person. Since it was the first time I was going to record a song composed by him, I was quite nervous. He is such a huge brand globally but when you meet him, he doesn't make you feel that at all. He is extremely humble. I have worked with the legendary Vidyasagar sir in all the four South Indian languages. Rahman sir mentioned him and spoke highly about him.
Then came 'Jalte Diye', your biggest hit in Hindi till that point of time. You had worked with Himesh Reshammiya earlier on 'Ishq Mein Ruswaa' from 'Dangerous Ishq' and a few other songs.
Himesh ji always had a lot of faith in me as a singer. I am also very grateful to Irshad Kamil sir. When the songs for 'Prem Ratan Dhan Payo' were being made, he told the team Anwesshaa would be able to do justice to these songs. I had worked with him earlier on 'Kaanchi', so he had a lot of faith in my abilities as a singer. I had dubbed for the title song as well.
Sooraj ji wanted to record 'Jalte Diye' in my voice. The entire team from Rajshri Productions had come to attend the recording. The culture they have built is highly inspiring. They are like how every Indian joint family should be like. Their films have always been high on Indian sentiments. During the recording session, they were extremely quiet. Usually, when people from a film production company come, you hear a lot of noise. Sooraj ji was also very quiet. Himesh ji is always clear about what he wants and records his songs very quickly. 'Jalte Diye' was recorded in a very short span of time and it shaped up very well. The experience of working with Rajshri Productions was very special. They are unlike the kind of people you come across in the entertainment industry. Sooraj ji is one of the nicest human beings I have come across in my life.
'Jalte Diye' became extremely popular. One expected you to sing for several Hindi films after that. However, that didn't quite happen back then.
After 'Jalte Diye', I did hope to get more offers. However, I realized that things don't work like that in the industry anymore. Even after you have delivered a big hit, you have to keep working towards proving your mettle. There are many singers today. It's an open market.
2000s onwards, Hindi music slowly started resembling the pop music that was being made in the '90s. Tabla and dholaks made way for drums and guitars and westernised voices started getting preference over singers who had an Indian tonality. 
What you are saying is right. Filmmakers seem to be preferring a certain type of music these days. However, the industry has always offered a platter of different kinds of music. I think there is space for all kinds of voices. If that was not the case, I wouldn't have survived for so long. Maybe, westernised voices are getting a little more preference as music is a bit pop-oriented. In the '90s, there was no scope for experimental music. However, everybody is experimenting with different kinds of sounds and genres today.
Trends keep coming and going. At every point, certain type of music and voices get preference. I think there should be more song-and-dance films. The USP of Indian cinema has always been its music. There is no concept of playback singing in the west. That is why Indian cinema is so colourful and popular worldwide. If we let go of these elements, Indian cinema will lose its uniqueness.
A lot of people from the industry have spoken about the issue of lobbying. Music labels sing a few artists and only prefer working with them. 
It is a very big problem. When you work with a team over a period of time, a sense of comfort develops. However, if you decide only to work with them, it becomes a problem. Creating restrictions on artists or having some bias against them is not a good thing.  Music labels should offer artists the space to create original music.
You release a lot of original music on your own. From creating music to distributing it through the right channels, you have to look into everything. Is the process challenging?
It is extremely important for a creative artist to have a certain amount of freedom. If I put myself into a shell, I will feel extremely claustrophobic. Making music would become a scary experience for me. Since I am creating music, having this freedom is very important. This freedom will enable me to fly and create good music. Many a times, music labels asked to me to sign on draconian contracts but I always decided against it. There is a section of the audience that listens to and appreciates the original music I create. They look forward to what I will be putting up next. It encourages me as an artist.
Taking the decision to make independent music itself is very risky. You spend quite a bit of money and there is no guarantee of any return. If you persevere for a long time, returns might come. If you look at it as a source of happiness and not business, things become easy. I do independent music for my happiness. I earn through my recordings and live shows. I save a portion of it and use it to fund my independent music.
Live performance or recording, what do you prefer?
Both are completely different experiences. Personally, I like working in the studio more. It is a far more creative space to be in. However, performing live has its perks too. When you travel outdoors, you get to interact with the audience. I enjoy a lot of things in a live show. Super exciting.
From 'Roshni Alo' ('Proloy') to 'Sharatadin' (Yoddha: The Warrior'), you have worked with Arijit Singh on several Bengali films. How has been the experience of working with him?
The experience of working with him has always been very good. I have known him for several years now. Whenever we meet, he speaks with a lot of warmth. He is extremely down to earth. I have been very lucky to witness his humility as a human being. I respect him from the bottom of my heart and it's heartening to see him grow.
Years back, you had recorded a song with him for a Hindi film as well. It was composed by Shankar – Ehsaan – Loy.
Yes, it was for a film that was being directed by Nikkhil Advani. Unfortunately, the film got shelved. It was a terrific song and I wish it had come out.
You started learning music formally at the age of four from Jayant Sarcar. Are you still learning from?
Yes! When I go to Kolkata, I visit Lalit Kala Academy, my gurukul. I continue to learn from him. I do a lot of recordings in Kolkata, so I get the chance to visit the gurukul often. If I stop learning, I will stop evolving as a singer and musician. I want to keep learning throughout my life. Learning should be a never-ending process for every artist. Since I live in Mumbai, sometimes a gap happens between my sessions at the gurukul and that doesn't make me happy. Jayant Sarcar sir is the senior most disciple of Ajay Chakravorty ji. He is from the Patiala gharana of Hindustani classical music. I have had the good fortune of doing classical concerts with Ajay Chakraborty ji. Lately, I have been learning from him as well.
While your mother Mita Dattagupta has been a professional singer in the past, your father Kushal Dattagupta has always had a keen interest in music. You have stated in an in interview that your mother was your first guru.
My mother pursued music professionally for a long time. She has studied music as a subject. She has learnt all the theories. She hold a master's degree in music. She did her MA in music from Rabindra Bharti Institute. She performed professionally for years. Once I was born, her focus shifted to me. I feel fortunate to have received her guidance over the years. My father was always a huge music buff and listened to all kinds of music. He has been my biggest supporter. My journey became more enriching through him.
Which was your first professional recording?
It happened when I was a child. I had recorded for a poetry and music album for children called 'Aabol Tabol'. There were other children along with me.
Ahir Bhairav and Bhim Palasi have been two of your favourite ragas. You come from a strong classical background and continue to train even today. These days, many young individuals, who aspire to make a career in music, do not give a lot of importance to training. Why, do you think, that is happening?
It's an unhealthy trend. In the long run, they will realize that training is extremely important. They go with a result-driven approach. Goals are important for all of us. However, if your approach is journey-driven, you will experience a lot more satisfaction. If you constantly think about goals, your concentration will not be on learning. Once you reach a destination, you will immediately start thinking about getting to another destination and you will become a part of rat race. Without training, sustaining yourself in the long run will become difficult. It is important to know your craft. There could be a day when you have no work. If you love your craft, you will still get up early in the morning and do your riyaaz. You will not wait for a song to come to you to do your riyaaz.
You won the Bengali Filmfare Award (East) for 'Best Playback Singer (Female)' for the song 'Saradin Aar Sara Raat' from the film 'Rupkatha Noy' in 2014. You have had a strong career in multiple film industries. Out of all the songs you have sung so far, which is the one that is the closest to your heart?
Certain compositions become a part of your consciousness. 'Bojhena Se Bojhena' ('Bojhena Se Bojhena'), I believe, is one of the best compositions I have sung. 'Banarasiya' ('Raanjhanaa') will always be very special as it was my first song with Rahman sir. The entire album was folk and classical infused and that's why I have a soft corner for it. I love many of the songs I have sung down south. One of my favourites is 'Megam Vanthu Pogum' from the film 'Mandhira Punnagai' which marked my debut in Tamil cinema. It was an incredible composition by Vidyasagar sir. I even received an award for it. Most of the songs I have sung in South have been good. The music that is being made there is exceptional.
What are you doing next?
Every day is a new beginning for me. If I have an off-day, I work towards getting better at my craft. If I am occupied, I try to give my best in my workspace. I try to keep myself fit mentally, physically and emotionally. When I need to work, I shouldn't be out of form. I am grateful to everybody who have contributed towards plotting my journey. As a composer, I look forward to composing for films actively. Being a composer has actually taught me a lot and helped me grow as an artist.
I have several songs lined up for release in the near future. I recently recorded a single for Javed – Mohsin. I have also recorded a song composed by Harshit Saxena for a film titled 'Nastik' which features Arjun Rampal in the lead role. I recently sung two songs for Ajay – Atul. They are two of my absolute favourite composers and getting to sing for them was dream come true. 'Woh Kashish', a song I had sung with Javed Ali bhaiya came out a while back. It was composed by Abhishek Thakur. I recorded a solo song for him recently.
I have a big released lined up in the Telugu film industry which has been composed by Subhash Anand and written by lyricist Chandrabose. I had sung a song in the Telugu film 'Siddharth Roy'.I have recorded a song for a Marathi film called 'Fatwa' which has music by Sanjeev – Darshan. I have a sung a bunch of commercial pop songs for Tony Kakkar. I have recorded a couple of songs in Gujarati as well. I have lent my voice to a beautiful composition for the biopic on 'Notti Bindoni' which is being produced by Deb Productions. I have written a song for a Hindi film called 'Main Ladega'. The film is on the life of a boxer and the song marks my debut as a lyricist in the Hindi film industry. The song has been composed by Akshay Menon. I have composed the music for a Marathi film which is based on a play written by Vijay Tendulkar.
Disclaimer: This story is auto-aggregated by a computer program and has not been created or edited by filmibee.
Publisher: Source link