Review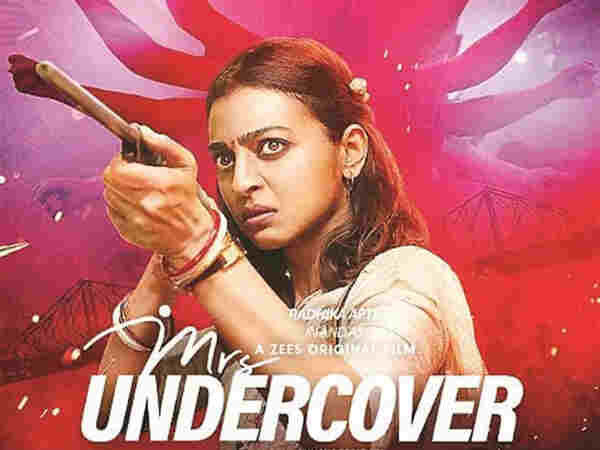 Apr 14, 2023
Mrs Undercover Review (Zee 5)
Average Ratings: 2.8/5
Score:80% Positive
Reviews Counted:5
Positive: 4
Neutral:0
Negative:1
Ratings:3/5 Review By: Sushmita Dey Site:Times Now
Anushree Mehta's directorial venture could be a powerful story with a dash of comedy, but it failed to impress due to a weak plot. Despite versatile actors in the cast plate, they failed to execute the film on the screen. Trying to remind us at every step that it is time we value, understand, and give importance to housewives' unparalleled contribution, Mrs Undercover takes this incident and lays bare the complex system of patriarchy, misogyny and violence that support it, but it still couldn't grab our attention
Visit Site For more
Ratings: 3/5 Review By: Sushmita Site: Zoom TV
Well, we must say that the makers have made a smart choice by skipping the theatrical release and opting for an OTT streaming giant. This spy comedy is not for everyone, but if you want to try this genre and want to see something new but light, you can give Anushree Mehta directorial a go. Also, Radhika's captivating performance and her camaraderie with Rajesh Sharma make it bearable watch despite the loose script.
Visit Site For More
Ratings: 3/5 Review By: Lakshmi Site: Firstpost
Durga is then called back to a mission to find out the 'Common Man' who goes about killing independent women in the city. But Durga was so busy being a housewife and being a dutiful mother, wife and daughter-in-law, that by the time she gets a call she has already lost touch on how to be a spy. But the people in her team still believe that she is one of the best and is a James Bond. After a lot of convincing Durga joins the special force and tries to balance both home and work, not with ease, but with proper planning. Mrs Undercover is definitely an engaging watch, but not intense. It's a comedy and a one-time watch. It's less of a thrill and more of caricature. Unlike the other spy thrillers that we have watched in the past, the film lacks depth and I believe that was intentional.
Visit Site For More
Ratings: 2/5 Review By: Suknaya Site: Rediff
If there was a prize for the most indiscreet undercover agent tailing her target in an attention-grabbing manner, Durga would win hands down. To be fair, the entire organisation's failure to stay in stealth mode renders the mission phony.An amateurish crime comedy that wants to be taken seriously, Mrs Undercover can never quite find its bearings.
Visit Site For More
Ratings: 3/5 Review By: Saheli Site:Bollywood Bubble
Enough has already been said but to sum it up my Mrs Undercover review, Radhika Apte, Sumeet Vyas and Rajesh Sharma starrer is an interesting and must-watch film. Though certain things seem to have gone a little tangled, Mrs Undercover is a tad bit preachy but it's hilarious. Radhika once again amazes us with her stellar performance whereas Rajesh Sharma's comic timing is something worth watching. On the other hand, watch Sumeet Vyas in this never-seen-before avatar.
Visit Site For More
Also Try:
Top 10 Most Watched Web Series in india
Top 10 Best Hindi Web Series of 2022 in India
Highest-Grossing South Indian Movies
Top South Indian Movies of All Time
Mrs Undercover Story:
Radhika Apte plays a spy who is suddenly called on the job after ten years of staying undercover as a housewife named Durga. In the ten years, staying true to her cover, she remained a caring housewife married to a patriarchal husband almost forgetting that she was after all an undercover spy.
Mrs Undercover Release Date:
14 April 2023 straight to Zee 5
Mrs Undercover Cast:
Radhika Apte
Rajesh Sharma
Sumeet Vyas
Angana Roy
Laboni Sarkar
Amrita Chattopadhyay
Akshay Kapoor
Indrasish Roy
Biswajit Chakraborty
Mrs Undercover Director: 
Anushree Mehta
Mrs Undercover Producer: 
Abir Sengupta
Anushree Mehta
Varun Bajaj
Ishan Saksena
Sunil Shah
Mrs Undercover Production Companies:
B4U Motion Pictures
Jaadugar Films
Knight Sky Movies
Mrs Undercover Distribution Companies:
Failed to Release in Theaters landed on Zee 5
Mrs Undercover Run Time: 
1 Hour 47 Minutes (107 minutes)
Read More About Celebs:
Salman Khan | Shahrukh Khan |Aamir Khan | Ranbir Kapoor 
 Hrithik Roshan | Akshay Kumar
Rajeev Masand , Taran Adarsh, Komal Nahta , Anupama Chopra Reviews are awaited for this movie
Disclaimer: This story is auto-aggregated by a computer program and has not been created or edited by filmibee.
Publisher: Source link