Movies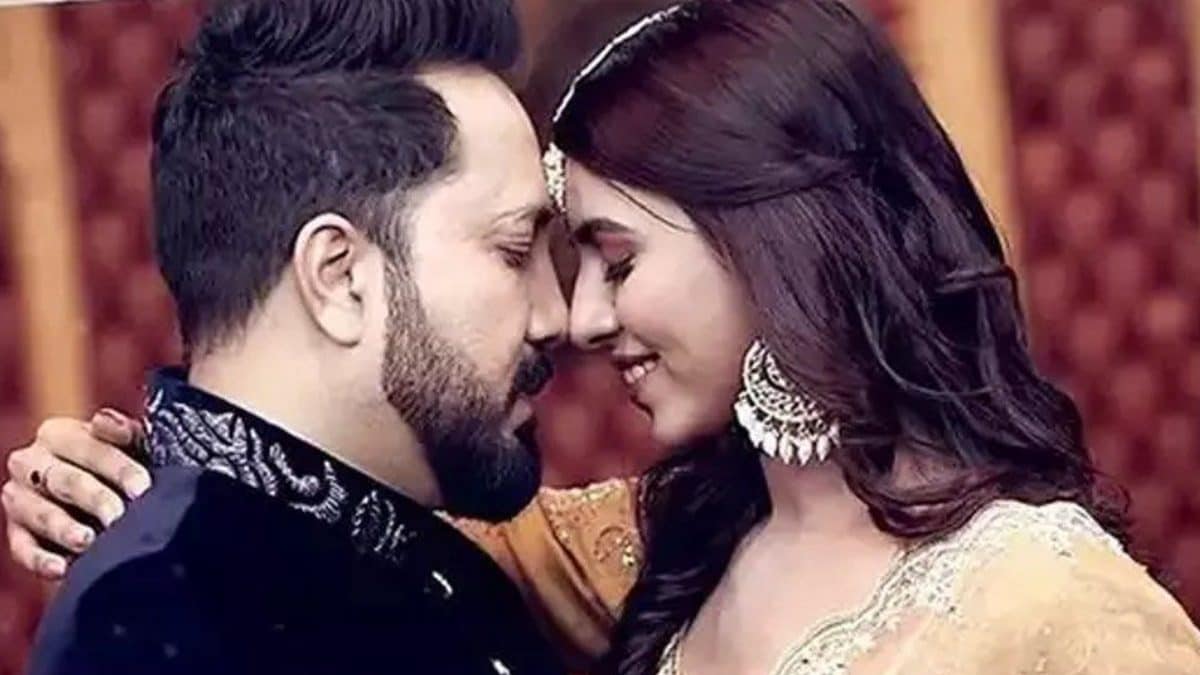 Mar 21, 2023
Mika Di Vohti Fame Opens Up About Her Bond With Mika Singh
Dhwani Pawar has paved her way on her own despite being the daughter of the famous comedian VIP. The actress, who was a hot favourite in Mika Singh's reality TV show Mika Di Vohti, is all set to headline an upcoming party anthem with the singer as well as put her acting skills to test with two films – Jaan-e-Jahaan and Fedora's Wrinkles. On top of that, Dhwani continues to dabble in all the talents that she has cultivated over time. In an exclusive interview with News18 Showsha, Dhwani talked about her equations with Mika Singh, her upcoming song with the singer and much more.
Shedding light on the party anthem that is waiting to drop in April, Dhwani shared, "As you know, Mika Singh is known for party songs. Wherever you go, be it any function or wedding, it's incomplete without his songs. What makes it different from other party anthems is that we have given it an '80s touch. It's inspired from Asha Bhosle's era. But we've trying to convert that into contemporary times. It's somewhat inspired from the disco theme of the '80s. This happened because I was doing the show Mika Di Vohti. That's where we became good friends and after that we started working on live events. We've been doing a lot of work off late but this is the song I am really, really happy about."
Recalling the first time she met Mika Singh and how that led her to the show Mika Di Vohti, Dhwani said, "I met Mika Singh as a child. My father and him were doing some live show and I met him over there. And you know there were lots of fans around him and people were going crazy for him. I met him for a minute or so. But you cannot judge a person in a minute right? So after all these years, there were so many news, rumours and speculations about him, controversies around him. So when I was about to go there, as a friend of my father, my father has always praised him. Like he is a very good person, a very nice person. But listening to all the controversies and everything, you still take a step back. In my head, it was always like that. But the moment I met him, we spent like 2-3 days. After spending those with him on the sets, I discovered so many good things about him."
She continued, "Firstly, he is very supportive. Whoever is working around him, he makes sure those people are comfortable. Secondly, there was an incident. There was a musician standing at the back and we were shooting in Jodhpur. And it was like 47°C. He was standing at the back since he was needed in a scene. So Mika requested on the mic to give him a chair so he can sit and some water as well. But unke liye chair aayi nahi toh unhone zor se mic pe chilla ke kaha ki jab cut hai tab toh betha do usko. He had requested the crew thrice. He might look rough and tough, swagger from outside, from inside he is very soft as a person."
Mika Singh and Dhwani Pawar also share a huge age gap. When asked if that was ever a bone of contention for her, she answered, "Like I said, I had a doubt regarding how I'll cope up with it. But then after experiencing this, I realised age doesn't matter. It's the compatibility between two, if they are ready to understand each other. And sometimes you have to tune yourself according to others. Not like a lot. You don't have to change yourself. I am not saying that or encouraging that. But you have to understand what the other person is thinking or how their upbringing has been over the years. But even if the age difference is not there, if two individuals have that understanding so I think it's a successful bond. So it's a deal maker for me. I feel if even the age difference was not there and yet I don't understand these things then it'll be a deal breaker. Age difference doesn't matter."
Dhwani Pawar has been accompanying Mika Singh on his live shows for a while now. The actress opened up about some of the quirks of the singer and some exciting incidents. She expressed, "I have always seen him light hearted but when it comes to work, he is very serious about it. I think that is what has made him what he is today. Before the soundcheck, he is very professional. He has to do the soundcheck on time and when he is there for the public, he'll make sure that they dance to his songs. And each time he succeeds in doing that. So one thing that I learn from him is that he doesn't even sleep I feel. He is always traveling, always working and he is a workaholic."
"So I remember an incident. I was hosting a show and I was not singing in that show with him.And I announced his name and everything. Everything was done. And I was standing at the backstage and I wanted to see his performance and enjoy. So he saw me from the wings, he saw me standing at the aisle wing or something. He announced my name on the stage and called me. We were performing in Jaipur and he called me over there. It was a huge live show. So it was very impromptu. He is very impromptu with such things. He'll call anyone on stage and he does it. Because I don't know if he believes in us or what. So he called me on the stage and he was like Dhwani greet everyone in Kangna Ranaut's voice and call the organisers on the stage. So in a way, I feel like he keeps pushing me. You can do this Dhwani so you should do this. So I like that about him," she further added.
Recalling another incident, Dhwani shared, "I never knew I could host or anything but he told me when you can do so many things, why not use those talents as a host. It would be a complete package. So I was like I can't do it. I am not a host material or something. So there was a party long back and it was Randeep Hooda's first Punjabi web series CAT. He threw a party for that and he told me in my ears that you have to host tonight. I was like whaaat? I entered there and he is telling me you have to host tonight. But he gave me the confidence and I did it. I did it really well. I am not appreciating myself but it went smoothly. And somewhere down the line, I needed that push and he also needed to see whether I can do it. So I love this quality about him. It s not only me but if he sees anyone around him with a calibre. Even if it's 2%, he makes sure to take it to 100%. That's his nature."
Dhwani Pawar went on to talk about the two films she will be starring in 2023. Her first film Jaan-e-Jahaan is a rom-com, "We shot this in Jaamnagar and it was very, very cold at that moment. I still remember. This film has a lot to tell you about when two people fall in love, to what extent can they go. As the words suggests, chaahe woh kisi ki Jaan lena chahe par kisi bhi cheez ka junoon savaar hojata hai toh woh kisi bhi hadd tak Jaa sakta hai. This film will take you towards that side and I am doing the lead in that film. So hoping people like it," she shared.
Meanwhile, Fedora's Wrinkles is an adaptation of a story from Amsterdam. She revealed,
"There was a lady who at the age of 70 who was into prostitution but at the age of 70 is very difficult. In order to earn bread and butter and her basic necessities, she still
does it. So it's her story and sort of inspired from there. But we've given it our own treatment. There are people like Ali Asgar in it and Sushmita Mukherjee. Sushmita is playing Fedora and I am playing one of those characters who is always against Fedora. I don't like her. In real life, I love her but in the film, I don't like her. I hate her to the core. So that's my character. Now Sushmita is my senior. Toh agar unhe kuch mujhe ulta bolna hai ya batameezi se baat karni hai toh mere liye Aisa ho jata hai ki aree yaar maam I can't talk to her like this. But she's very bindass and makes me comfortable ki gaali Dena hai toh gaali dedo. Acting mein ye sab karna hi padega. So yeah it's easier to work with when you co-actor pushes you and makes you feel comfortable."
Dhwani Pawar also got the opportunity to collaborate with Virat Kohli for an advertisement. She got candid about her experience around him. Dhwani said,
"He was there and trust me he was looking so handsome. He has been my crush since the time I was very young. But I mean he's a very professional person and very fun person to work with. Like he'll make sure that people' around him are having fun also and at the same time he is very professional also. Like he very calculative about his timing ki Mera itne se itne mein time slot booked hai toh isme hojana chahiye. I loved the fact that I got inspired by him in that context as well. He has been Team India's captain because of this discipline. That advertisement was fun."
Dhwani Pawar is a multi-faceted individual. From YouTuber to influencer, singing to acting as well as dubbing, she has got all the bases covered. When asked if it gets overwhelming while doing so many things, Dhwani answered, "I am inspired from Kishore Kumar when it comes to having all these skills. Because I have seen him as an actor, as a director, as a producer, as a singer, as a lyricist.I mean there were so many things that he was doing when he was there. Another example is my father who is equally adept in multiple skill sets. I think these two personalities inspire me a lot. It doesn't get overwhelming for me. Yeah sometimes it is hard to choose between two things when they come up at the same time. That's when decision making gets very difficult for me to choose ki Mummy mein ye Karu ya woh Karu? So in my head, acting has always been my first priority. If I get to choose between acting in a film or singing in a live show, I'll definitely choose acting first. Then I'll choose other things."
The actress concluded by talking about her favourite show Bigg Boss, "I have never missed out on a single season. I was a young kid when it started and I have always been so inspiring.
So even if I miss it, I go and watch it in Voot. I love Salman. Khan also. He is the major reason I've never quit because he is so good as the host. Since the time he entered the show, the dynamics of Bigg Boss has changed. So when I watch it, I would imagine myself in the situation of the contestant that I'll do this, I'll do that. I always picturise myself in that situation. It's easy to say when you are outside but yeah," said Dhwani.
Read all the Latest Movies News here
Disclaimer: This story is auto-aggregated by a computer program and has not been created or edited by filmibee.
Publisher: Source link