Movies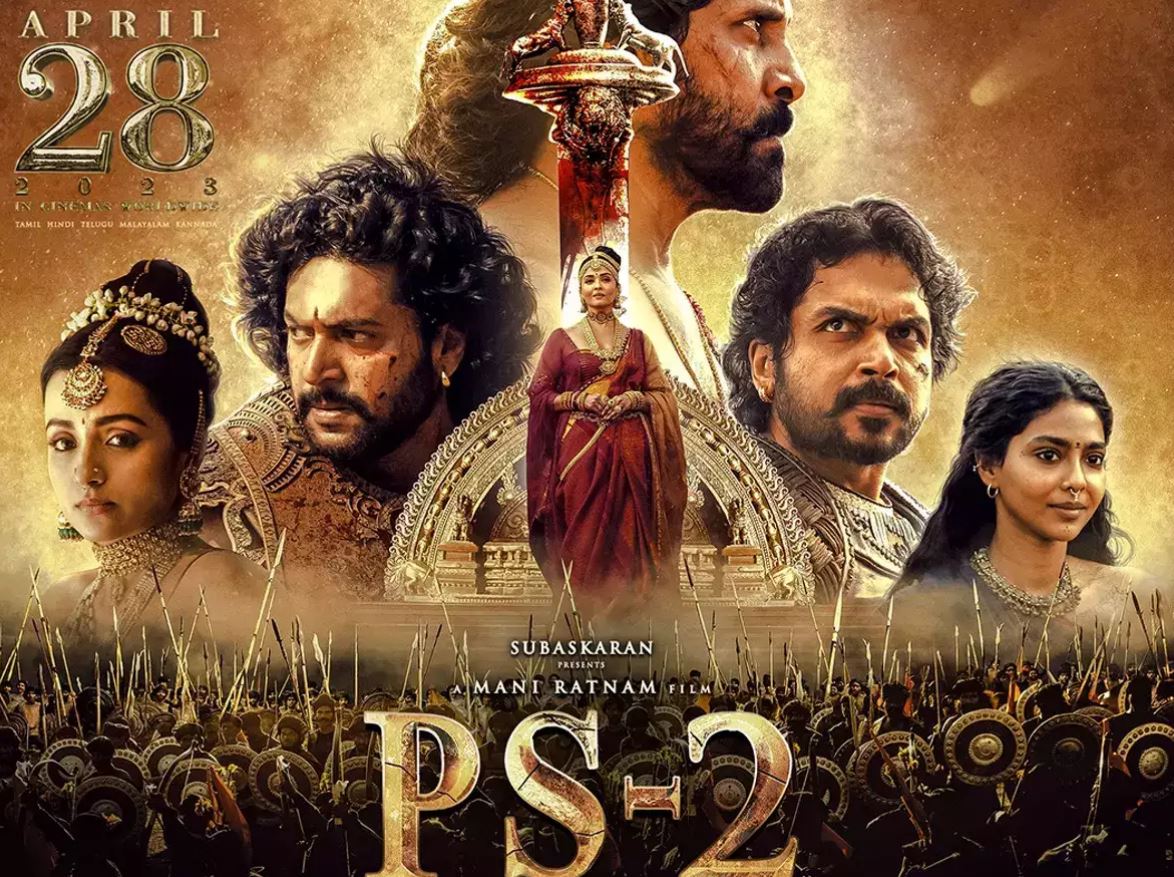 Apr 28, 2023
Mani Ratnam doesn't quite get the final chapter right – Beyond Bollywood
Though Aishwarya Rai Bachchan, Jayam Ravi, Karthi impress, but the inconsistent screenplay doesn't build the same engagement like the preceding film in 2022.
Rating: 2.5 / 5
By Mayur Lookhar
Poonguzhali aka Samuthirakumari [Aishwarya Lekshmi] is taken aback by a marriage proposal by a humble man. Pardon that we don't recollect the proposer's name.  Samuthirakumari turns him down saying that he can't afford to take care of her. The man retorts in saying that true happiness doesn't lie in any wealth, but in mann ki shanti (inner peace). The lady is quick to shoot back, "Eternal peace is something you discover only after death". The man is speechless. 
Samuthirakumari is no princess but a humble boat woman yet she is ambitious. Jaisi praja, waist raj (The rule is a reflection of the people). We've heard this phrase for ages, but the two princes in Chola dynasty don't quite fit that phrase. Big brother Aditha Karikalan [Chiyaan Vikram] has no interest in the crown. He prefers to be in the battlefield than spend time in the kingdom. Younger brother Arunmozhi aka Ponniyin Selvan is much adored by the people but he is happy in his Singhala bastion. Their sister Kundavi [Trisha Krishnan] keeps a close eye on the politics, but a throne is never meant for a woman.  The king Sundar Chola [Prakash Raj] is often sick. Sundar's cousin Madhuranthaka [Rahman] believes that he had the first right to be king but it was taken away by his mother following his father's death.  Jeez, given the reluctance of the incumbent princes, and Sundar Chola's frail health, this Chola dynasty is ripe for the taking.
Ponniyin Selvan – 2 is the last chapter in director Mani Ratnam's long cherished dream adaptation of acclaimed Tamil author Kalki's epic of the same name.  PS – 1 [2022] was impressive in its style, production design, performances but more importantly, it surprised us for its democratic values in a monarchy. Two reluctant heirs, a Vaanar clan warrior flirting with a queen and a princess. Prince Arunmozhi falling in love with his general's daughter. A boat woman and the humble civilians are all treated with dignity.  Be it palace or public, Kalki's women are all strong characters. Phew, it feels as if the foundation of the Indian democratic Constitution was actually laid during the 10th century. Or maybe Kalki was inspired by the B.R Ambedkar penned Indian Constitution to write his epic book Ponniyin Selvan [1955].
The first film felt like reading a book where each character was given its due screentime. Some questioned the long delay in introducing the titular character. We felt that was a refreshing change. The men had their worries, but it were the women who perhaps played center stage in PS-1.  Nandini [Aishwarya Rai Bachchan] remains the focal character in PS- 2 but the other women are left to play second fiddle.  Ratnam clearly has to stay true to his narrative, but maybe the feminist in us felt a little sad for Kundavi [Trisha Krishnan], Vaanathi [Sobhita Dhulipala] and Sumathirakumari [Aishwarya Lekshmi].
PS-2 belongs to its leading men. It is men who go to war. PS-1 ended in the sea, part two opens with water, but it takes us back into the younger days of Nandini [Sara Arjun] and Aditha [Santhosh Sreeram].  The back story reveals how Nandini fell in love with Aditha but the kingdom would never accept an orphan as their princess. Sundar Chola, though, had good reasons to leave his son heart broken.  The seeds of conflict between Pandya /Pandian and Chola were down to Aditha [Vikram] killing Veer Pandian [Nasser] in front of Nandini [Aishwarya]. 
The bitter truth is unveiled but not before Nandini and her Pandian warriors have their vengeance. The former developing cold feet at the 11th hour though makes you question that conviction? Much of part 2 centers around the Nandini-Aditha saga, and the attempts to kill the three Cholas.  It's only Mani Ratnam who can extract a performance from Aishwarya. The experienced actor justifies Ratnam's continuous faith in her as she delivers a commendable performance. Bachchan has this moist red eyes for large parts of the film reflecting the internal turmoil. The Nandini-Aditha finale meet is well dramatized and captured artistically.
He kept a low profile in PS-1, but there is no hiding for Ponniyin Selvan.  It's not the sword, but the character stands out for its righteousness.  Jayam Ravi imbibes that spirit in the two films. Ravi seems to have this natural humility and grace that made him an apt choice to play Ponniyin Selvan. Masquerading as civilians, the Pandian emphasizers are are stoning a Buddhist monastery accusing it of holding their beloved Ponniyin Selvan against his wishes. The prince is advised to not step out, but he braves to speak to the public and reminds them that the monks are the one who have looked after him. The prince even orders the mob to compensate for the stone pelting.
The events in PS-1 promised a rebellion in part two. However, the key men who earlier wanted to dethrone Sundar Chola, have a volte-face. We haven't read Kalki's large volumes. Is this volte-face part of the original plot or has Ratnam taken creative liberties? What hasn't changed though is the opposition from a Singhala king. Tamilians can breathe easy.
The men who challenge the Cholas aren't the ones you expected. Quite an anti-climax. These antagonists are underbaked characters, and bound to add to the confusion of non-Tamil audiences. Remarkably, if the king and his kins are not convinced by the rumours, why does Aditha's friend Parthibendran Pallavan [Vikram Prabhu] turn against the Cholas? It was simply a little confusion and had Parthibendran paid heed to the wise heads, a needless war would have been averted.
Vikram is a little underwhelming, but the rest of the leading cast do a fine job. The seriousness of the narrative doesn't allow Vallavaraiyan Vandiyadevan [Karthi] to be his usual jovial self. That's not to say that the popular character doesn't show his wit and charm. 
What PS-2 lacks vis-a-vis PS-1 is a consistent screenplay. One engaging scene is followed by an average one. What doesn't change, in fact bettered, is Thota Tharani's production design, and Ravi Varman's cinematography.  The Pandian plot to kill Arunmozhi via his own elephant or mahout, comes a cropper. Ratnam, Tharani create a frenzied, colorful, festive atmosphere. The Pandian plot falls flat after Ponniyin Selvan mutters something into the elephant's ear. Next moment, it is not Arunmozhi, but the mahout who is trunk-ed by the pachyderm. This is one of the many well crafted scenes.
We had liked the original Tamil music in PS-1. Legendary lyricist, poet Gulzar joins A.R. Rahman in the second film for the dubbed Hindi soundtrack. Honestly, even the legend has his limitation when it comes to giving Hindi lyrics for Tamil songs.
Our introduction to Ponniyin Selvan last year was enjoyable, memorable. PS-2 [2023] unfortunately doesn't have the same engagement. It's a challenging task to sum up five volumes of the epic through two films spanning nearly six hours.  It's for the Tamil audience to decide whether Mani Ratnam has done justice to the epic. Hindi audiences, though, get a reasonable introduction into Kalki's epic tale. PS-2 doesn't live up to the hype, but the combined experience of the two films will certainly be cherished for long.
Disclaimer: This story is auto-aggregated by a computer program and has not been created or edited by filmibee.
Publisher: Source link