Review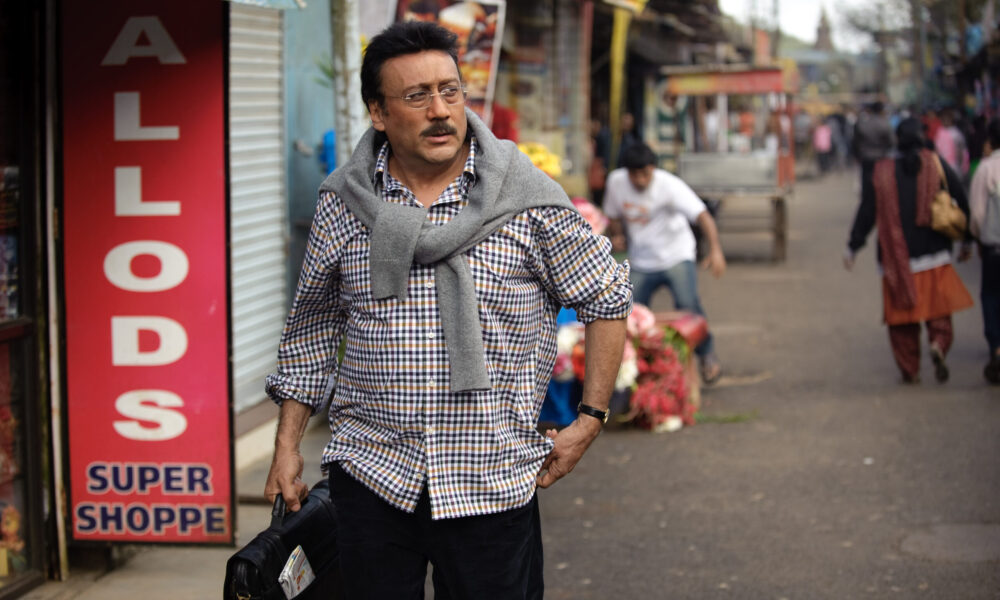 Dec 10, 2022
Life Is Good Review: Emotional rollercoaster where Jackie Shroff brilliantly binds you with his bonding
Life Is Good
Producer: Anand Shukla
Director:  Ananth Narayan Mahadevan
Genre: Social Drama (Hindi)
Released: Theatrical
Rating:
By Chaitanya Padukone
The gist of the movie: Life is Good: All good things come to an end in the cycle of life with its highs and lows. Grim darkness is always followed by the bright light of optimistic hope.is what this sensitive movie effectively conveys.
Life is Good Review: An otherwise diligent middle-aged accountant at a local post office in the hilly locales, Rameshwar (Jackie Shroff) just can't come to terms with his personal grief. Just as he contemplates gently ending his life there is a 'shattering' (literally) twist that brings about rays of resilience.  Innocent friendship and optimistic hope comes barging in the form of a seven-year-old zestful neighbor girl, Mishti. (Saniya) . She is the sudden sunshine catalyst in his desolate life. This is the engaging story of their binding bond through 15 years when Rameshwar finally learns the meaning of letting go and moving on.
Constantly relocating with her aunt, Reema (Suneeta Sen Gupta), the little girl tries all kinds of smart (yet painful tricks) to keep her selfish, scheming father (who had previously disowned her) from taking her away for good.  Rameshwar and Mishti form a deep emotionally binding bond that lasts for 15 years until Mishti gets married and flies off to Chicago.  Rameshwar tried hard to cope with this unexpected sad twist as he is left all alone again. Despite being frequently in touch (long-distance) with Mishti and her husband. The climax has yet another unexpected rattling twist which once again has Rameshwar braving an emotional crisis with the timely counseling of his caring senior office colleague (Rajit Kapur).  Does Rameshwar manage to cope with this cathartic phase, is what needs to be watched on screen?
Seasoned director Ananth Narayan Mahadevan deserves full marks for brilliantly handling talented endearing child artists (Saniya and Ananya) and the grown-up girl (Ankita) each depicting progressive growth thru three phases of life. Despite a scripted plot like Mishti being motherless and abandoned by her father and Rameshwar being a lonesome man, there are no conventional cliches of a mature mushy romance between the beautiful aunt and Rameshwar.  Neither has the script tried to cash in on Jackie's macho 'bhidu' image and there is no fight-action scene. The little geeeeeeeeee in a cute cameo also adds poignant flashes of tenderness and yet conveys a message of longevity.  Writer Sujit Sen has penned a balanced-mature story where a single man and a woman (the aunt) need not fall in love and yet Rameshwar is as 'good' as Mishti's father figure. The silent yet emotional expression portrayed by Rameshwar when the 'saat pheres' ritual is being carried is simply 'too good' and gives an insight into seasoned actor Jackie's histrionic untapped potential.
Jackie Shroff as Rameshwar is super-brilliant and he perfectly blends into the multi-layered character. Director Ananth has extracted the best of Jackie's hidden acting talent. Rajit Kapur, Suneeta Sengupta, Mohan Kapur, and Darshan Jariwala all lend excellent support with their credible performances. Alphonse Roy's classic cinematography in the hill station locales the scenic mountains, the flowing river, the soothing sunsets, and the misty ambiance highly enhance the visual impact of the movie.  Abhishek Ray's relevant music (with vibrant vocals by Asha Bhosle, Shaan, and Shreya Ghoshal) makes its presence felt and lingers on, while Parth Ray's slick editing is commendable.
Final Verdict:  A welcome respite from some of the brazen glamour-action-violence-packed mindless masala movies that are assaulting our senses. 'Life Is Good' is definitely a refreshingly invigorating family entertainer that deserves a 'lets-go-dekho' at the nearest theatre.  You will also be able to figure out why director Ananth Mahadevan has dedicated his movie 'Life is Good' to the fond memory of legendary iconic filmmaker Hrishikesh Mukherjee.
Disclaimer: This story is auto-aggregated by a computer program and has not been created or edited by filmibee.
Publisher: Source link