Interviews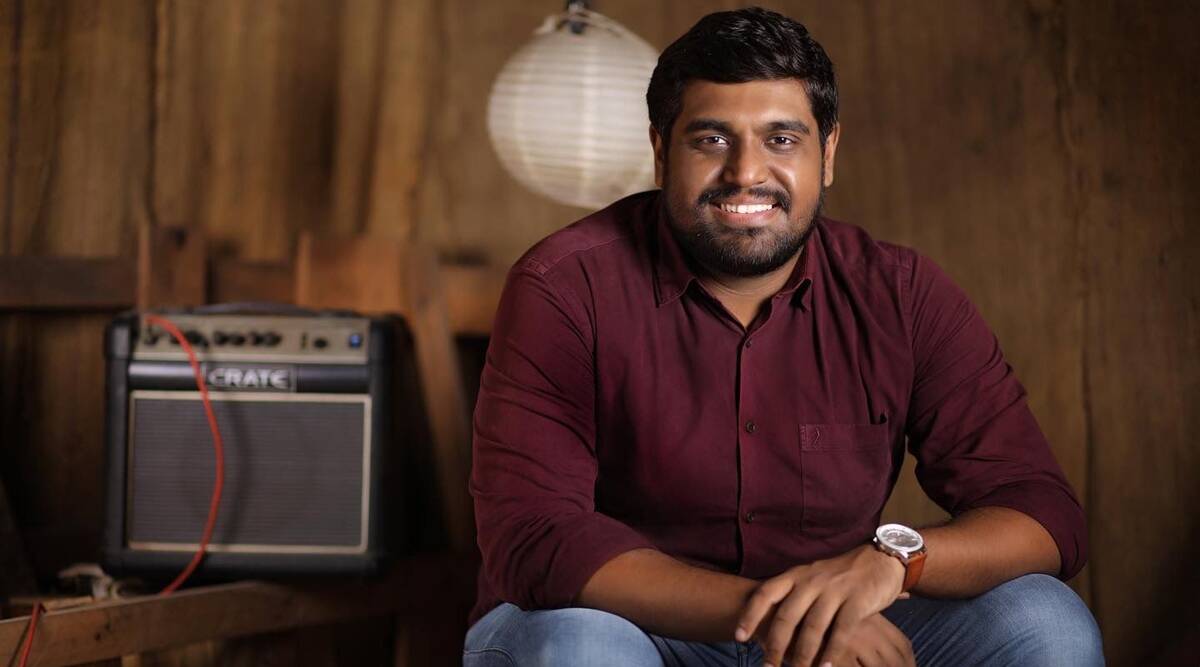 Jun 1, 2023
"Language can never be a barrier for musicians" – Hesham Abdul Wahab – Planet Bollywood
When you see Hesham Abdul Wahab being credited as the composer on a film, you expect it to have great music. That is the kind of credibility the young composer has managed to build for himself in a short span of time. Hesham started off by composing music for small-budgeted Malayalam films. 'Hridayam' proved to be a turning point in his career and now, he is treating the listeners with the music of his first Telugu film 'Kushi' which is gearing up for a pan-India release in September. The first single from the Vijay Deverakonda – Samantha starrer recently released in multiple languages and became an instant hit. The Hindi version of the song, interestingly, has received the highest number of views.
In his elaborate interview, the composer – singer talks about his journey in the film and music industry, the experience of working on 'Kushi', the unique strategy followed by the makers for its music release, admiration for A. R. Rahman, singing for Pritam, plans to compose for Hindi films, working for 60 hours without a break, upcoming projects and more. 
The first single from 'Kushi' ('Na Roja Nuvve' in Telugu, 'Tu Meri Roja' in Hindi, 'En Rojaa Neeye' in Tamil and 'Nanna Roja Neene' in Kannada) has done well in all its versions. This is the first time a song created by you is being listened to by a pan-India audience.
I firmly believe that language can never be a barrier for musicians. We had this vision of creating something that can be enjoyed in all languages. While working on 'Hridayam', we never knew the music would do so well. It crossed all boundaries and received national recognition. One should keep the expectations aside and focus on creating music that stands the test of time. I created the music for 'Kushi' with pure love.
One fine day, I got a call from Mythri Movie Makers. They asked me to come to Hyderabad the very next day. I went there without any preparation. They briefed me about the situation and wanted the song to be delivered in a day. I like making songs in tough situations and under stringent deadlines. I went to my hotel room, sat with director Shiva Nirvana and prepared six demos. We had managed to crack the initial tune in two hours. Shiva himself wrote the lyrics. I layered the composition with an upbeat rhythmic pattern and soon, the song was ready. 'Na Roja Nuvve' was the very first song I did for 'Kushi'. After that, they officially welcomed me on board to do the entire film. So, 'Na Roja Nuvve' turned out to be my first demo for the Telugu industry.
Why did the makers want the song on such a short notice?
They were running out of time. They had the dates of the actors, so they needed to get the song ready and shoot it soon. The Telugu industry has been very welcoming. They are very serious about their craft. The film is set against the backdrop of Vizag and Kashmir. It is a beautiful love story and both Vijay and Samantha have delivered remarkable performances. I tried to create songs that would do justice to the story.
While working on 'Kushi', you had to go through a 60-hour work stretch.
I remember being sleep-deprived on many days. There were tight deadlines and I had to deliver the work on time. Composing for 'Kushi' was a challenging but delightful process. I have actually gone through a similar process while working on several other projects. Apart from doing films, I also perform extensively. So, that takes up a lot of my time. These days, I mostly sleep mostly while travelling on a flight. Even now, while we are doing this interview, I am travelling for a show. The passion I have for music keeps me going. Making music is the biggest rush for me. My mind, body and soul have surpassed the need for getting adequate rest.
In one of the clips of the song, we get a glimpse of the shoot. You seemed to have travelled to the shoot of the song as well.
Yes, that's right! Many a times, the entire team travelled together. I got the opportunity to spend some time and interact with the cast. It was very important for me to go to Kashmir as a part of the film is set there. Since the story was unfolding there, I decided to stay there for a few days. I still remember composing one of tunes while staring at the mountains which were overlooking my hotel room. The beautiful images I saw in Kashmir helped me put together the music for the film.
You have used Kashmiri instruments like rabab in the song. 
Every film has certain requirements. For 'Kushi', using these instruments worked quite well. I remember telling Shiva that as soon as the audience hears a music piece, they should be able to step into the world of 'Kushi'. I was particular about using the rabab in the first ten seconds of the song.
'Kushi' releases in the month of September. The first single, however, has been dropped in May. Sa Re Ga Ma seems to have followed a unique strategy to release the music of the film.
Yes, they are trying to do something different. I am not at the liberty to talk about it but the team came up with a very interesting plan which would ensure good visibility for the music. You can expect to hear the second song from the film in a couple of weeks. We are in the process of finalizing the mix for the other songs in the film. I got the opportunity to work with Eric Pillai, who is one of the best mixing engineers in the country, for the first time. Working with him on this project was an incredible experience.
In the '90s, many Hindi film albums would release months before the film is scheduled to be put up in theatres. Now, he music release just a month or a few weeks before a film is about to release. Many a times, the music or the songs do not even get enough time to reach out to the listeners.
People in India have always appreciated good music. Music will always remain an integral part of cinema. It will always play an important role in getting the audiences into the theatres. As a music composer, I feel privileged to get the responsibility to make that happen.
'Tatta Tattara', the first single from 'Sesham Mike-Il Fathima' released recently and has been getting a good response. How was the experience of recording Anirudh's vocals for this song?
Though Anirudh had sung for a Malayalam film before, this was the first time sang verses written in Malayalam. I have been a huge admirer of his work and it was great collaborating with him on this track.
'Hridayam' proved to be a turning point in your career. The film had great songs and an equally riveting score as well. You had stated in an interview that you were not getting the opportunity to compose for bigger films but that changed post the release of 'Hridayam'.
Everything happens at the right time. 'Hridayam' was destined to be that film that would help in propelling my career as a music composer forward. When a director and a composer are in sync with each other, good music is created. Vineeth (Srinivasan, director) sir approached me after listening to a non-film album I had done called 'Qadam Badha'. He deserves a lot of credit for how the music of the film shaped up.
There are times when good music doesn't get its due because of not being promoted properly. 'Mike', for instance, was a really good album but didn't reach out to as many people as it should have.
People often say that one must work in a smart and calculated manner and choose movies which you know would be promoted well. However, to reach that position, you have to put out a lot of work. If you sit at home, you will keep sitting at home forever. One of the most important lessons I have learnt in life is to work continuously. There were people who used to mock and humiliate me when I would do small films. For me, every film is important. Even when I am working on a small film, I try to give my best. Right now, with God's grace, I am in a position where I can choose the films I want to do. Ideally, I like to work on films which is being directed by somebody I can connect with. Once the music releases, my work is done. I move to the next project.
You were in third grade when you heard the 'Dil Se' album and that changed your life forever. What is that one thing about A. R. Rahman's music that you find inspiring?
A.R. Rahman sir's music had a life-altering impact on me. I am one of the many souls who have been touched by his music. I would probably need a couple of days, at the least, to talk about the kind of impact his music had on me. There is one particular thing I have tried to imbibe from him. He would create an intricate music piece but present it in a way that everybody who listens to it can enjoy it.
Like A.R. Rahman Sami Yusuf, the British musician who produced your first album 'Qadam Badha', you also have a bent towards spiritualism and Sufism.
I got inspired by Sufi music at a very young age. That led me towards coming up with an album like 'Qadam Badha'. It is not possible for me to use elements of Sufi music in every film that I work on. However, it has a special place in my heart.
What is that one thing you are very particular about while composing for a film?
I don't want to repeat myself as a composer. That is one thing I have always been very conscious about. Whenever an album put together by me comes out, I want people to ask who has composed the music. Even if they are familiar with my work, every piece of music I create should offer them a new experience.
I remember listening to a track called 'Meri Dua' on YouTube more than a decade ago. That was the first time I saw you being credited on a track.
'Meri Dua' was the first ever song I had released. In a way, my professional journey as a composer and singer started with that song.
You own and run a music institute in Kochi called the Live with Music Academy.
We have many plans for the institute. It is mostly offering online classes at the moment. Most of my assistants and engineers are the ones studied in the institute. Soon, we will be offering music therapy to autistic children. Some plans are on hold at the moment because of my hectic schedule.
You have often spoken about moving with your mobile workstation. Can you elaborate on that?
My mobile workstation helps me to create music while I am travelling. It keeps growing with time. Without it, it would be difficult for me to function. Having a mobile workstation also enables you to collaborate with different musicians while being on the move. I have got used to this way of working. Most of us musicians today are mobile technicians. Technology has made a lot of things possible which one couldn't do earlier.  
As a child, you trained extensively in Carnatic vocals and Hindustani classical music. You grew up in Saudi Arabia. Did you get enough opportunities to explore music or showcase your skills there?
Sometimes, restrictions can be a blessing in disguise. The music scene in Saudi Arabia today is very different from how things were back then. There were no stage shows happening and music was not at the forefront. Those days, I would get to perform only during school functions or social gatherings. The restrictions or limitations I faced increased the urge to keep learning music.
What made you start your professional career with Malayalam films?
My family's native place is Alappuzha in Kerala. I was born in Kerala and brought up in Saudi Arabia. Initially, I decided to make music in my native language. However, as I stated earlier, music is never bound by any language. I discovered Rahman sir's music first and then, started listening to Malayalam music. 'Kushi' is primarily a Telugu film but the Hindi version of the single has received the highest number of views.
Last year, you lent your voice to 'Kumkumamaake', the Malayalam version of 'Kesariya' from 'Brahmastra Part One: Shiva'. Did you get to interact with Pritam while recording the track?
Unfortunately, I didn't get the chance to meet him in person. I wish I had sung it in his presence. I distinctively remember my first conversation with him. One evening, I got a call from an unknown number. It was Pritam sir at the other end. He introduced himself to me as the composer of 'Brahmastra'. I was shocked! I immediately realized how humble he is. I have grown up listening to and loving his music. He told me that he loved the songs of 'Hridayam' and found my voice suitable for 'Kumkumamaake'. He sent me the track and asked me to record it at my own studio. He gave me complete freedom and allowed me to express the song the way I wished to.
Apart from composing for films throughout the year, you are also quite active as a vocalist. Have you consciously worked towards building an identity as a singer as well?
I never consciously try to do anything. I started my career by composing original songs and singing them myself. I participated in a singing reality show in the year 2007. That's the reason people started recognizing me as a singer first. When 'Darshana' came out, a lot of people appreciated my work as a singer. After that, they discovered that I had composed the song as well. Being a singer has helped me in many ways and I think of it as a blessing. Singing has been an integral part of my musical career. I would love to keep singing for other composers. I have dabbled in various other aspects of music like sound engineering. Before I started working as a composer, I worked in studios and helped people with technical work. Everything is a part of the music we create. I am very happy that composers are calling me to sing for them.
Do you plan to compose for Hindi films in the near future?
I am definitely looking forward to composing for Hindi films. I am just waiting for the right project to come my way.
Last year, Karan Johar's Dharma Production bought the rights to remake 'Hridayam' in Hindi. Do you want your tunes to be used in the Hindi remake?
It is difficult to create magic twice. I hope another magic happens with the Hindi version. The production house will decide whether my tunes for the original film will be used again or another composer will create a fresh set of tunes for the Hindi remake.
You are busy with multiple Malayalam films. At the same time, you are working on some big projects in the Tamil and Telugu film industries as well.
I keep praying to God to give me the strength to work without facing any obstacle. I do want my songs to be popular but I also want the films to work. A producer invests a lot of money in making a film and his money shouldn't go to waste. The music for 'Nani 30' has shaped up really well. I want to create music for films that have something interesting to tell. The scale of the film doesn't matter to me. Apart from the bigger projects, I am also doing an offbeat Telugu film called 'Spark'.  I am making my debut in Tamil cinema with a film which has G.V Prakash playing the lead role. It is being produced by Kavithalayaa Productions which has produced iconic films like 'Roja'. At the moment, I am looking forward to see how the audience responds to the other songs from 'Kushi' and 'Sesham Mike-Il Fathima'. 
Disclaimer: This story is auto-aggregated by a computer program and has not been created or edited by filmibee.
Publisher: Source link