Movies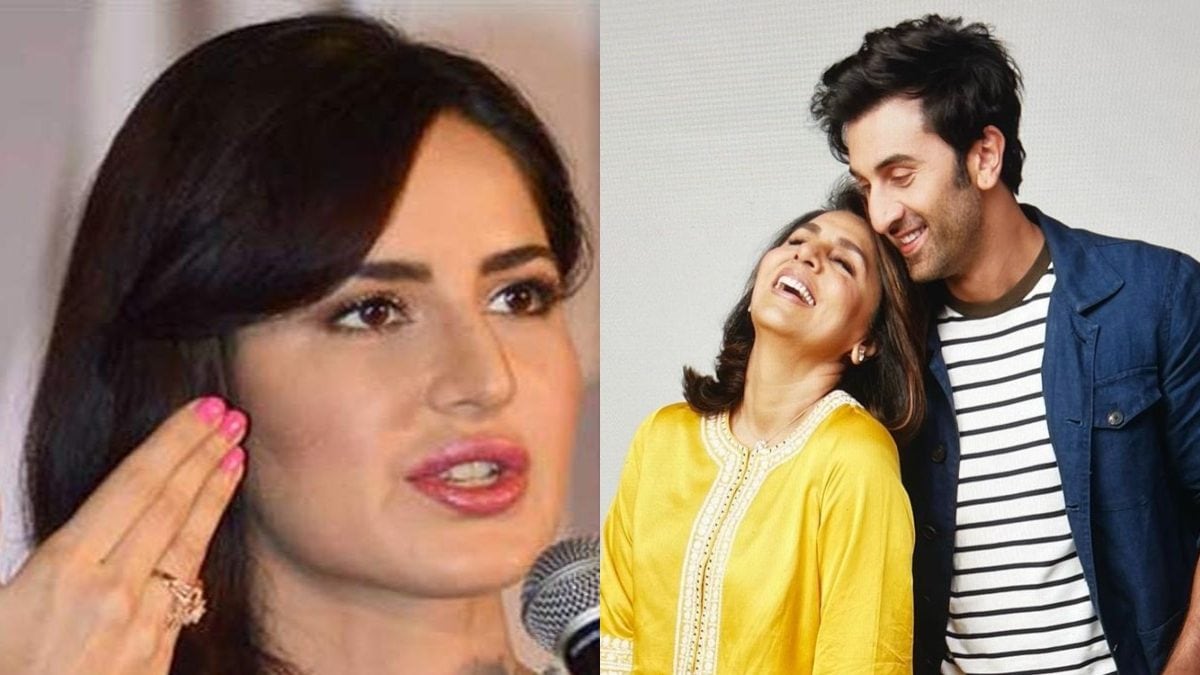 Apr 12, 2023
Katrina Kaif Reacts to Rumour About Neetu Kapoor 'Disliking' Her in VIRAL Video: 'The Reason Is…'
Katrina Kaif and Neetu Kapoor's son, Ranbir Kapoor, had parted ways in 2015.
Katrina Kaif had dated Ranbir Kapoor for about seven years from 2009 to 2015. It was then reported that Ranbir's family was not very fond of Katrina.
Veteran actress Neetu Kapoor has been grabbing headlines ever since she shared a cryptic Instagram Story about marriage which went viral on social media, with netizens wondering if she was taking a dig at Bollywood star Katrina Kaif, who was in a relationship with Ranbir Kapoor several years ago.
Amid all the drama, an old interview of Katrina Kaif reacting to rumours about Neetu Kapoor "disliking" her, has emerged on the internet. Ranbir Kapoor tied the knot with Alia Bhatt in April 2022, while Katrina is happily married to Vicky Kaushal.
In the video, which is going viral on Reddit, senior journalist Karan Thapar asks Katrina at the India Today conclave- "Rumour has it that Ranbir's mother Neetu doesn't like you."
To this, Katrina replies, "I'm stumped." She continues, "The reason and the person responsible for these rumours that you are saying quite honestly would be me. I'll take the full blame for that and you may ask why. The reason is since the last eight or nine years, I have chosen not to comment on my personal life whoever it may be or whatever it is about- the people or the man in my life. Because I feel it's the easier way for me to be. There's no hard and fast reason why. I'm a sensitive person. I have hard enough time accepting the truths and realities that hit us all in the matters of love. Because I have kept everything so closely guarded as much as possible, you are leaving that much more room for everyone to make speculations like this."
Katrina further heaps praise on Ranbir's parents, Neetu and late Rishi Kapoor and calls them "fascinating people".
"If you particularly ask me about my relationship with Ranbir's mother as a woman and as an actress who I have interacted with, she is a beautiful, stunning lady and somebody who I have great admiration for. I think she is a fantastic person. In fact, everyone I have met from his family has been such lovely fascinating people. Not only Neetuji, but also his father Rishiji, who I worked with on Namastey London. We hit it off so well in the film. He was such a darling person. He would take me out for dinners in the evening," she adds. Watch the video, here.
Meanwhile, Neetu Singh had recently shared a post on her Instagram stories that many deemed "problematic." The post read, "Just because he dated you for 7 years, it doesn't mean he will marry you. My uncle studied medicine for 6 years, now he is a DJ." Her thoughts about marriage didn't go down well with netizens as they slammed the Jugg Jugg Jeeyo actress over a supposed indirect diss at Katrina Kaif.
Read all the Latest Movies News, Entertainment News
Disclaimer: This story is auto-aggregated by a computer program and has not been created or edited by filmibee.
Publisher: Source link