Neha Dhupia and Angad Bedi are one of the cutest Bollywood couples and are proud parents to two cute kids.
In a recent conversation with the couple, they revealed that Karan Johar played the cupid for them in their relationship.
While talking about the first time she met Angad, Neha said, "when I met him for the first time, I was dating someone else and he was constantly dating other people. The one thing that actually makes women attracted to men is not the good looks, not the hair nothing, it is comfort. You need to feel comfortable around a man actually to feel I am attracted to him. With Angad, I was very comfortable around him." 
As per reports, Angad revealed that the actress invited him to a party at her place. He went there for Neha but she wanted to introduce him to other people. When Angad understood that Neha was trying to set him up with other girls then he stopped showing interest. Angad further added that it was then that Neha's BFF asked her to look at Angad. Adding to this, Neha said, "yes we did have someone v imp play cupid for us." Angad said, "Karan was the person who told her that this person is standing right in front of you and you can have great chemistry with him so you should look at him." Neha concluded by saying, "Thank god he did that."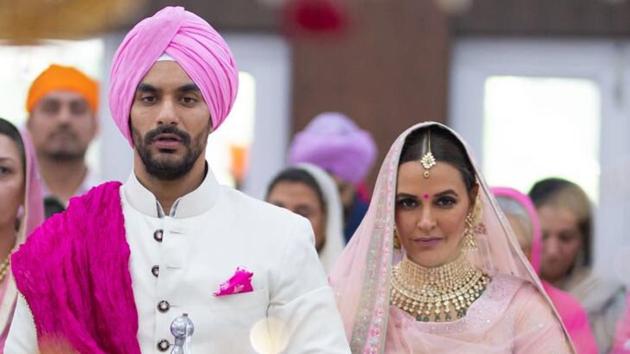 It is also believed that the couple is now coming together for a comedy-drama by Chetan Bhagat. A source says, "It's a funny story based on a couple and their shared relationship living together during the covid lockdown. It's an exciting proposition as the duo are social media goals when it comes to being the adorable couple they're and the casting was done keeping their natural chemistry in mind. This is the first time Neha and Angad are paired opposite to each other and the project has recently been completed".
Are you excited to see them together in a movie?