Movies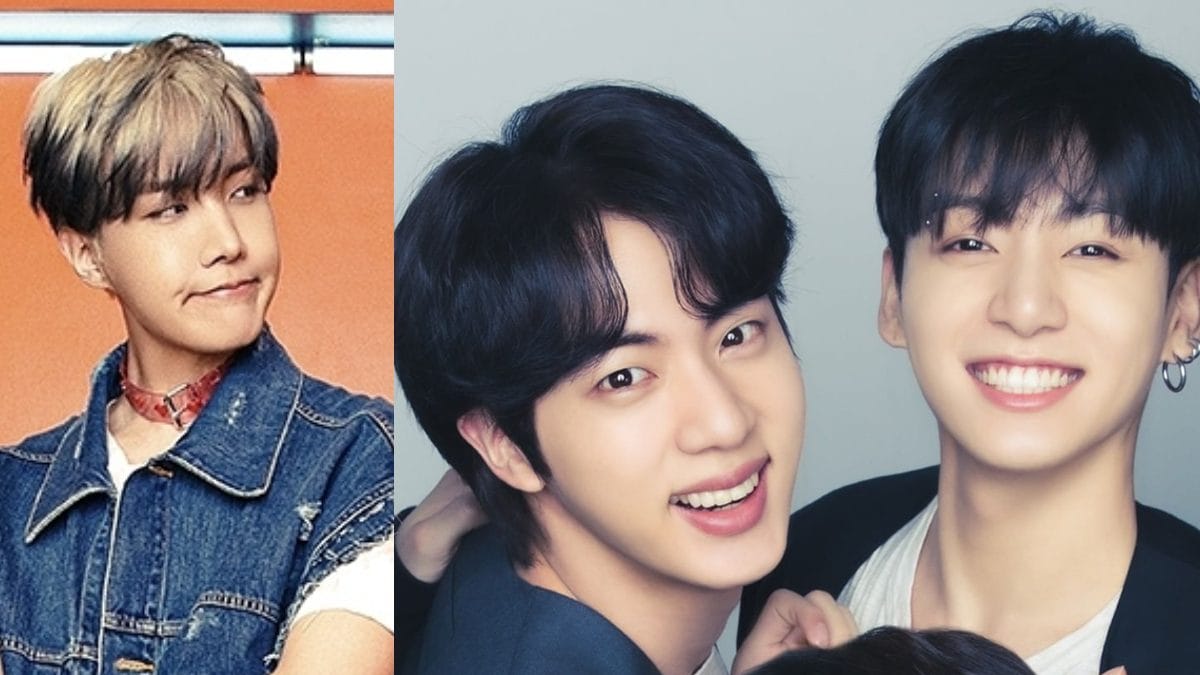 Apr 17, 2023
Jungkook Lands In Seoul Ahead of J-Hope's Enlistment, Jin Comes Home Too; OT7 Reunion In Cards?
Published By: Dishya Sharma
Last Updated: April 17, 2023, 20:09 IST
BTS singers Jungkook and Jin return home ahead of J-Hope's military enlistment.
BTS member J-Hope is set to enlist for military service on Tuesday, if a comment by Jin is to go by.
BTS member J-Hope is all set to enlist for military training and the Golden Maknae, Jungkook returned to Seoul just in time to bid him farewell. Despite his hectic schedule, the Euphoria singer returned home to join fellow BTS members to meet his hyung before he enlists in the military. Turns out, he wasn't the only one who came home just in time. Jin hinted he also has come home and while sharing the indirect update, also confirmed that J-Hope is enlisting on Tuesday, April 18.
While BigHit Music and J-Hope have been tight-lipped about the rapper's enlistment, Jin surprised fans by coming online on Weverse and dropping a hilarious message, seemingly revealing J-Hope's enlistment date. Reacting a post Jung Hoseok dedicated to Jimin, Jin wrote, "kekekekekeke D-1″ along with a heart emoji. Fans in splits for they had been trying to help BigHit and Hobi to keep his enlistment date a secret but Jin clearly had a devilish plan.
i can't breathe all of us being like "don't spread dates nothing's been confirmed" only for seokjin to come online rub his hands together like a little villain and gleefully terrorise hoseok with a grim reaper countdown https://t.co/Gatr39W25p— JEON JUNGKOOK'S MORTAL ENEMY (@vminkookluvr69) April 17, 2023
army counting down the days the members return vs seokjin counting down the days the members join — bts's love winterly⁷ ❄️ (@winterlyblooms) April 17, 2023
i have to say jin's complete unseriousness towards enlistment genuinely does make it hurt less like he knows what he's doing— t*na⁷ ֺ۪ ⭒ ݂ ⏳ (@foreverkoos) April 17, 2023
The post also has fans wondering if we will be treated to another OT7 photo. The last time RM, Jin, Suga, J-Hope, Jimin, V and Jungkook came together, it was for Jin's farewell. Fans were not only treated to a photo but a video as well.
Meanwhile, in a recent live broadcast, the Arson rapper shared that the Golden Maknae adjusted his schedule so that he could be there for Hobi before he departs. The rapper said, "Something I was moved by and heard from the management team was that Jungkook's schedule was already filled but he adjusted it for me hearing that, I thought 'I've raised a kid well!' This is just a joke. I was really touched. He adjusted the schedule, saying, 'I must go when hyung goes.'"
Jungkook's return to Seoul is also a cause for celebration for fans who have been eagerly waiting for updates on the group and the vocalist's solo career. After recording some new music and having a memorable time at Coachella 2023, members of the ARMY can't wait to see what the talented singer has been working on during his time away. With J-hope's military service on the horizon, it's a bittersweet moment for fans of the K-Pop band.
Read all the Latest Movies News and Entertainment News here
Disclaimer: This story is auto-aggregated by a computer program and has not been created or edited by filmibee.
Publisher: Source link