Movies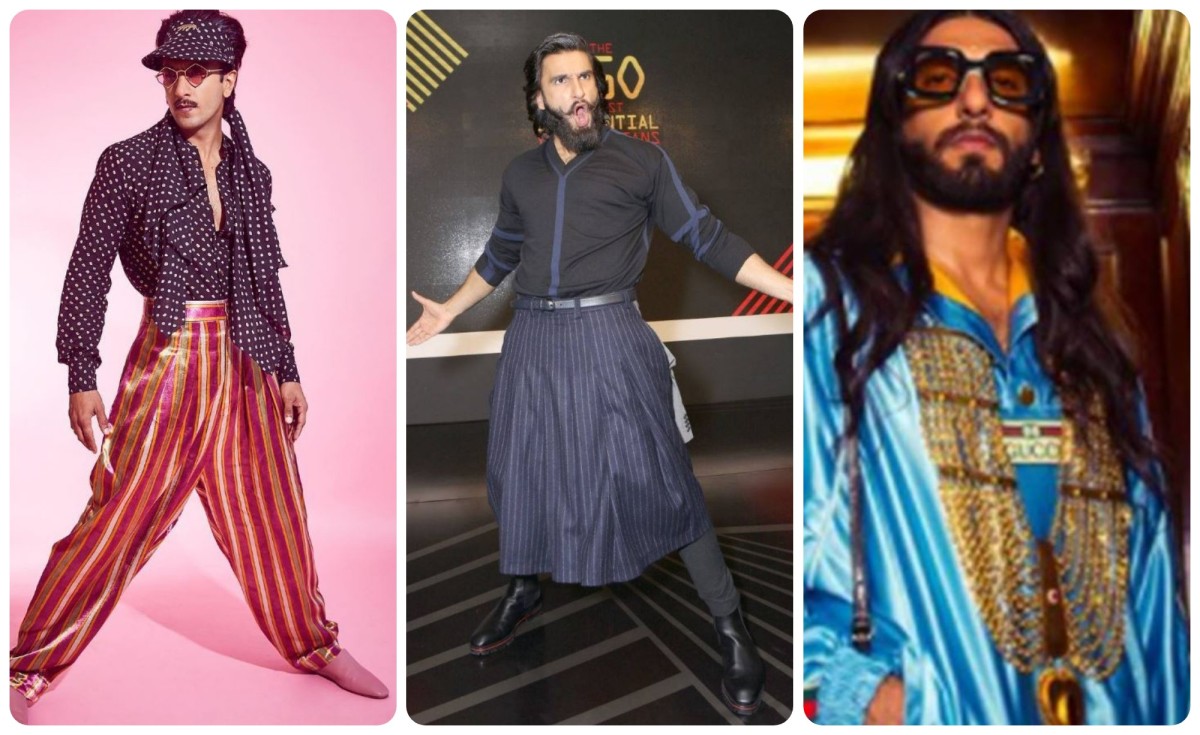 Dec 28, 2022
Is Ranveer Singh's fashion sense, bold shoots impacting his Bollywood career? – Beyond Bollywood
Gaudy clothing, sometimes effeminate in style, and then a nude photoshoot. Is this correlated to the lean patch in Bollywood? An image consultant, fashion designer, trade analyst and some teenagers share their perspective.
By Mayur Lookhar
Success is temporary. Failure is constant in life. It's human tendency to analyze failures more than success. After experiencing the highs, Ranveer Singh is going through a lean phase since Christmas 2021. Though hailed by the cricketing fraternity, and sports connoisseurs, 83 [2021] failed to win over the audience.
We thought that 83 [2021] was an aberration and Ranveer's fans will warm up to his subsequent releases. He played the meek Gujarati husband in Jayeshbhai Jordaar [2022], but the audience didn't find much joy in the film, nor any jordaar [strong] performance from Singh. The popular actor then had high hopes from Cirkus [2022], helmed by his favourite filmmaker – Rohit Shetty.  Here he was playing a double role. The two Ranveers though were not enough to save the cliched film.
It would be premature to write any epitaph based on three successive duds. However, in addition to the lean phase in Bollywood, Ranveer Singh has also grabbed attention for different reasons. A nude photoshoot made the sanskari audience see red. Plus, the actor's fashion sense has often raised brows. The gaudy style defines him, but Singh's not been afraid to show his feminine side too by draping some jaw dropping couture. In his bright phase from 2015-2019, it didn't really matter, but when films fail, it begs the question – is this fashion sense, bold shoots now impacting his Bollywood career?   
Noted Image Consultant Neha D Gupta likes Singh's infectious energy, but the fashion sense has proved to be a dampener.
"He is very charismatic, humble and an entertaining guy. His energy is very good. He lights up the room. But the energy and clothes are two different aspects," Gupta says, "You keep energies high, but clothes should be formal and sophisticated. A dramatic personality, a dramatic clothing, that doesn't match together. He is not relatable then. You wouldn't find such a personality in real life."
Respected Fashion Designer Nivedita Saboo doesn't think that Singh's dressing sense had any negative impact on his film career.
"Fashion is a form of self-expression. On a day-to-day basis, we all use fashion to define who we are. Ranveer Singh is no different. He has used the shock value and eyeballs that fashion brings to the table to his benefit."
No clothes or more clothes, Neha Gupta, however, reckons that Singh has been going over the top in his style. Emphasizing on the values of clothing, Gupta says, "Your clothes help you to think right, behave in a certain manner. Clothes talk about your character, your values, persona. If you are not dressed well, you will not be accepted in certain class or areas. Also, not everyone may accept you, but everyone is judging you at the same time."
She added that it would have been fine if Singh was a popstar. However, for a role model, hero to look flashy is difficult to digest particularly in an industry which is known for its larger-than-life heroes. Gupta hasn't seen Cirkus [2022] but she opined that playing a Kapil Dev in 83 and a rural Gujarati guy in Jayesbhai Jordaar was never going to appeal the youth.
Acclaimed trade analyst Narendra Gupta [no relation to Neha] downplayed the fashion aspect, but he was critical of present-day artistes' obsession with social media.
He says, "The problem with actors today is that they are over exposing themselves by spending too much time on social media. They are more focused on their Instagram, Twitter following than investing time on creativity. It's a problem not just with actors but film-makers too have become proposal makers. Make films not business proposals."
Does this extreme fashion sense make Ranveer unpopular with fashion brands? Would they be comfortable to have someone like Singh endorse their clothes?
"As a designer, you would be seen negatively if you have done Ranveer's clothes. As an entertainer, he is the best in the business, but his clothes are a disaster," Neha spelt it out loud.
The Image Consultant adds, "He may think that he is matching his clothes with his character, but it is not working for him. He can get a bit dramatic with his dressing, but not as much as his personality."
Nivedita Saboo, though, believes that Ranveer is still a hit with fashion designers.
She says, "His sense of style is the same in a black tuxedo as it is in a quirky skirt – therefore for brands to dress him up is easy and exciting. In fact, any brand or designer tends to go all out in terms of their creative freedom while dressing Ranveer, since he has no boundaries or inhibitions."
Singh often cheekily gloats about having some 40 brands. We don't have the full brand list but we do recollect Ranveer Singh endorsing the global apparel brand – Jack & Jones. Also, the flashy image has made him apt to walk the ramp for unique fashion shows.
Professionals have had their say, but as always, it's wise to get a perspective from the youth.  Anikaa (17), a class 12 student, isn't much impressed by Singh's couture.
"Ranveer Singh is the Indian version of the millennial gone wrong," quipped Anikaa. She drew parallel with Hollywood, where child artistes who worked in Disney productions were under pressure to live up to their pristine image. However, once they grew up, they went astray and completely berserk.
The 12th grader labelled Singh's dressing style as attention seeking, and a desperate attempt to prove the audience that he is still at the top of his game. However, she believes that the Cirkus [2022] actor is going about it in the wrong manner.
"Instead of putting up the good work that he used to do, he is indulging into controversies. It is fetching him headlines. It gets him the bank, but I don't think it is helping his career. No one will take him seriously as an actor," cautioned Anikaa.
The 17-year-old also felt that Covid-19 has taken some crucial years away from these not-so-young actors. She says, "We have stopped caring for Deepika, Ranveer. My generation cares more about a Shanaya Kapoor or Ananya Panday. Lockdown took precious years from these actors. He [Ranveer] looks old. You can't act like a 15-year-old every time. It doesn't fit his image."
The 12th grader was unflinching in her opinion. We also sought the perspective of a 10th grader Arushi Bhutda (15), who held a different view.
"I feel his dressing sense, especially the red-carpet outfits are very different. Many appreciate it, and some don't. I like his dressing sense. Celebrities from Hollywood dress like this. Such clothing helps them stand out from the rest."
Arushi made it clear that that the off-screen actions don't influence her decision to watch or chuck a Ranveer Singh film. She says, "If the story and trailer is good, I like to watch his films. I simply loved Simmba [2018]. However, Cirkus [2022] wasn't great. The humour was repetitive. Besides, I found certain portions senseless. But it had some funny moments."
We hope producers, studios are listening.
Arjunvir Mahapatra, a 15-year-old school boy, too, backed the Gully Boy [2019] actor's fashion sense.
"We're in 2022. In this generation, what you wear doesn't define you or your career. If he hasn't acted well, that could have an impact on his films. His fashion sense and career are two different things. They shouldn't be mixed," said Mahapatra.
The gaudy dressing will evoke mixed views, but the bold photoshoot came like a bolt from the blue.
Neha Gupta wasn't impressed. She urged Singh to take a cue from his Rocky Aur Rani Ki Prem Kahani [2023] co-star Alia Bhatt.
"You look upon an Alia Bhatt because she is setting a good example for the youth. You can work hard, and also have a baby. She is natural in her dressing. She's like this girl-next-door," said Neha.
Maybe some males find it offensive, but is the female audience more acceptable of Ranveer and his style statement?
"I feel he is trying to ape Hollywood. With no clothes, he puts himself down. I don't think female fans are in awe of him. Women like their man with clothes on," affirmed the Image Consultant.
Young Arjunvir though downplayed the photoshoot. For a 15-year-old schoolboy, he pleasantly surprised us with a feminist view.
"It is not normal but women do it too. So, what's the harm if a guy does it?" asked Mahapatra.
He adds, "I see many women doing photoshoots in bikinis, they're half naked, e.g., Kylie Jenner. No one comments on that. So, what's the problem if a Ranveer Singh does it? What he does on the outside, shouldn't concern us. It is his life, his choice. If he doesn't act well, then media and us can blame him."
Interestingly, seasoned trade analyst Narendra Gupta echoed similar sentiments. "There might be some negative impact, but public memory is short. A Shahenshah [1988] came after Amitabh Bachchan's name had cropped up in the Bofors Scam a year before. That film was a blockbuster," the trade analyst recalled.
Fair point made. Bachchan isn't the lone example. Salman Khan was mired in the Hit-and-run and the Blackbuck/Chinkara poaching cases in early 2000s. His career saw a huge upswing from 2009 when Wanted became a smash hit. The actor would go on to rule box office for the next 7-8 years. His recent slump has more to do with the quality of films than any controversies. Before the release of Sultan [2016], Salman Khan had drawn flak for his rape analogy while describing the physical stress of playing a wrestler. Sultan turned out to be a blockbuster.
The flashy image might please some, irk some, lead to different views, but in all fairness, it is the quality of the films that are largely to be blamed for Ranveer Singh's slump in form. Given his immense talent, we are confident that Singh would stage a jordaar comeback. Dressed in a gaudy attire, Singh would be quietly crooning, "Apna Time Phir Aayega".
Disclaimer: This story is auto-aggregated by a computer program and has not been created or edited by filmibee.
Publisher: Source link