Movies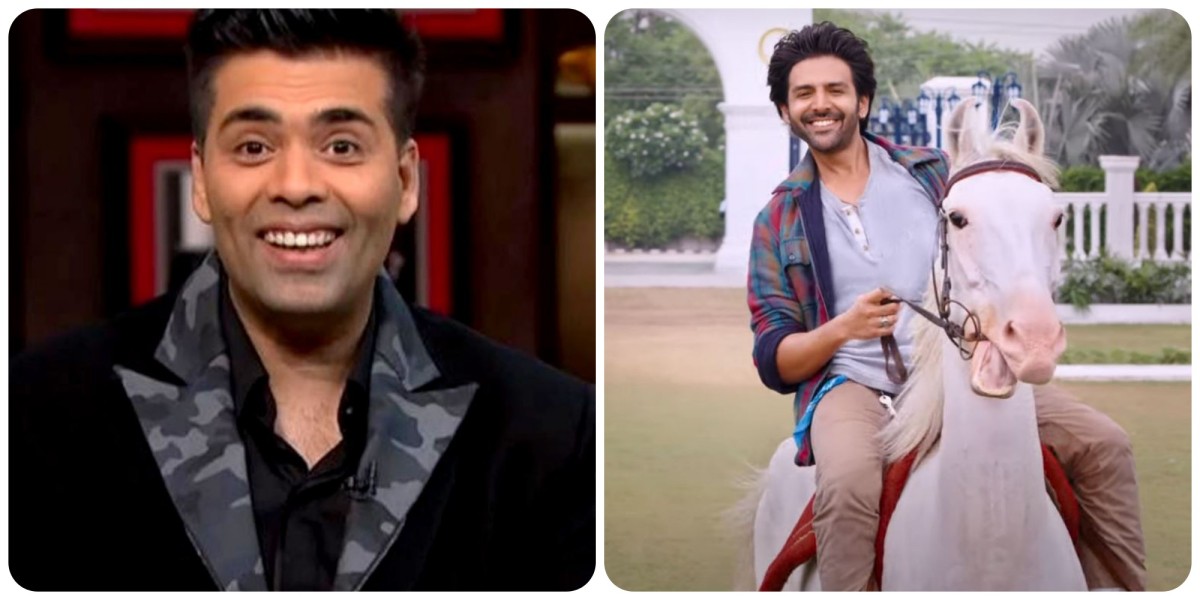 Jan 16, 2023
Is Karan Johar extending an olive branch to foe Kartik Aaryan? – Beyond Bollywood
Though he doesn't name Aaryan, the Dharma Productions head honcho praises Shehzada [2023] trailer.
By Mayur Lookhar
Together they were to tell a tale of 'dostana' but things soured to such an extent that Dharma not only dumped Kartik Aaryan out of Dostana 2, but it severed all ties and vowed never to work with the actor. It was murmured then that Aaryan's rumoured break-up with co-star Janhvi Kapoor and his subsequent tantrums were to be blamed for the strained ties with Dharma Productions. The actor has always maintained a studied silence over the rift. During Bhool Bhulaiyaa 2 [2022] promotions, we had asked whether he was worried over the rift with the legacy studio, to which he had simply replied, "All this keeps happening. You just have to look at my line-up".
Bhool Bhulaiyaa 2 amassed over Rs200 crore nett in domestic box office. With his contemporaries – Ranveer Singh, Ranbir Kapoor, Sidharth Malhotra etc all struggling, and aging stars [Khans, Kumar] losing their midas touch, it seems that Aaryan has become the hottest property in Bollywood.
Without taking any names. Karan Johar, the Dharma Productions head honcho, has often slammed young actors who get pricey after giving just one or two hit. It's long believed that the primary barb is aimed at Aaryan, who was rumoured to have demanded a huge fee for Dostana 2. Johar had recently recited the same while praising South cinema. It looks like the once aggrieved filmmaker- producer is extending an olive branch to the popular actor?
The trailer of Kartik Aaryan's Shehzada [2023] had dropped on 12 January. It looks like a promising masala entertainer. ohar dropped a surprise when without naming Aaryan, he praised the film's trailer calling it masale se bharpoor (full of masala).
We didn't find it on his account, but Johar is said to have posted the below as an Instagram story.
"Masaale se bharpoor aur entertainment ka zabardast tadka! Congratualtions to team Shehzada!!!" , instagrammed Johar.
Naturally, this is making everyone wonder whether Johar wants to bury the hatchet with Aaryan ? From a business perspective, it would make sense as following the success of Bhool Bhulaiyaa 2, Aaryan has become the most sought after actor in Bollywood.
In the past, a bitter fallout with a legacy studio would have seen a an 'outsider' being marginalised. However, we've seen how 'insiders' like Arjun Kapoor, Varun Dhawan have nothing but respect for Aaryan.
Maybe, Johar is also following suit, but one mustn't lose sight of the fact that Shehzada is directed by an insider Rohit, who is Varun's brother and son of veteran filmmaker David Dhawan. Besides, Johar is also pally with Kriti Sanon, the lead actress in Shehzada. Hey but she was too praised for giving it back cheekily to Johar on Koffee With Karan. Is that the reason why Johar has also not named Kriti in his story?
Back during the days of the fallout, a source close to Dharma had claimed that Johar and his team were primarily pissed off with Aaryan's small town fuckboy mentality.
Be rest assured that the next time Johar faces the media, he could be asked if this 'story' is the beginning of calling it true with Aaryan?
Disclaimer: This story is auto-aggregated by a computer program and has not been created or edited by filmibee.
Publisher: Source link