Interviews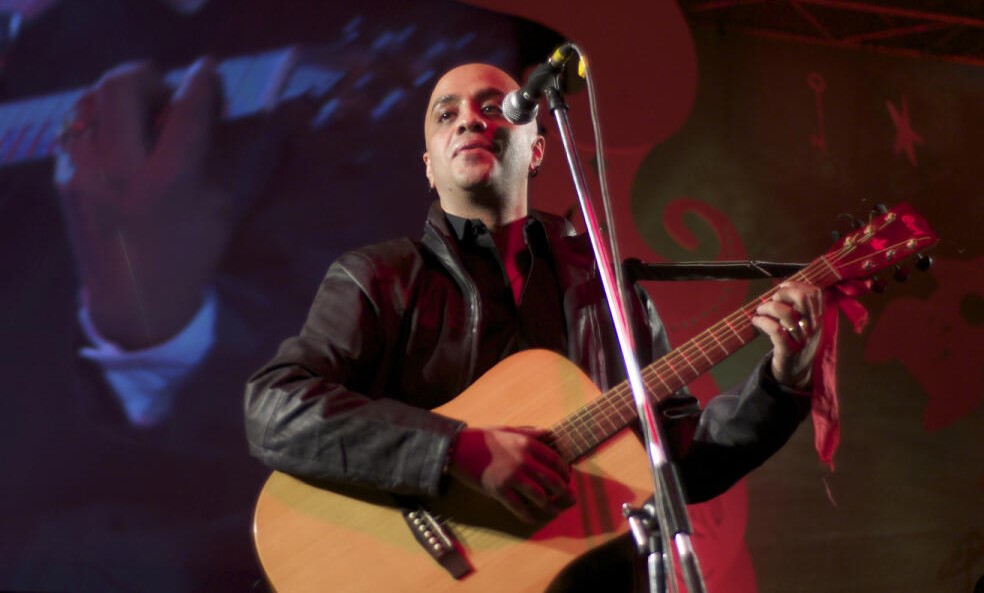 Jan 9, 2023
"Imtiaz Ali has been one of my favourite collaborators" – Joi Barua – Planet Bollywood
Joi Barua is a musician whom you cannot put in a box. It's impossible to predict the kind of music this artist, who doesn't believe in boundaries, will come up with next. Born as Jayanta Barua, Joi is a prolific performer who does live shows regularly, has his own band, has sung for numerous advertising jingles, composed music for films and collaborated with international artists on a variety of projects. Joi recently composed the music for the Imtiaz Ali – T-Series produced 'Thai Massage' which featured Gajraj Rao in the lead role. After a theatrical run, the film has recently released on Netflix.
In this interview, Joi talks about his journey as a musician, the experience of collaborating with the India Inclusion Summit on 'Jugnu', working with Imtiaz Ali, how his motherland Assam has made him the musician he is today, working on Lim Fantasy of Companionship for Piano and Orchestra and more.
'Jugnu' is one of your forthcoming releases. It is the new theme song for the India Inclusion Summit, a platform that has been working towards supporting and uplifting the lives of individuals with special needs. What can you tell us about this song?
India Inclusion Summit has been doing great work and it was wonderful collaborating with them. I met a few of the individuals the organization has worked with and I was hugely inspired by the way they were leading their lives. What they taught me was that there are more ways to look at life than one. There are more lives within one life. You can do so many things with your life and do them well.
I felt the challenges these people faced in their lives gave them superpowers and made them stronger. Sometimes, we feel that we are leading our lives in an optimized manner but then, when you see such individuals, you realize one can do so much more. The song has been written by my friend Ibson Lal Baruah. The song will come out in the next couple of days. I will continue to work with the organization in the future.
'Dheere Dheere' from 'Thai Massage', which released a few weeks back,was a very charming song. Back in the day, you had sung a bunch of songs for Amit Trivedi including 'Ek Hulchul Si' ('Dev D'), 'Kahaani' ('Udaan') and 'Dua' ('No One Killed Jessica'). This time, it was a role reversal of sorts with him singing a song composed by you.
I feel like life has come full circle for me. With him 'Dev D' and 'Udaan', I got to be a part of the earliest films he had scored the music for. For 'Dheere Dheere', I needed a voice that would have a spiritual feel to it. Amit's voice has that kind of feel. From the beginning, Amit was one of the natural choices for the song. I had a great time recording his voice for the song.
The song also helps one connect with the character Gajraj Rao plays in the film. It also has a hint of Assamese folk in it.
Yes, there is a hint of North Eastern folk in the song. While conceptualizing the song, we were sure about the fact that it had to convey a sense of journey. Even if you are not watching the visuals and just listening to the audio track, you can figure out that there is some movement happening in the mind of the character.
'Thai Massage' was based on a very unconventional subject. It was a coming-age story of a 70-year-old man. Did you face any challenges while putting together the soundtrack for the film?
When you understand the story and characters in a script, it becomes easy to compose music for the film that is going to be made out of it. A man, at any age, could wish for happiness, a journey or a union. His wishes are perceived differently by different people. People can misunderstand him and his intentions. People go through a lot of thoughts before they arrive at a particular decision. The film made an attempt to make people understand the importance of being empathetic.
'Thai Massage' was co-produced by Imtiaz Ali. You had earlier worked with him on 'Laila Majnu', a film which was presented by him. You might have also got a chance to interact with him when you scored the music for 'Banana' which was directed by his brother Sajid Ali. How has been your experience of working with him?
Imtiaz Ali has been one of my favourite collaborators. The collaboration is rooted in faith. Imtiaz is one of the easiest people to work with. Whenever he works with somebody, he trusts them completely and gives them complete artistic freedom to do their job. He is like a gardener in a garden who helps the flowers bloom.
'Thai Massage' was your second collaboration with Irshad Kamil after 'Laila Majnu'.
I have had a great time working with Irshad ji. Whenever I would compose something, he would give me his feedback on it. As collaborators, we are completely honest and at ease with each other. He himself is very open to feedback. He is not someone who just strings a bunch of words together. He has a great understanding of emotions and how people are. Irshad and I come from two very different parts of the country. I have learned a lot by interacting with him.
'Joi: Looking out of the Window', your first independent album which released in the year 2010, had a new-age sound with songs that were written in Assamese. You have represented beautifully through many of your songs. Have you made a conscious decision to make an effort towards promoting the music and culture of Assam?
I am not trying to promote Assamese culture consciously. That's the artist I am. Assam is a part of me. I became an artist because of my motherland. Making music about Assam gives me a sense of belonging. I have to tell stories about things I have experienced and the land I come from.
Is your band still active?
It is very active. In fact, the group has got bigger with time. My band members work with me on my film projects as well. Pawan Rasaily, one of my band members, has programmed many of my songs including 'O Meri Laila' ('Laila Majnu).
One of the recent projects you worked on was the Lim Fantasy of Companionship for Piano and Orchestra. It has been described as a 'collaborative venture with musicians across continents'.
It has been one of the most fulfilling projects I have worked on. I have been working with a scientist from Singapore. It is about Artificial Intelligence and how inanimate things come to life. We were developing it into a musical for Broadway. We recorded the music in London. Broadways are known for featuring contemporary music but a part of the music has been composed in the Western Classical format. We have recorded portions with the London Symphony Orchestra. Act Two of the musical has been done with Royal Philharmonic. The company, which has put the project together, had seen the work I had done in the North East. That is how I got on board for this project. So, you see my identity and my roots have helped me connect with people all across the world.
Your father gifted you a violin when you were four years of age. That is when you developed an interest in music. What kind of training you have had in music?
I am a self-taught musician. I never had any formal training in music. I just kept learning new things on my own as I kept moving forward in the world of music.
Disclaimer: This story is auto-aggregated by a computer program and has not been created or edited by filmibee.
Publisher: Source link