Interviews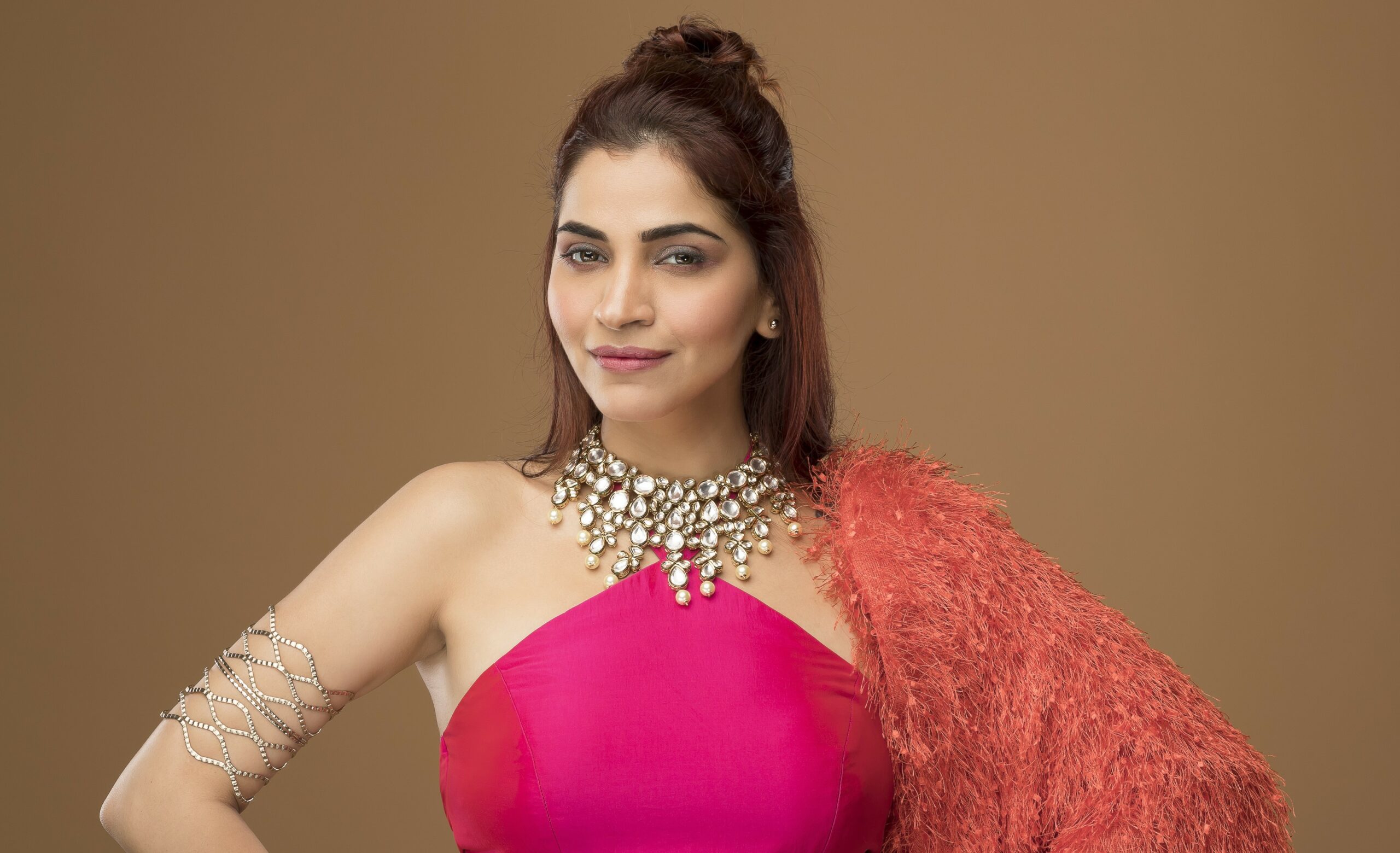 Oct 28, 2023
"I want to be a part of songs that are remembered even when I am not around" – Shruti Pathak
When you go through the history of the Hindi film music, you realize there have been very few singers who shot to fame with their very first song. Most singers undergo rigorous struggle for years before getting their first break. Shruti Pathak, however, made a special place for herself and her voice in the hearts of the listeners with her very first song, 'Mar Jawaan' from 'Fashion'. The Salim-Sulaiman composed track paved the way for a solid career for Shruti in the industry. Over the years, the singer – songwriter lent her voice to several popular songs for films made in Hindi and other languages. Some of her most loved songs include 'Tujhe Bhula Diya' ('Anjaana Anjaani'), 'Rasiya' ('Kurbaan'), 'Criminal' ('Ra.One'), 'Shubhaarambh' ('Kai Po Che'), 'Haiyaa' ('Hellaro') and 'Soniye Dil Nayi' ('Baaghi 2').
After composing a bunch of singles and releasing them independently, Shruti recently made her debut as a composer in films with 'Dhak Dhak', a film about four women going on a road trip and featuring Ratna Pathak Shah, Dia Mirza, Fatima Sana Shaikh and Sanjana Sanghi in principal roles. Apart from composing and singing the song 'Udd Udd', Shruti also rendered the melancholic 'Farzi Duniya' composed by Rishi Dutta and written by Kundan Vidyarthi.
In this interview, Shruti talks about composing for films, releasing songs independently, stories behind her celebrated songs, love for ghazals, turning entrepreneur and more.
'Udd Udd' from 'Dhak Dhak', which is composed and sung by you and written by Gurpreet Saini, encapsulates the spirit of the journey the four characters in the film embark upon.
For an artist, every facet of music is equally important. People have known and loved me for my work as a singer over a decade and a half. Both writing and composing come naturally to me. During the first lockdown, I finally had the time to explore this side of me. We were at home and finally had the time to do things we couldn't do because of our busy schedule. I had written and composed a bunch of songs and released them independently. Composing for a film, however, is a completely different ballgame. Last year, I got the opportunity to compose 'Udd Udd' for 'Dhak Dhak'. It was an absolutely incredible experience. Independent music is a reflection of the artist's sensibilities. When you are doing film music, the vision of the director takes precedence. You have to keep the situation and characters in mind. After composing for 'Dhak Dhak', I got the confidence to do this further. In the film, the song features Sanjana Sanghi. She plays somebody who is very timid and comes from an overly protected environment. She is happy in her space but wishes to know what is beyond the life she already has. It is beautifully penned by Gurpreet Saini. It can be a song for every girl who wishes to fly. I feel privileged to have got the opportunity to compose for a film which has such strong female characters.
'Farzi Duniya', on the other hand, is in a completely different zone and has a melancholic feel to it.
'Farzi Duniya' comes at a point in the film when these four women have embarked upon this new journey and are exploring themselves through it. There comes a point when they face a distressed situation and break down. It is a great composition by Rishi Dutta. Kundan Vidyarthi has done a fabulous job writing it. I am happy to have two completely diverse songs in a film.
Recently, you released a single titled 'Hey Maa' on the occasion of Navratri. You have been releasing music independently for more than a decade now. You were one of the first Indian artists to explore this space when the digital boom was happening.
It is the best time for artists to come up with independent music. Globally, independent music is blooming. Every artist craves for creative satisfaction. It's great to sing for films but sometimes, you don't get the opportunities you need to create the music you like. These desires can be fulfilled by making music independently. It is a process you are a part of from the beginning till the end. I hope I can reach out to more and more audience through my film songs and the music I release independently. Technology has evolved greatly in the last few years and that has helped musicians tremendously. Now, you have multiple streaming platforms. The process of releasing music has become much easier. Earlier, one was dependent on the big labels to release music. That's not the case anymore.
As an independent musician, one of the most interesting properties that you created was the Guzzler Project. Through this particular project, you presented several popular ghazals in a new form. Is ghazal a genre that is very close to you?
Yes! I love singing ghazals. I grew up listening to ghazals and Indian classical music. My father was an ardent music lover. From childhood, he pushed me to learn music. He would take to me to classical music concerts frequently. At home, we would listen to ghazals extensively. Somewhere, down the line, it became a part of my system. While I was singing for films, there was a side of me that I wanted to sing ghazals. I have always loved reading poetry, so that was another reason why I loved listening to ghazals.
Apart from singing 'Paayaliya' ('Dev D'), you also wrote it. That was the first time you wrote a song for a film. When did you start exploring yourself as a songwriter?
For the longest time, I didn't think about writing or composing songs. I am not a reader but have always loved reading poetry. When I heard the composition of 'Paayaliya' for the first time, I told Amit (Trivedi) that I would love to write it. He asked me whether I was sure about it. I told him I was in awe of the composition and I would want to give a shot at writing it. At home, in the middle of the night, I was trying to write something but nothing interesting was coming out of my mind. I was feeling anxious and thought I might not be able to write anything at all. Suddenly, a thought came and I started writing ferociously. Within half an hour, I had written the full song. When I shared the draft with Amit, he told me that the lines perfectly fit in the composition. I was very happy and decided to try writing songs in the future as well.
Till the mid-2000s, we heard only a handful of voices in films. You stepped into the film and music industry at a time when new singers were being sought after.
Yes, the trends in the music industry started changing around the time I started. Before that, it was a very typical requirement for a female singer. There was a certain way everybody expected a song to sound. When I got into the industry, composers like Salim-Sulaiman, Pritam, Vishal Shekhar and Amit Trivedi, among others, had already come and they were bringing about a change in how things worked. The transformation was already happening. I feel fortunate to have got my timing right. I arrived in Mumbai at a time when new composers had taken over and they were looking for new voices, textures and styles. The music scenario evolved greatly because of this. It opened the floodgates for artists who had unique styles. I was welcomed with a lot of warmth in the industry. Of course, I had to go through my share of struggle but I had the right people and opportunities come my way.
Over the years, you have lent your voice to so many popular songs. However, there have been a few underrated ones as well. After 'Paayaliya' ('Dev D'), you sang 'Roshni' ('Admissions Open') which didn't get the kind of recognition it deserved.
Yes, 'Roshni' was a beautiful composition by Amit. It was written beautifully as well by Shellee. It was one of Amit's first films and had amazing songs. The album was ahead of its time and had a lot of potential. 'Admissions Open' was a small-budget film and couldn't be released in the theatres in a big way. The film didn't do justice to the album. You do feel sad when such things happen but the only thing you can do is move on.
The single 'Teri Sajni', released by Sony Music in 2009, was also a beautiful song that should have reached out to a larger number of listeners.
This was my first experience of working with Sandeep Chowta. After 'Teri Sajni', I sang a couple of songs for him down south. He has been one of the most underrated composers. Singing along Master Saleem was a great experience as well. While he brought a powerful, folksy touch to the song, my rendition had an emotive timidness which worked in favour of the song. Our contrasting voices blended very well in the song.
'Mar Jawaan' ('Fashion'), your debut song in Hindi cinema, became popular as soon as it went on air. With time, it became more and more popular.
'Mar Jawaan' was my first song, so it will always be special for me. I couldn't have asked a better song as my debut. When I met Salim for the first time, he was trying out my voice for a Gujarati song which was to be used in a musical play by Vaibhavi Merchant. He gave me a variation to sing which I was practicing in a lower octave. Suddenly, he said, "what did you just do?". I became nervous as I thought I made some mistake. Soon, I realized that Salim liked the way I approached the song and asked me to sing it in the lower octave. He discovered the tone and voice I am known for today.
The Punjabi verses in 'Tujhe Bhula Diya' ('Anjaana Anjaani'), which were sung by you, turned out to be the highlight of the song.
'Tujhe Bhula Diya' was the song that took my career to another level. Every day, I get tagged in a minimum of 20 reels featuring this song. I have come across listeners who have told me that they have cried while listening to 'Tujhe Bhula Diya'. As an artist, what more can one ask for.
'Rasiya' from 'Kurbaan' was one of the most intense songs sung by you.
It is a beautiful song. What did not work in favour of 'Rasiya' is the fact that it came out after the film released. Unfortunately, the film didn't do well and that restricted the reach of the song. 'Kurbaan', I believe, was one of the finest films made around that time. The song was based on the raga Purya Dhanashree. To get a song where you can showcase your singing abilities at an early stage of your career is a blessing. It was recorded before 'Mar Jawaan' released. 'Rasiya' will also be special to me as it was the last song I sang in front of my father. I came home and told my father excitedly that I have sung this wonderful classical song. I sung a few lines for him. A couple of days later, we lost him.
The one song of yours that plays every year during Navratri is 'Shubhaarambh' from 'Kai Po Che'.
'Shubhaarambh' is one of those songs that shall always remain evergreen. Just a couple of days ago, I was tagged in a reel which said that a petition must be made to make 'Shubhaarambh' the official Navratri song. It is a vibrant song that talks about possibilities and new beginnings. The parts, which were sung by me, were written by me as well.
You recently launched a footwear brand called Juft. What made you get into entrepreneurship?
While music has always been my biggest passion, I also wanted to try my hand at a few other things. During the lockdown, I didn't want to sit and binge watch one show after another. I thought of starting something of my own. I have had a shoe fetish for years. I took online footwear design courses and when I felt confident enough, launched Juft.  
What are you doing next?
A lot of film songs are in the pipeline. I will also be releasing a lot of music independently. I want to be a part of songs that are remembered even when I am not around. As an artist, I want to keep pushing myself to do better.
Do you also plan to compose for films regularly now?
Absolutely! I plan to compose for films regularly. Working on 'Dhak Dhak' was a great experience. I hope I get more opportunities to compose music for films that are backed with strong characters and interesting stories.
Disclaimer: This story is auto-aggregated by a computer program and has not been created or edited by filmibee.
Publisher: Source link